The stock price of AGTech moved from HK$1.30 to intra-day high of $1.70 on back of my REPORT in Seeking Alpha.   Soon after, short activities began to spike. (See below chart) and the stock continued to slide.  A couple of days before the stock fell 10% last Tuesday, a friend of a friend who happens to be a shareholder of AGTech was warned that this would happen and that he should sell the stock.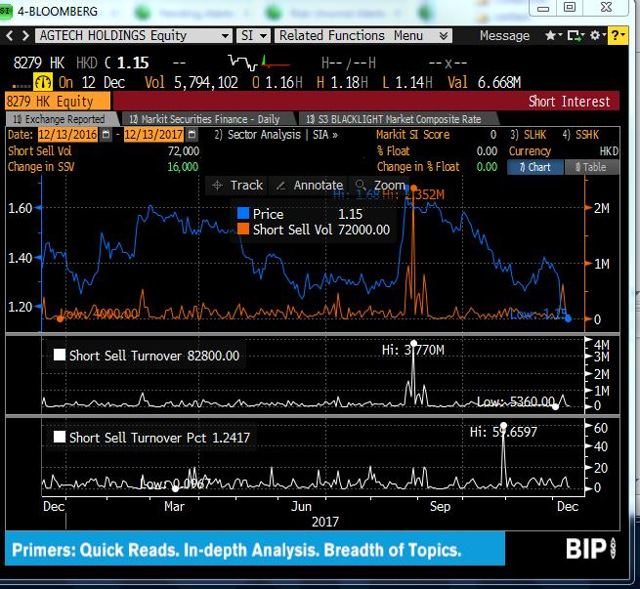 Falls like what we have witnessed last month just doesn't happen casually.  There is usually a rumor or news of something terrible.  A loss of a license, Chairman brought in for questioning by the authorities, etc.  I called all of my contacts in and outside AGTech, and I came up with nothing.  
Then I saw this short interest chart, and a light bulb went on my head.  "Someone maybe manipulating the stock to benefit from shorting it."  It would have to be a small Hedge Fund because there simply isn't that many stocks available to short.  It would also have to be someone who knows the AGTech story intimately enough to know that my report had a lot to do with the spike in the share price and know who owns the stock.   So, you short it and start making calls to scare few shareholders into selling the stock.  AGTech is so illiquid at times that it doesn't take much to crush the stock and trigger stop losses.  Next thing you know, the stock is down 35%.  
I have no idea whether this happened or not but knowing what I know about Hong Kong; I wouldn't be surprised if it did.  I will not rest until I find out whether my theory is true or whether I need a long vacation.
What I do know for certain is that the fall does not reflect what is going on inside AGTech.  The management is working right through the holiday season to launch PayTM Power Play the mobile game app in India and Guan Dan Poker Tournament in China.  Both games are expected to launch shortly.  
I also expect the short to cover soon.  With borrow cost exceeding 15%, a little bit of bounce could force them to cover.  I hope they get killed!