15 days after an official press release   that AGTech has won a sales and marketing mandate from Guang Dong Province, the company held a ceremony to celebrate the opening of retail lottery sales operation in Huizhou rural Taobao outlet (picture below) as well as Tmall outlet in Tongchao.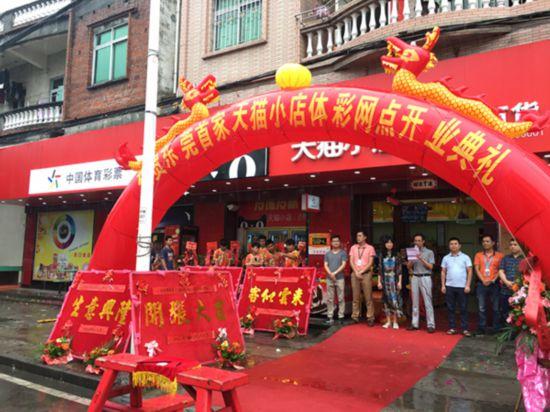 (Be sure to use Google Translate function to read the above news)
After three years of being handcuffed, the lottery authorities wasted no time in stepping up activities to attract new players and to increase sales. With the Internet Lottery Sales still banned, the authorities reached out to Alibaba Group to come up with marketing & promotion campaign to attract their 600 million online customers to offline lottery stores. Now, in Guangdong and Jiangsu Province, Alibaba Group is helping to increase sales directly by installing lottery machines at various consumer facing entities. I also expect the company to use their online presence to drum up lottery ticket sales.
It's too early to try to quantify this opportunity, but the company believes there is enormous potential in the retail distribution of lottery products.   Heck! Alibaba Group alone probably can boost China's Lottery revenue by 50% (If you resume Internet Sales)   No doubt the provincial lottery authorities are all anxious to work with Alibaba to help them boost lottery ticket sales.  This costs the authorities nothing and additional revenue will fall straight to their bottom line.  Alibaba will receive standard 8% commission for all the lottery sales and each retail entity will split the profit 50%-50% after cost with AGTech.  We will start to see the lottery revenue from Q3 onwards.
Meanwhile, Q2 numbers (in 2 weeks) won't be anything significant. I hope to hear more about their strategy and the road-map for the 2H and beyond. 
Disclosure: I am/we are long AGTEF. BABA.