Mobile Game Revenue Growth Accelerates
India is now the top five mobile gaming market in the world. Annual mobile gaming revenues are forecast to grow from $1.1 billion in 2018 to $2.4 billion in 2020. (CAGR of +49%) This makes India the fastest-growing mobile games market in the world by overall revenue.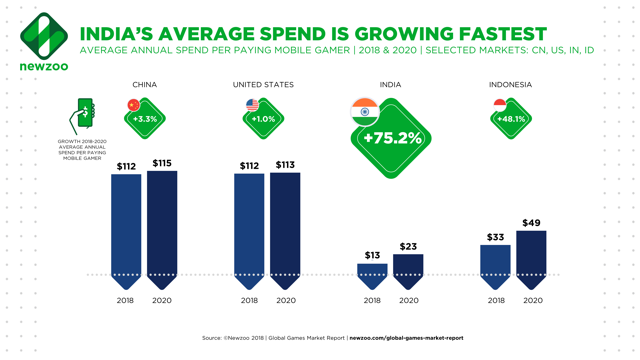 The number of mobile gamers in the country is projected to grow to more than 500 million by 2020.
This rise in the popularity of mobile gaming is due to several reasons.
1. Affordability of mobile phones. The number of smartphone users is set to rise to 530 million this year.
2. Cheap data charges (Date cost will drop to a quarter of where they are today in two years)
3. Rapid growth in frictionless payment systems (like PayTM with over 300 million registered users)
4. Increase in localized content
5. Growing middle class who are willing to pay for content
Why Now Could Be the Best Time to Enter the Market
While the potential of the Indian mobile market is impressive, it is important to note that the average smartphone is rather basic. According to our Global Tablet and Smartphone Tracker, India ranks very low when it comes to the share of high-end smartphones in use: 7.5% as of January 2018 (High-end smartphones are defined as those with minimum specs of 2 CPU cores, 2GB of RAM, 4G connectivity, NFC, biometric identification (fingerprint, face ID), and release year of 2014 or later). In comparison, this share is 17.5% in China and nearly 60% in South Korea. Some of the most popular models in India are budget devices, such as Xiaomi's Redmi series, Samsung's J series, or OPPO's A series.
However, the price of devices with high-end specifications have rapidly decreased in the past months and are expected to keep falling as Chinese smartphone brands, such as Xiaomi and Vivo, are looking to India as their next source of growth. As a result, the share of high-end smartphones in use in India has been rising and we expect more to be in use in the coming years. This, coupled with the fact that data costs in India will again drop to a quarter of the current price in 2020 (source: Analysys Mason), paints a bright picture for the country's mobile gaming growth potential.
Big players in the market
With a larger appetite for gaming in India, there's more money coming into the industry, with increased overseas investment and partnership, mainly from China. Alibaba-backed digital payments startup Paytm and Hong Kong's AGTech Holdings (8279 HK, AGTEF) launched a gaming platform last year, GamePind. Tencent, the world's biggest gaming company is planning to investin gaming in India this year, and Chinese gaming company Youzu launched local casual strategy games last year. Vietnam-based StomStudio also partnered with mobile game publisher Gamesbond to create mobile games in India.
India and Its Mobile-First Culture
India is a mobile-first country with mobile games as an exceptionally popular pastime. Between 2014 and 2016, the number of game downloads doubled. Casual and sports genre games perform very well. According to The New Zoo survey, mobile gaming is part of the daily lives of more than one-third Indians — 40% men and 35% of women play mobile games at least five days a week.
In 2017, there were 222 million mobile gamers and 89% of all game revenues in India were generated by mobile games. These gamers are highly engaged; almost one-third play five days per week or more, and nearly 40% spend more than six hours per week playing mobile games. Indian consumers' engagement with mobile devices is not limited to gaming. Overall, more than 50% of these consumers prefer using mobile devices over other mediums for daily activities such as reading, listening to music, watching videos, social networking, and shopping. Their appetite for mobile-based services and media content on mobile is far higher than Western consumers. For instance, 54% of Indian consumers shop via their mobile device compared to 37% in the United Kingdom and 34% in the United States. Furthermore, 67% prefer to use their phone to pay in physical stores, far higher than in the United States where this is only 27%.
Why I think GamePind will be wildly successful.
No doubt the competition for India's mobile game customers will be intense in the coming years.  Content will be critical but useless without the strong distribution and payment processing system.  PayTM is India's biggest payment processing company and quickly becoming an e-commerce juggernaut with more than 300 million registered users (all mobile phone owners) and over 100 million Monthly Active Users (MAU).  PayTM is GamePind's sister company sharing One97 as their parent <Berkshire Hathaway recently took a strategic stake in One97>  This means GamePind will have full access to 300 million of 450 million mobile users in the entire country.  GamePind is also a mobile game platform company.  Anyone with a great game can choose to get on the platform to gain instant access to over 300 million mobile customers and the best payment processing technology in  PayTM.  Remember, Tencent (TCEHY, 700 HK) started out as a game platform company and the ultimate key to their success was their distribution (Wechat). GamePind has a similar advantage to PayTM's 300 million registered user base as a potential customer. 
GamePind is the company to own if you want to gain early access to India's mobile game market.  Unfortunately, GamePind is a private company and will likely stay that way for a while.  Fortunately, GamePind is 45% owned by Hong Kong-listed AGTech (8279 HK, AGTEF).  AGTech is controlled by China's most important technology company Alibaba. 
The bear market and total lack of understanding of the company have caused the stock price of AGTech to fall 70% this year.  At today's market cap of $600 million, the Enterprise Value is about $300 million. $300 million dollars for what could be India's biggest gaming platform company is a bargain of a century but when you throw in China's lottery market opportunity as the only listed company to make significant inroads in China's $70 Billion dollar market. At the current level, AGTech is a leveraged call option. Very little downside vs. a massive upside. IF they can execute GamePind and IF their smart lottery terminal gets adopted in China.
The India Opportunity: Tapping into One-Tenth of the World's Gamers | Newzoo
How Digital Gaming In India Is Growing Up Into A Billion-Dollar Market
Disclosure: I am/we are long baba. AGTEF.