As the U.S. markets continue to hit new all time highs, we think it's a good time to look elsewhere for value plays. We found a little gem of a company named Kerry Logistics "KLN" (OTC:KLGSY) or <636-HK> which was born as a spin out in an IPO in December 2013 at HKD 10 on the Hang Seng. The company that spun out Kerry Logistics is Kerry Properties LTD (OTCPK:KRYPF) which still controls 76.2% of KLN. This large position explains why KLN has such a low float and low daily turnover i shares. KLN is an interesting security in that it has an approved ADR registration with the SEC, but those ADRs have not traded. If one wants to buy the KLN shares in Hong Kong using the 636-HK ticker symbol and have an ADR, they can convert their existing shares into ADRs upon request which could freely trade in the US.
Here is a fact snapshot from their website: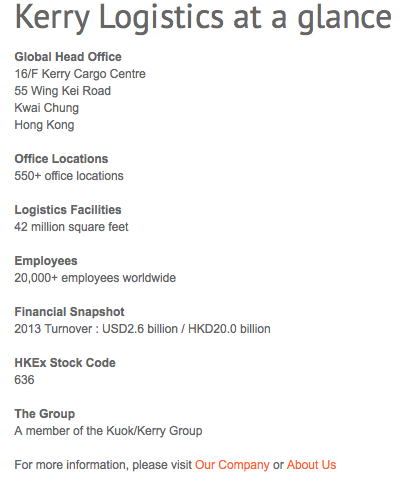 Logistics is the future in both online and bricks & mortar retailing. As we know, Amazon (NASDAQ:AMZN) is really a logistics company with a consumer retail appeal. Alibaba (NYSE:BABA) has certainly been on an M&A tear recently. Here is snippet of what BABA did in just the logistics space alone in 2014 according to a Techinasia article which has the full list of BABA's acquistions:
---

In the run-up to Alibaba's earth-shaking IPO, the ecommerce titan was all but silent during its customary "quiet period." But 2014 as a whole has been a busy year for the firm. Alibaba has invested in or bought outright multiple companies both at home and abroad, spending so much money that some have referred to the first nine months as Alibaba's "bachelor party." While things simmered down after the IPO, Alibaba didn't get complacent.

...

China Smart Logistics

Alibaba's string of partnerships with several of China's major delivery and logistics firms happened over a long period of time, but it announced the creation of China Smart Logistics around May last year. One year later, Alibaba contributed US$269 million to the joint venture, of which it owns 48 percent, according to The New York Times.

Forbes says Alibaba has over 14 key logistics partners that deliver billions of packages on its behalf every year. One of them includes state-owned China Post. Alibaba aims to make nationwide 24-hour delivery a reality in the coming years.

In December of last year, Alibaba invested US$364 million into Chinese electronic appliance maker Haier to take advantage of its widespread warehouse and logistics network.

Here are four banks with recent coverage reports, as follows:

2015-01-28
BOCOM International
Geoffrey Cheng
 
 
 
2015-01-19
Citigroup Global Markets Asia
Michael Beer
 
 
 
2015-01-05
Jeffries

Bonnie Chan,

Johnson Leung,
Violet Gu

 
 
 
2015-01-14
UBS AG
Eric Lin
 
 
 
 
 
 
 
The four analysts covering KLN have a close valuation range for the company summarized as follows:
Jeffries:■ "Kerry Logistics (636 HK, Buy, TP HK$14.6): We expect Kerry Logistics to deliver EPS growth of 9-10% in 2015 and 2016, driven by higher volume in its warehousing and distribution segment. 52% of operating profit comes from its warehousing and
distribution operations and we believe Kerry is well-positioned for further growth. Our PT implies 2015 PE of 20.5x, in-line with global peers."
UBS:"Valuation: Maintain SOTP-based HK$14.50 price target and Buy rating
We base our price target on a sum-of-the-parts valuation (73% of SOTP enterprise value for the integrated logistics and international freight forwarding businesses, 23% for the warehouse business and 4% for associates."
BOCOM INTERNATIONAL:
"KLN has expanded its international freight forwarding network to
Oceania, Middle East and North America with its several recently-announced new JVs and acquisitions.
We expect the 2H14 result of KLN to be plagued by the lackluster performance of its associated companies. We trim our FY14 earnings forecast as a result. We maintain our LT BUY recommendation for KLN with a new target price of HK$13.3 as we roll over our valuation base to FY15."
CITI:
"Buy
Price (05 Aug 14)
HK$12.62
Target price
HK$15.00
Expected share price return18.9%
Expected dividend yield 1.0%
Expected total return 19.8%"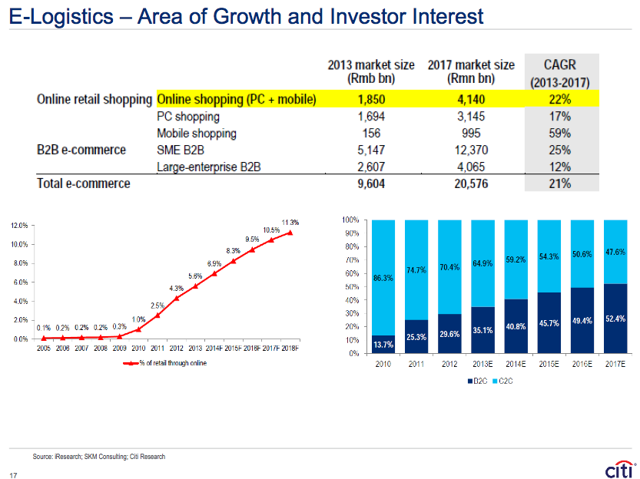 Conclusion: The earnings for KLN and their peer group are jaded by a category called "property revaluations. These are a non-cash adjustments on their "investment portfolio which in the case of KLN is their real estate holding. Although these are germane to the operation of the company, they are non the less adjusted upwards or downward as the case maybe in terms of real estate values. That said, KLN has a very high quality rating for their logistics service offering. As the Citi slide above describes, E-Logisitcs is a key area for investor interest. Moreover, for any company such as BABA with ambitious goals for e-commerce, controlling a "best in class" logistics operator while it is trading below where most analysts think it should be may be a very wise move. While AMZN and other play with the prospects of drones for delivery, KLN is operating a customer friendly, efficient logistics business with tried and true shipping methods in the fast growing asian markets and could very well become a target for more than the likes of BABA.
Disclosure: The author has no positions in any stocks mentioned, and no plans to initiate any positions within the next 72 hours.
The author wrote this article themselves, and it expresses their own opinions. The author is not receiving compensation for it. The author has no business relationship with any company whose stock is mentioned in this article.