Sector Rotation principles were back and forth between risk on,risk off. Have tech stocks settled the issue?
While the tech sector is about to reach its recent high, other sectors are also bouncing back toward recent highs.
Ratio charts are an alternative way to view relative performance and most are still negative.
If you are a new reader, the chart below shows the sector rotation principle. For an understanding of the principle and causes of sector rotation, please see the "Sector Rotation Background" in this article (at the very top). For a more comprehensive view on sector performance for the last 20 years, see my initial "must read" article. I consider it a must read because it includes in-depth analysis on prior sector movement, and I have two other "primer" articles you should read, one on "secular bull and bear markets" and one discussing how secular interest cycles affect the stock market.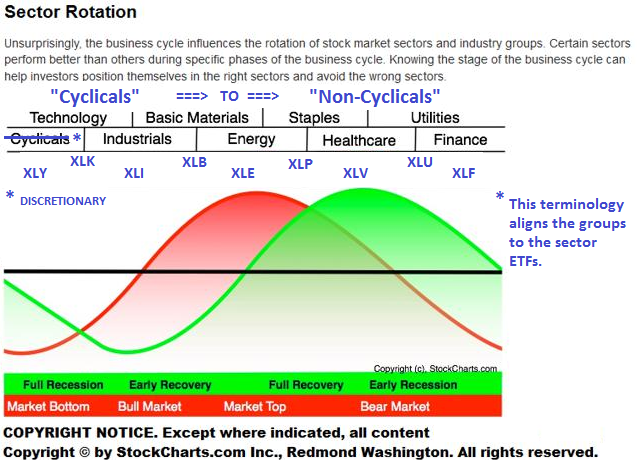 Current Sector Performance
My last sector watch article title said it all: "Risk On, Risk Off, Again And Again" and I called the market schizophrenic. We are back to purely risk on as the market is breaking out on the upside as shown in chart 1 below, but the market still seems crazy. Why? Now it's "bad news is good news" and "good news is good news".
I have annotated the S&P500 etf (NYSEARCA:SPY) in the chart below with news items that have been market moving. The SPY is the second panel below and I show it from just before the market started down in August. The other ETFs, the Dow (NYSEARCA:DIA), the Russell (NYSEARCA:IWM), and the Nasdaq (NASDAQ:QQQ), I show for the past 6 months so you can see how far they have come back, or in the case of the IWM, how much it has not.
Remember, the August waterfall "crash" started when the market became worried about the extent of the slowing in China. There was a no-news oversold bounce back rally after "crash Monday", but when China's PMI hit a 6yr low, the US market opened down over 2%. The market continued to be volatile but inched up into the FED announcement where upon the FED decision not to raise rates (or indecision) caused the market to sell off over the next week or so. Bad news was bad news.
Note on chart enlargement: Right-clicking and selecting "open in new window" (or tab) seems to "right-size" all charts plus you can use "cntl+" and "cntl-" to zoom in and out and move around (this works for the 3 main browsers whereas simply clicking to enlarge may have issues).
Chart 1 - Four Sharp Moves but the last is dominant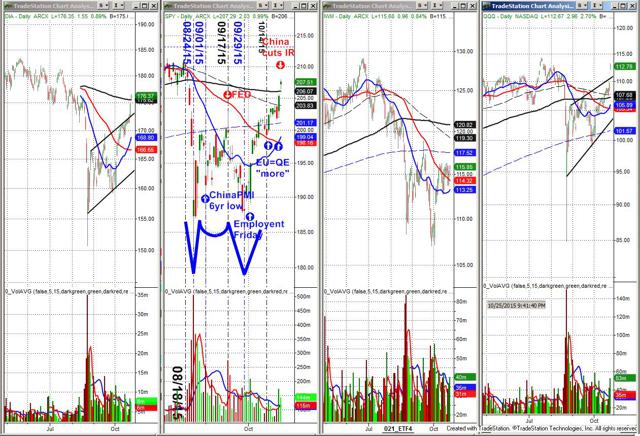 As the market sold off during this post-FED period, it approached prior closing lows from "crash Monday" but held and bounced slightly. On 10/2 the September the employment data came out at 8:30 AM and it was a big disappointment, even the revisions were negative, and the futures market sold off about 2.2% very quickly. When the market opened at 9:30 AM, it spent an hour basing but rallied 2.7% intraday and hasn't looked back. When this rally seemed to be stalling on Oct 14th, the European Central Bank - ECB - essentially admitted the economy was poor by discussing the possible need for more QE. This sent the market soaring. A week later, with the market again stalling, more "ECB QE speak" sent the market up Thursday (10/22). Good technology earnings numbers combined with an interest rate cut in China gapped the market up on Friday. Now bad news is good news, and good news is good news too.
Chart 2 - Recent sector performance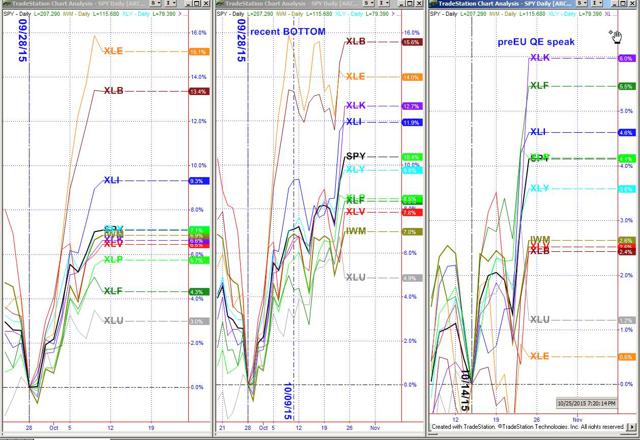 In chart 2 above, I show recent sector performance. The left chart is from my prior report, the middle chart is the same chart updated through 10/25 and the right chart is from just before the ECB-QE-speak breakout. By far, the big difference is the performance of the cyclical technology sector (NYSEARCA:XLK), in purple. It is up 6% since "ECB-QE" with almost 5% coming in the last two days, thanks to strong earnings performance from Amazon (NASDAQ:AMZN), Google Alphabet (NASDAQ:GOOG) and Microsoft (NASDAQ:MSFT), up 6.2%, 7.7% and 10% on Friday, respectively. The other cyclical sectors of industrials (NYSEARCA:XLI) and consumer discretionary (NYSEARCA:XLY) are performing in line with the market.
Core bull market sectors of basic materials (NYSEARCA:XLB) and energy (NYSEARCA:XLE) , which have experienced a strong rebound from weakness of the last year, are strong off the recent bottom but weaker post-ECB-QE speak.
Non-cyclicals are mixed. Finance (NYSEARCA:XLF) has been strong recently. Staples (NYSEARCA:XLP), which had been perking up, indicating a possible market transition, has lost some of that recent strength. For any new readers, I point out that Michael Gayed has shown in both a detailed youtube video and in a research paper that the utilities sector has proven - by itself - to be a great indicator of where the stock market is headed. Utilities (NYSEARCA:XLU) had been strong, leading to my belief that the market was trying to turn down. The utility sector is now lagging severely during this market rally. When utilities are lagging, portfolio managers are NOT hiding, they are going long.
Overall, the non-cyclicals have weakened and cyclicals have strengthened. This is precisely counter to the late August swoon the market took. Consequently, the sector rotation thesis has taken a definite turn back toward bullishness. If fact, the pain is mostly over as far as underwater sectors go.
Chart 3 - Percent Off Recent High ("or not")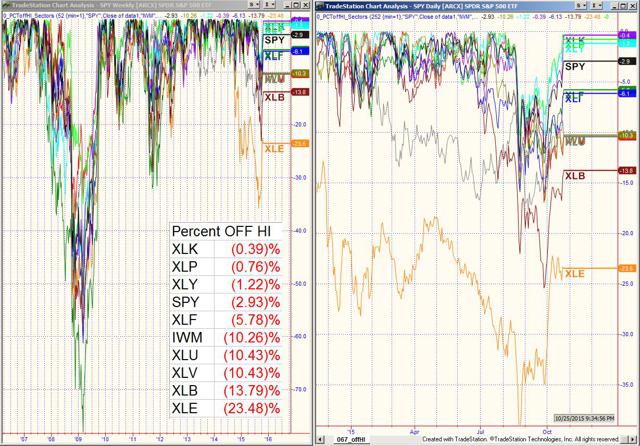 You are not meant to be able to read the individual price lines in the chart above, that is what the table shows. Rather, I specifically included the left panel, which goes back to 2006+. Both charts look for the highest high of the last year and calculate how far off the high the sector is. It is sometimes called "a drawdown chart", and green being the color of money, you can see that had you been in the financial sector during the 2007 financial crisis, your drawdown would have been almost 80%. In other words, the XLF reached a high of just over $38 in mid-2007 and hit a low below $6 in early 2009. Now the sectors are much closer to their highs.
The technology ETF is almost ready to hit a new high as it is just 39 "basis points" below its recent 12 month high. Consumer staples and discretionary are close to highs too, and the S&P500 ETF is just off its high by 3%, up from the off 12.4% it reached in late August. The other sectors, including the Russell 2000 ETF , are still in correction territory. Energy is in a bear market but bouncing back strongly.
Ratio Charts
In chart 4 below is an update to the "sector ratio chart", an alternative way to look at relative sector performance, and here it shows the two main sector comparisons used by professionals. The left panel is a monthly chart, the middle is a weekly and the right is a daily chart. Key in on the "bold green-brown line" in each chart (3rd and 5th charts from top to bottom); this line shows whether the sector comparison is bullish green or bearish brown by comparing the ratio of the two sector prices. The top chart is the S&P500 index, the 2nd and 4th charts with red and green price lines show the two ETF sector prices, with the 2nd being the XLY vs the XLP and the 4th being the XLI vs XLU. The sector price lines are green for the "bull market sector" and red for the sector that, in theory, performs better in a bear market or corrections.
Chart 4 - XLY vs XLP and XLU vs XLI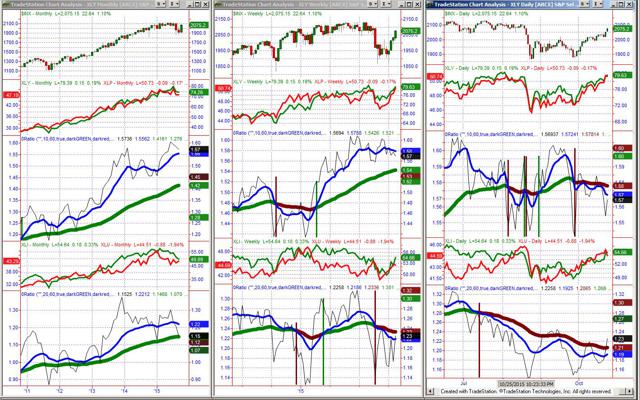 As I've pointed out before, the long-term month has been bullish green for both sector comparisons, so the bull market performance is not over per se. The middle weekly panel shows a slightly different story. The bottom panel shows the industrials have been underperforming utilities since late August. The 3rd panel line is still green, meaning the discretionary sector continues to outperform the staples sector, but note the blue line, which is just a faster moving version of the green-brown "signal" line. It has been flattish since early July, which means that while discretionary is still outperforming staples, staples are catching up. This is most evident in the daily line, which is flashing green-brown-green-brown, meaning sometimes discretionary has been outperforming and sometimes staples has been winning. Currently, the brown signals that staples has been outperforming. Likewise, the better-in-bear utilities are outperforming industrials and have been since mid-July. Consequently, this method of looking at relative sector performance, aka sector rotation, still indicates caution. Succinctly, this ratio chart says we're still in a bull market (look at the monthly - all green), but we are certainly experiencing some choppiness, which could be an outright indication we are transitioning to a bear market.
Chart 5 - High Beta vs Low Volatility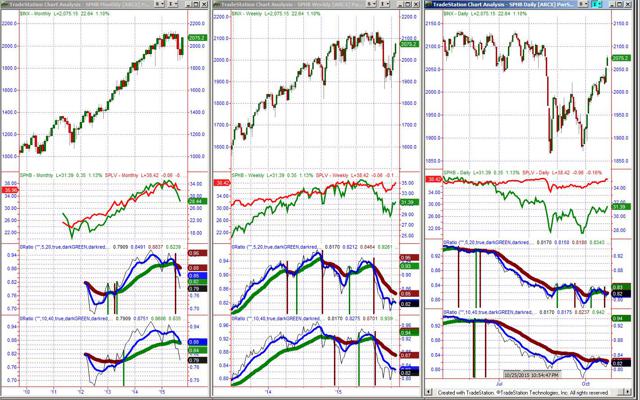 Chart 5 is a ratio chart with the same basic layout except that the comparison is just one investment style, high beta (NYSE:SPHB), versus another, low volatility (NYSE:SPLV). The two separate ratio charts are different smoothing, with the lower chart being slower, so you get less chop. The only ratio not yet negative brown is the slower moving monthly average in the bottom left, yet you can see the blue line is about to cross under the green-brown signal line and when it does, the green will turn to brown. So portfolio managers are exiting high beta names, a sign of caution.
This chart, as well any ratio chart, can be used as the basis for a "pairs trade". Look at the right panel of daily, specifically the 2nd chart from top, which shows the prices. When the ratios both turned down, in mid-late June, you could have bought SPLV for around $37.20, shown on the left-hand-side. SPHB could have been sold short for around $34.50. At current prices around $38.40 and $31.40, respectively, you'd have a $1.20 gain in the SPLV long and a $3.10 gain on the short in the SPHB. The caveat is that my broker shows the SPHB is hard to borrow for selling short, so it would be difficult to implement this pairs trade. The SPLV is easy to borrow, so in theory you could work this pairs trade on bullish signals (green line), buying the SPHB and selling short the SPLV, but I would suspect that the SPLV could become hard to borrow under bullish market conditions.
I mention this strategy simply to make realize that my percentage comparison charts, and especially ratio charts, can be a basis for a trading strategy you might not have considered. This kind of pairs trade typically is low risk because you have a long in one and a short in the other, so you're playing a spread, which will not normally move as fast or as far. Another caveat is your broker is more than likely going to require full margin on both sides, reducing your return on investment; however, if you are eligible for a portfolio margin account, the margin can be small, making the return on investment huge, and at low risk (at least in theory).
I watch many ratio charts with all designed to point to bullish or bearish market conditions. Here is what a few are saying:
Conclusions
Sector rotation signals have become more bullish, primarily due to the technology surge this last week and the utilities weakness. Other sectors are sending mixed signals, like staples and discretionary swapping places back and forth. Nonetheless, the stronger indications of a market in transition to a bear market have weakened.
We have also seen all news - bad and good - become good news. This implies a market where investors are looking for reasons to buy. Given the poor signals from my ratio indicators, I'm not there yet. In fact, with the market seemingly stuck at resistance levels early last week, I added some more short positions in the S&P500. The big gap up Friday can be one of two things, or neither (the third option). It could be a last hooray, or a breakaway.
Sunday night futures are indicating neither, so I'll see how the market acts early in the week, but this still leaves me with a big problem. This move up started on poor employment numbers and was boosted by ECB calls for more QE in light of economic weakness. While I understand you can not fight the FED, the simulative ability of all the QEs has been weakening with each successive QE, and having spent most of my career looking at fundamentals, I have never been good at buying when fundamentals are poor, even when valuations are attractive. Economic fundamentals are not yet poor, but they seem sluggish and weakening, and current valuations are certainly not attractive.
This market movement up is mostly driven by momentum generated from negative news, a few big tech earnings aside. I'm mostly on the sidelines, but more bearish than bullish. In September I said the FED was like a deer in headlights, now I know what it feels like.
Disclosure: I/we have no positions in any stocks mentioned, but may initiate a short position in SPY over the next 72 hours.