I'm throwing on a few charts. I will briefly explain them, but mostly from my perspective and tweaks. For example, if you don't know what ADX is, go to chart school.
Below, is the ADX. The vertical short-dash line (red/green) is the short-term "ADXdiff", which is the difference between the DI+ (bottom green) and DI- (bottom red), and is shown as the red/green histogram. The blue/black is simply longer-term. In the actual ADX at the bottom, the vertical "signal lines" are: FAT = green for start, red for end; THIN = what type of trend (guessing based on whether DI+ is above or below DI-).
MONTHLY: on the left, you can see a BULLISH trend started in mid-2013 (a monthly will obviously lag), and that trend is currently weakening. The ST "diff" went negative (DI- > DI+ as seen in red/green and black/blue histogram and in bottom ADX as lines), but you can tell by the bottom this negative is about to reverse.
WEEKLY: "the panic" started a negative trend that is weakening. The "diff's" have been negative for a while but about to cross to positive and the ADX is about to cross back below 20.
DAILY: A positive trend started in late Oct but ADX moved back below 20 so there is no trend now. Diff's and DI+ nonetheless indicate positive movement.
CONCLUSION: The LT bull is weakening but is not yet dead and even seems to have regained some strength.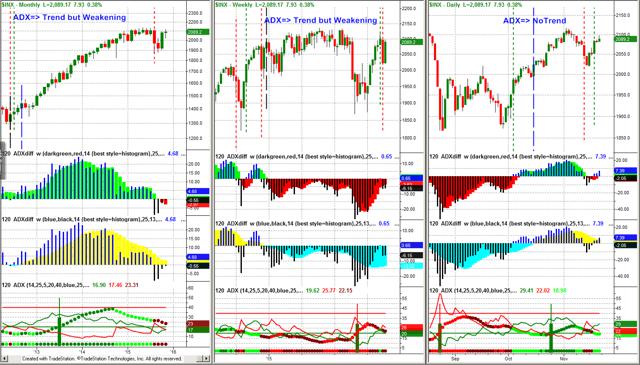 Note on chart enlargement: Right-clicking and selecting "open in new window" (or tab) seems to "right-size" all charts plus you can use "cntl+" and "cntl-" to zoom in and out and move around. This works for the 3 main browsers, whereas simply clicking to enlarge may have issues -- i.e., I find the chart slightly too large but I can not move it around.
My RSI is shown below and the primary difference is it has a shorter-term and longer-term component. The MNLY (left) shows the LT line is now red and declining (the red/green "signal" line is the LT focus), but the yellow/faster line has crossed above the slower (blue/cyan) and thus the S&P500/$INX has a vertical buy line. Note the B/S signals are frequent and more focused on ST trading. ALL 3 time horizons are bullish ST.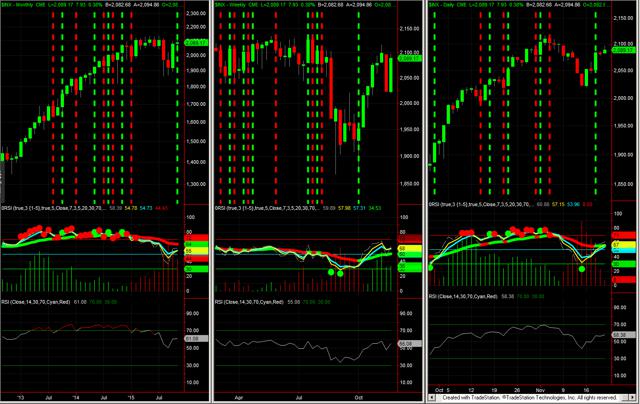 Below, the broad New York (NYA=~7900 listings) as well as the RUT are underperforming theS&P500 (left ratio charts). Technology as reflected via the Nasdaq is stronger (broad Nasdaq and Nasdaq 100 are on the right). Combined with the market cap ratio charts (not shown) show the market is generally narrow with large caps driving the market together with technology/NDX stocks.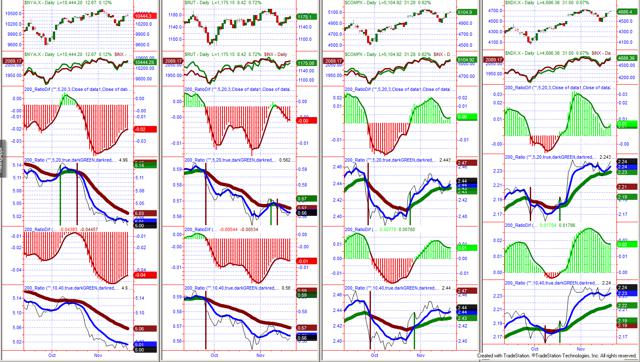 I have several breadth charts (Advance/Decline, UpVol/DownVol, etc) that I'm not showing (cut/paste with copyright notice etc can become a big job, especially when you have as many charts as I do). Breadth had been weak but turned up with the rally and seem to indicate continued strength this next week.
My Heinken-Ashi and TemaVervoot still also are moving up. Short-term strength would be consistent with traditional seasonal strength before and just after Thanksgiving. Have a good one.
Disclosure: I am/we are long XLY, XLK, XLI, XLV.
Additional disclosure: I still have shorts on the market, but reduced in position size, and other positions were closed out. I remain short-term focused and as such any position is subject to rapid change.