Here is an excerpt of what I am working on… (Better late than never?)
BREADTH
Chart 3 below shows the S&P500 Index versus the Guggenheim S&P500 Equal Weight ETF. As mentioned above, I recently wrote on the large impact of the NOSH and FANG stocks, which is indicative of a narrow market. There are other breadth measures that are also weakening, and the ratio of the equal weight ETF against the S&P500 Index is among if not the most important breadth ratio. This breath ratio highlights the impact of market capitalization by taking a market capitalization index, like the S&P500, and giving every stock the same weight. If the index is outperforming, large market capitalization stocks are leading.
Charts look decidedly bearish here: The longer-term monthly ratio is turning bearish, the weekly ratio has been declining since last spring, and the daily has been weak since October. It is just not a smart time to be in the market. We look like we'll pull back a bit from here but the daily chart is susceptible to a bounce.
Chart 3 - Equal Weight S&P500 versus the more narrow S&P500 index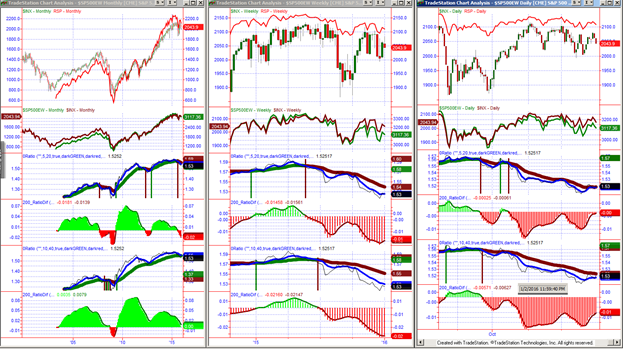 Disclosure: I am/we are long XLV,XLY, XLK.
Additional disclosure: SHORT the S&P500 via LONG VERTICAL and DIAGONAL PUT SPREADS.