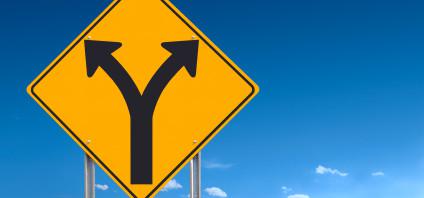 For several months, the equity and bond markets have experienced a divergence.
Since early January, U.S. Treasury yields have been trending down, and since bond prices move in the opposite direction of yields, prices have moved higher.
Declining yields on Treasuries are symptomatic of a market that holds little hope for robust economic growth and, therefore, usually result in declining stock prices, too.
But that hasn't been the case. While bond prices have moved higher, broad equity indices - despite increased volatility - are still near their all-time highs.
The year-to-date chart below illustrates the divergence between 10-Year Treasury yields and the S&P 500.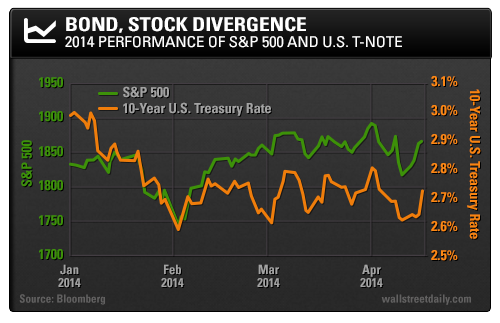 Why is this apparent disagreement between markets important?
Since most professionals believe the bond market is "smarter" than the stock market, it's safe to assume that 3% sustained, real economic growth will continue to prove elusive.
Indeed, the secular stagnation theory is looking increasingly correct.
Against this backdrop of continued weak economic activity and lower yields, income investors must continue to seek dividend payers with low relative valuations and strong cash flows.
When Rising Rents Are a Good Thing
Equity real estate investment trusts (REITs) own properties - such as apartment buildings, office buildings, or shopping malls - and collect rents from their tenants. These companies have different business models and are far less leveraged than mortgage REITs.
Equity REITs thrive in an environment of strong property prices and low interest rates. And residential REITs are benefiting from rents that are rising faster than inflation.
That being said, not all equity REITs are safe bets. But we shouldn't use the traditional price-to-earnings ratio (P/E) to determine which REITs are trading at rich valuations.
Because a REIT's income is significantly affected by depreciation, funds from operations (FFO) (which is derived by adding depreciation to cash flow) is a better measure of earnings.
The average price/FFO multiple (using 2014 estimated FFO) in the residential REIT industry is 16x. One of the largest residential REITs, Equity Residential (EQR), is trading at 18.6x.
Even with EQR's attractive 3.5% yield, a REIT trading at such a multiple poses too much risk for value-minded investors.
Capital Looking for a Safe Residence
The following table identifies four small and mid-cap equity REITs with attractive price/FFO valuations and tremendous dividend yields.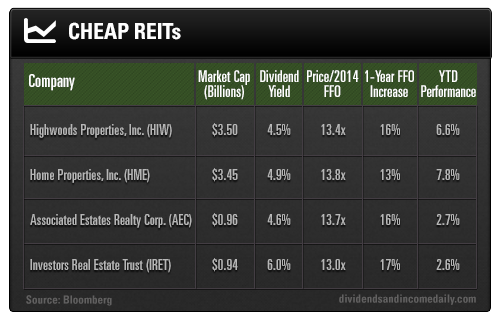 Associated Estates (AEC) and Home Properties (HME) principally invest in multi-family housing units in the United States. Both companies are well positioned to take advantage of higher rents due to the strong housing market, which is pricing many would-be homeowners out of the market.
Highwoods Properties (HIW) and Investors Real Estate (IRET) offer a broader mix of investment properties within their portfolios. Both companies invest primarily in office, industrial and retail space, while IRET also includes multi-family properties.
Each of these REITs offers attractive valuation metrics and a high dividend yield. So, it's not surprising that these stocks have performed well thus far in 2014 while the markets remain trapped between the divergent views of equity and bond investors.
Divergences Tend to Be Resolved
Ultimately, either Treasury market participants will be proven too gloomy or the stock jockeys driving the equity indices to all-time highs will be grounded by reality.
Just know that the bond market has a much better history of anticipating future economic trends, and rates are likely to stay low for an extended period of time.
This means that the outperformance of equity REITs like AEC, HIW, HME and IRET over the last several months should continue this year.
Believe in the prescience of the bond market. Add yield to your portfolio with cheap equity REITS while many investors remain confused and on the sidelines.
Safe (and high-yield) investing,
Richard Robinson, Ph.D.