Highlights of the Prior Week
Macro
Domestic equity markets were higher last week, including a couple of all-time highs. The Dow Jones Industrial Average was up 1.09%, closing above 18,000, the S&P 500 was up 2.0% to close at a record high, the NASDAQ lead the way with a 3.14% gain and the Russell 2000 was up 1.65% to also notch an all-time high.
Last week's AdvisorShares Alpha Call featured Charles Biderman, Brad Lamensdorf and John Del Vecchio and one subject covered was the extent to which market leadership has been narrowing as fewer stocks are making new highs despite the broad indexes being close to, or at all-time highs. Barron's picked up the conversation over the weekend noting that of the reported 4.1% rise in S&P 500 earnings year over year, half the gain can be attributed to the maker of iPhones and iPads. In other words the "S&P 499" as the magazine referred to it has only had earnings growth of about 2%.
The significance of narrowing leadership, the market being supported by fewer and fewer names, is that this usually occurs at market tops most notable at the end of the internet bubble. While we will leave predictions to other people we do feel compelled to point out market risk-factors when they potentially come into play.
Barron's also noted that earnings estimates for the first quarter of 2015 have been revised down from a gain of 10% to a decline in profits of 3.4%.
The yield on the Ten Year US Treasury Note took back the 2% level for the first time in five weeks, closing at 2.02%.Global yields generally also drifted higher last week except for the German bund which dipped slightly to 0.34% and the German five year continues to have a negative yield. The French OAT now yields 0.65%, Spanish ten years yield 1.55% and the Italian ten year note now yields 1.61%. The big news in the bond market was that the Swiss ten year note finally has a positive yield, albeit just four basis points, for the first time in a month perhaps thanks to the euro's modest strength last week against the Swiss franc.
We don't discuss the economic landscape in Sweden too often here but last week the Riksbank, Sweden's central bank, cut its benchmark rate to -0.10% and announced it will commence an asset purchase program to stimulate economic activity. Swedish ten year sovereign debt yields 0.50%.
Crude oil continued its magical mystery tour starting last week at $55, falling by 6.5% by Wednesday and then rallying more than 7% to close Friday above $56. Gold was less volatile, drifting to a 75 basis point decline for the week. The dollar was generally weaker as both the euro and the British pound gained on the greenback while the dollar fell against the yen.
ETF News & Data
XTF.com reports that there were five new funds last week including a suite of gold miner equity funds from ProShares and an infrastructure fund from Guggenheim that focuses on yield oriented equities within the theme.
The SPDR S&P 500 reversed the year-to-date outflow by bringing $4 billion in new AUM. There were also meaningful flows into high yield bond index funds. Funds tracking technology and energy led the outflows. Overall flows into ETFs last week were just over $8 billion.
Interesting Reads
An article titled This Was The Secret War Off The US Coast During World War II tells the story of German U-boats off the Carolina Coast during World War II and they sunk other vessels before themselves being sunk by the United States Navy.
Sports
This past weekend was of course the NBA All Star game and other festivities including the slam dunk contest won by Zach LaVine of the Minnesota Timberwolves. The dunk contest has struggled for many years to garner the same type of excitement that it did in 1976 when Julius Erving won the ABA Dunk Contest when he took off from the free throw line to put it down. Part of the reason could be that it is more difficult to devise a dunk that hasn't been done before.
The NBA version of the dunk contest, which goes back to 1984, does not attract the game's best players presumably for fear of injury but as ESPN reports, Dr. J Blames The Mascots who jump higher and further thanks to trampolines and other equipment.
Roger Nusbaum
AdvisorShares ETF Strategist
Source: Google Finance, Yahoo Finance, Wall Street Journal, Bloomberg, Barrons, ETF.com, XTF.com, Convergex,ESPN, wearethemighty.com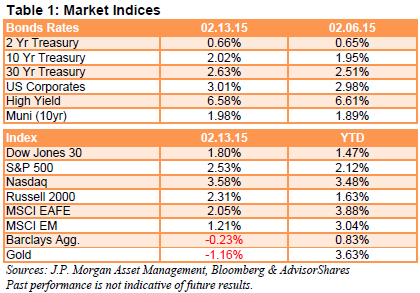 Weekly ETF Flows
For February 9, 2014 to February 13, 2015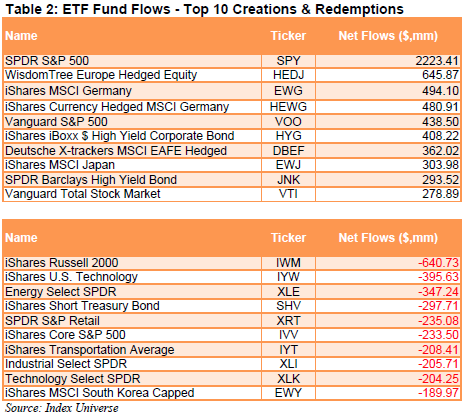 S&P Sector Analysis
As for the sectors of the S&P 500, five outperformed the broad benchmark - Telecom, Energy, Financials, Materials and Discretionary. The remaining five - Industrials, Technology, Staples, Healthcare and Utilities - each underperformed. The dispersion between the top-performing and bottom-performing sectors was roughly 10.59% this week, with Telecom outperforming all, and Utilities coming in last.
For February 9, 2014 to February 13, 2015
As measured by the S&P 500 sector indices, respective performances were: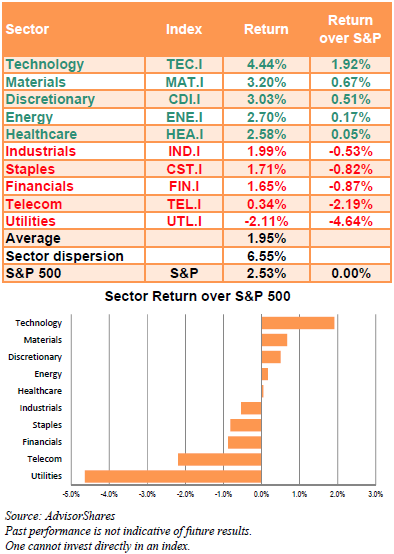 Disclosure: The author has no positions in any stocks mentioned, and no plans to initiate any positions within the next 72 hours.
Additional disclosure: To the extent that this content includes references to securities, those references do not constitute an offer or solicitation to buy, sell or hold such security. AdvisorShares is a sponsor of actively managed exchange-traded funds (ETFs) and holds positions in all of its ETFs. This document should not be considered investment advice and the information contain within should not be relied upon in assessing whether or not to invest in any products mentioned. Investment in securities carries a high degree of risk which may result in investors losing all of their invested capital. Please keep in mind that a company's past financial performance, including the performance of its share price, does not guarantee future results. To learn more about the risks with actively managed ETFs visit our website AdvisorShares.com. AdvisorShares is an SEC registered RIA, which advises to actively managed exchange traded funds (Active ETFs). The article has been written by Roger Nusbaum, AdvisorShares ETF Strategist. We are not receiving compensation for this article, and have no business relationship with any company whose stock is mentioned in this article.