Highlights of the Prior Week
Deflation In The USA
Macro
On Friday the Producer Price Index (PPI) printed at -0.5% which was the fourth monthly decline in a row. This creates a quandary for the Federal Reserve Bank at their meeting this week because it wants to hike interest rates in the next few months. Of course part of the equation is the economy's presumed ability to stay close to the Fed's 2% inflation target which it has not been able to do. While lower prices are usually a positive for consumers, the data may be signaling a problem with demand which in turn becomes a problem for growth. This should not be too shocking given the sluggish economic performance in much of the developed world.
The European Central Bank began its asset purchase program last week which pushed yields down significantly and also moved the needle in the currency market. The US Ten Year Treasury Note fell most of the week in apparent sympathy closing at 2.11% down from 2.24% the week before. The German bund yield fell to 0.26%, the French OAT now yields 0.50%, ten year debt in Spain and Italy each yield 1.15% and Swiss ten years moved slightly further into negative territory at -0.04%.
The euro's decline against the US dollar was just shy of 3.5¢ which is a large move for developed market currencies but consistent with the year to date action in which the euro has fallen 16¢ against the greenback. The British pound fell more than 2% against the dollar and the dollar gained slightly against the yen.
Domestic equities had a deceptively volatile week, deceptive for the lack of market moving headlines. The Dow Jones Industrial Average fell 0.57%, the S&P 500 gave up 0.87% and the NASDAQ moved further from that 5000 milestone to tune of a 1.12% decline. Oddly, the Russell 2000 gained 1.17% with all of the lift coming on Thursday.
Foreign equity markets were mixed. On the upside; Germany up 3.04%. France up 0.86%, Shanghai up 4.06% and the Nikkei added 1.49%. The FTSE 100 fell 2.48%, the Hang Seng gave up 1.41% and in Australia equities dropped 1.43%.
Gold drifted lower on the week while West Texas Intermediate Crude got crushed, giving up 8.8%.
ETF News & Data
Last week was the busiest of the year for new funds with 13 coming to the market. Included in list were seven corporate bond funds from iShares, a broad based Chinese equity fund and three equity funds from Direxion in partnership Valueline.
There were various foreign equity funds, equity hedged and unhedged, at the top of the creations list last week but number one was a dividend growth ETF from Vanguard with $1.5 billion. The SPDR S&P 500 was tops on the redemption list at $3.2 billion. There were also large redemptions from several bond ETFs as well as from interest sensitive equity market segments.
Interesting Reads
Aeon takes a look at How Luck Works and does so with a little bit of a Law of Attraction perspective.
Lucky people, it seems, are go-getters. 'You can see how someone who believes in stable luck will be more motivated to pick difficult goals and then stick with them.'
Sports
ESPN reported that Michael Jordan's first pair of NBA game worn Nikes will be auctioned with estimates valuing the shoes at $50,000. That seems a little low to us for early Jordan game-worn memorabilia. A fun fact from the ESPN coverage of this story;
Jordan was paid $500,000 a year for five years to wear Nike shoes. In order to get the final two years of the deal, the company had to sell at least $4 million worth of Air Jordans in Year 3. The first Air Jordan shoes hit retail in March 1985 at $65 a pair. By May, the company had sold $70 million worth.
Source: Google Finance, Yahoo Finance, Wall Street Journal, Bloomberg, Barrons, Business Insider, ETF.com, XTF.com, Convergex,ESPN, Wildfire Magazine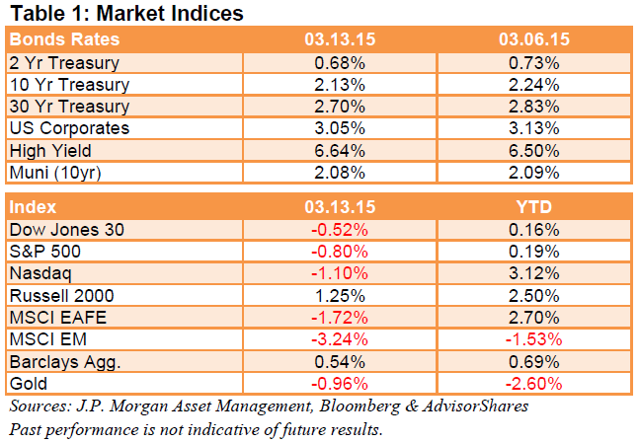 Weekly ETF Flows
For March 9, 2015 to March 13, 2015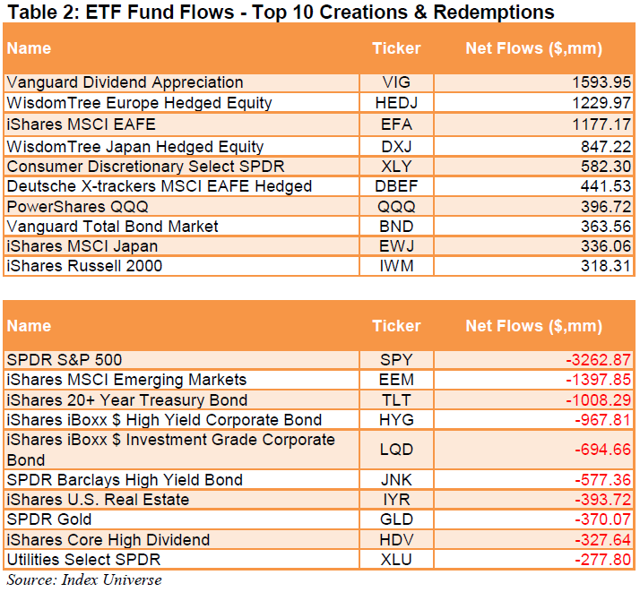 S&P Sector Analysis
As for the sectors of the S&P 500, five outperformed the broad benchmark - Telecom, Energy, Financials, Materials and Discretionary. The remaining five - Industrials, Technology, Staples, Healthcare and Utilities - each underperformed. The dispersion between the top-performing and bottom-performing sectors was roughly 10.59% this week, with Telecom outperforming all, and Utilities coming in last.
For March 9, 2015 to March 13, 2015
As measured by the S&P 500 sector indices, respective performances were: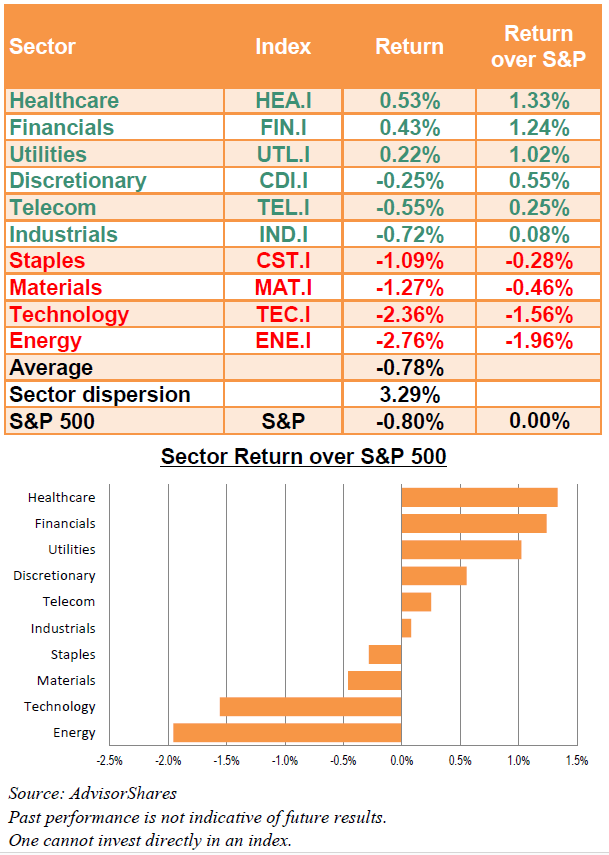 Disclosure: The author has no positions in any stocks mentioned, and no plans to initiate any positions within the next 72 hours.
Additional disclosure: To the extent that this content includes references to securities, those references do not constitute an offer or solicitation to buy, sell or hold such security. AdvisorShares is a sponsor of actively managed exchange-traded funds (ETFs) and holds positions in all of its ETFs. This document should not be considered investment advice and the information contain within should not be relied upon in assessing whether or not to invest in any products mentioned. Investment in securities carries a high degree of risk which may result in investors losing all of their invested capital. Please keep in mind that a company's past financial performance, including the performance of its share price, does not guarantee future results. To learn more about the risks with actively managed ETFs visit our website AdvisorShares.com. AdvisorShares is an SEC registered RIA, which advises to actively managed exchange traded funds (Active ETFs). The article has been written by Roger Nusbaum, AdvisorShares ETF Strategist. We are not receiving compensation for this article, and have no business relationship with any company whose stock is mentioned in this article.