Highlights of the Prior Week
First Quarter GDP: Negative
Macro
As has been expected for quite some time, the Q1 GDP, as reported Friday was revised to a negative number but slightly better than expected at -0.7%. Forecasts for a negative print have been widely known so this was no surprise for markets and has not derailed the Federal Reserve Bank's intention to raise rates at some point this year and Fed Chair Yellen reiterated in a speech on May 22nd. Supporting the idea of rate increases may have come Monday when both income and spending money exceeded estimates.
The GDP data appeared to be market moving as both equities and bond yields closed lower on Friday. For the week the Dow Jones Industrial Average fell 1.21%, the S&P 500 dropped 88 basis points, the NASDAQ declined 0.39% and the Russell 2000 had a 41 basis point set back. Despite that, all four benchmarks were positive for the month and year to date the Dow has gained 1.05%, compared to 4.01% for the S&P 500, 7.04% for the NASDAQ and 3.47% for the Russell 2000.
Foreign equity markets were mixed last week but had a negative bias. The German DAX was down 3.4%, the CAC 40 fell 2.65% and the FTSE 100 gave up 81 basis points. In Asia the Shanghai Composite fell 0.94% but that includes a 6.5% decline on Thursday. Chinese markets took back most of Thursday's decline in Monday's session rising almost 5%. Elsewhere in the east, Japan gained 1.52%, the Hang Seng Index fell 2.1% and the Australian ASX 200 added 1.99%.
Many of those foreign markets have had substantial year to date gains led by a 42% gain for Shanghai and gains in the mid-teens for Germany, France, Japan and Hong Kong.
Bond yields fell across the board, dramatically in some markets including the US where the US Ten Year Treasury Note fell 13 basis points to 2.09%. The German bund yield fell 11 basis points to 0.49%, the French OAT yield declined by 10 basis points to 0.80%, the Swiss ten year is back in negative territory at -0.06% perhaps due to a negative print for Swiss GDP, and at 1.80% Spain's yield actually upticked while Italy was essentially unchanged at 1.85%.
While the US action was tied to domestic economic data the declines in Europe likely have more to do with deteriorating headline's about the likelihood that point to a Grexit with a looming debt payment due this coming Friday.
The escalation in the headlines though did not seem to have undue influence in the currency market last week as the euro declined very modestly against the US dollar, the British pound had a more pronounced decline against the greenback while the dollar rose more than 2% against the yen after data this week showing spending declined and the inflation is currently zero.
ETF News & Data
There were seven new funds listed last week which is a big number considering the holiday. One unique offering came from Global X and targets yieldcos. If that term sounds vaguely familiar you may have read about them in Barron's last August. They are generally the cash generating portion of things like solar power generation, wind farms, even hydroelectric which are spun off into their own trading symbol and although they are not MLPs there are some similarities.
Last week we noted the unusual presence of 3x levered ETFs dominating the inflows list but this past week the table looked more like they usually do. There were large flows into funds tracking the EAFE Index (both currency hedged and unhedged) and the S&P 500. Outflows were populated by slightly more volatile funds like the Russell 2000, energy and biotechnology.
Interesting Reads
With all of the problems that California has due to lack of water, it makes sense to wonder about desalination. Wonder no more as Governor Jerry Brown is spearheading the construction of a plant in Huntington Beach that will serve Orange County.
The Huntington Beach plant would be the biggest in the western hemisphere and would produce 189 million litres (50 million gallons) of drinking water a year. The downside is that in for every 2 litres of water that go in, only 1 will come out, and the leftover super-salty brine would mix in with the city's wastewater before being piped back out to sea to spread around, about 50 km offshore. And this salty brine, along with financial concerns, have environmentalists questioning the governor's plan.
As a bonus and also related to H20 is What Happens When Drinking Water After Getting Out Of Bed. (Hint: It is important to do).
Sports
Wired.com put together Everything You Need To Know About FIFA's Corruption Scandal. The big picture might be that a flawed membership structure bred years for corruptive practices related to bribes that culminated last week with the arrest of numerous FIFA executives in conjunction with 47 indictments.
The Justice Department's announcement primarily cites deals between FIFA, sports marketing groups, and broadcast corporations for the television rights to air the World Cup and other international soccer tournaments. Dating back to 1991, the indictment alleges, those involved conspired to receive bribes from marketing firms in exchange for exclusive television contracts-to the cumulative tune of more than $150 million. As Attorney General Loretta Lynch stated, "It spans at least two generations of soccer officials who, as alleged, have abused their positions of trust to acquire millions of dollars in bribes and kickbacks."
Source: Google Finance, Yahoo Finance, Wall Street Journal, Bloomberg, Barrons, ETF.com, XTF.com, Bespoke Investment Group, Seeking Alpha, TheCoversation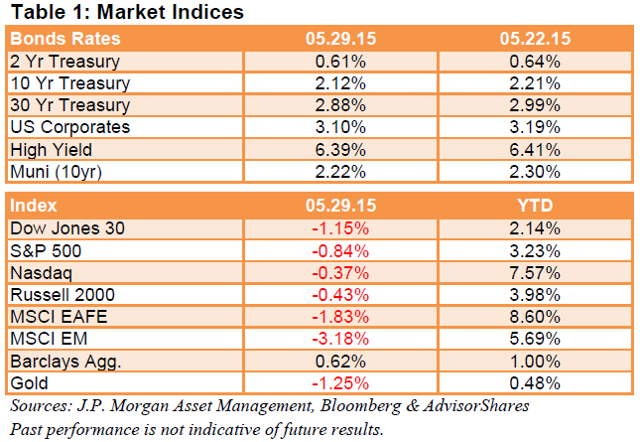 Weekly ETF Flows
For May 25th, 2015 to May 29, 2015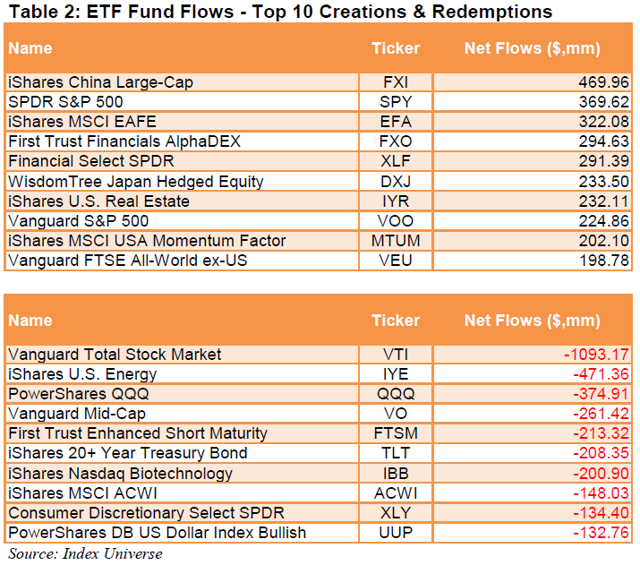 S&P Sector Analysis
As for the sectors of the S&P 500, five outperformed the broad benchmark - Healthcare, Utilities, Telecom, Technology, and Discretionary. The remaining five - Staples, Materials, Financials, Industrials, and Energy - each underperformed. The dispersion between the top-performing and bottom-performing sectors was roughly 2.05% this week, with Healthcare outperforming all, and Energy coming in last.
For May 25th, 2015 to May 29th, 2015
As measured by the S&P 500 sector indices, respective performances were: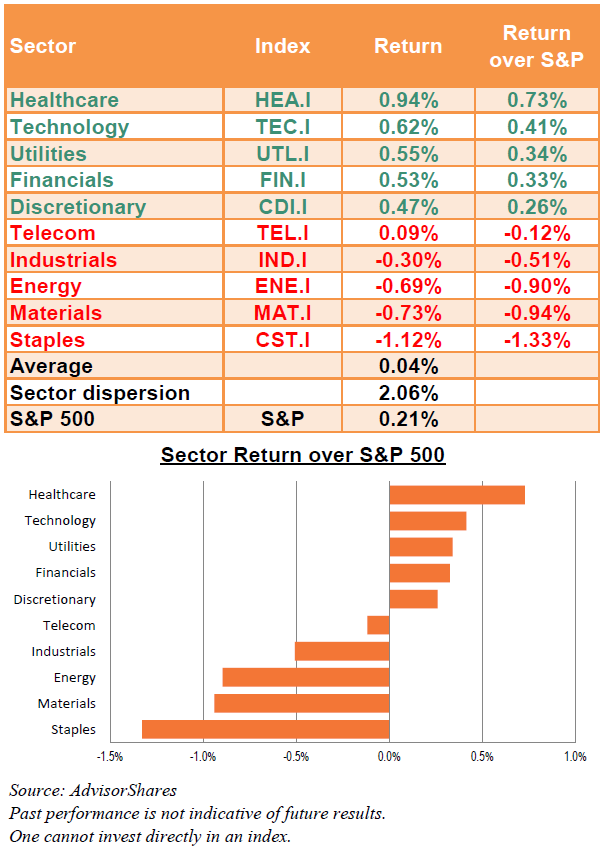 Disclosure: The author has no positions in any stocks mentioned, and no plans to initiate any positions within the next 72 hours.
Additional disclosure: To the extent that this content includes references to securities, those references do not constitute an offer or solicitation to buy, sell or hold such security. AdvisorShares is a sponsor of actively managed exchange-traded funds (ETFs) and holds positions in all of its ETFs. This document should not be considered investment advice and the information contain within should not be relied upon in assessing whether or not to invest in any products mentioned. Investment in securities carries a high degree of risk which may result in investors losing all of their invested capital. Please keep in mind that a company's past financial performance, including the performance of its share price, does not guarantee future results. To learn more about the risks with actively managed ETFs visit our website http://AdvisorShares.com . AdvisorShares is an SEC registered RIA, which advises to actively managed exchange traded funds (Active ETFs). The article has been written by Roger Nusbaum, AdvisorShares ETF Strategist. We are not receiving compensation for this article, and have no business relationship with any company whose stock is mentioned in this article.