Highlights of the Prior Week
Greece Is In Troub...Oh Wait, No It's Not
Macro
Greece managed to work its way out of its debt predicament by essentially agreeing to austere measures that were previously off the table as far as they were concerned, will get bailed out on its debt and will get additional funding as needed. This is a simplification of what transpired for economy of words but the event as it has played out thus far is similar to many past events where perceptions of uncertainty were high with many dire forecasts only to have it resolve much quieter than expected.
The scope of the threat was not Greece itself but whether it would lead to other relatively weak countries from also trying to leave the Euro which would be a serious problem on multiple levels. Mark Yusko from Morgan Creek Capital has said all along that Greece wasn't going anywhere for the simple reason that the cheapest outcome for Germany for Greece to stay in and so that no matter the noise made over the issue, this would be the result. Arguably the market agreed as many European indexes have had strong gains this year. Germany is up 19%, France is up 20%, the Netherlands have gained 18% and despite everything that has gone on the Greek market has had a bumpy ride to just a 3.5% decline.
For the week the foreign equity markets did well with Germany rising 3.16%, France rising 4.51% and the FTSE 100 rallied 1.5%. Asian markets were also strong; the Nikkei added 4.4%, the Hang Seng had a 2.07% lift and Australia was better by 3.28%. Shanghai gained 2.05% but it did endure an 8% decline from a peak on Tuesday to the open on Thursday before closing out with a gain.
Domestic equity markets also posted gains. The Dow Jones Industrial Average advanced by 1.83%, the S&P 500 was ahead by 2.39%, the NASDAQ was the leader with 4.25% move and the Russell 2000 tacked on 1.23%. Despite the strong week, Barron's cited Doug Kass' concern for narrowing leadership. Despite gains on Friday, decliners outnumbered advancers by a two to one margin.
Bond yields moved swiftly lower during the week. The Ten Year US Treasury Note fell seven basis points to 2.34%, the German bund yield fell to 0.79%, the French OAT fell 21 basis points to 1.07%, the Swiss ten year fell to eight basis points, Spain and Italy both fell back under 2% at 1.93% and 1.92% respectively.
Crude oil didn't get better but it did get a lot worse, falling 2% on the week after enduring an almost 8% drop on July 6th. Gold in US dollar terms continued to erode dropping 2.33% to $1133. Not surprisingly the euro lost ground on the news that weak sister Greece isn't going anywhere, giving up 2.56%, the British pound actually gained 56 basis points against the greenback while the dollar gained 1.3% against the yen.
ETF News & Data
The big news of the week may have been the dustup between investor Carl Icahn and Blackrock CEO Larry Fink. Icahn apparently is not a fan of ETFs, especially high yield ETFs, or of Blackrock because they "sell liquidity" that he thinks won't be there when rates rise. ETF.com provides coverage here and here.
Despite Icahn's concerns over high yield ETFs one of the two big index funds in the sector showed up in the top ten for inflows last week with $1.4 billion. Beyond that both the list of inflows and outflows were a mish-mash of funds from various asset classes and market segment with no clear and obvious conclusion to draw.
There were six new ETFs launched last week including one from new provider O'Shares Investments which is run by Kevin O'Leary who is probably most known for his appearances on the show Shark Tank.
Interesting Reads
If you are a dog lover then you will want to read the National Forest dot org blog post titled Sniffing Out Wolverine Dens On The Okanogan Wenatchee National Forest. It is the story of the difficulty that biologists had in tracking wolverines until they got help from a very special dog named Pips from the Conservation Canines Program that is part of the University of Washington.
Pips is a member of Conservation Canines' elite group of scat-sniffing dogs. Back in 2009, Pips' future looked anything but rosy. Pips, an Australian cattle dog, was two years old and already had a tumultuous history: his original owner had placed him in a shelter in Arizona where he was adopted - and returned - three separate times. Scheduled to be euthanized, a rescue organization took him in and Pips was adopted - and returned - three more times. In a last-ditch effort to save Pips' life, the organization contacted Conservation Canines, a non-profit organization associated with the University of Washington's Center for Conservation Biology that trains detection dogs and their handlers for wildlife research. Pips was an immediate fit.
Sports
In what is believed to be a first, a professional surfer, Mick Fanning, was attacked by a shark in a competition in South Africa. Fanning, a three time world champion was unharmed but had to fight the shark off before being picked up by race officials.
"All of the sudden, I just had this instinct that something was behind me," the Australian said. "And then all of the sudden, I felt like I started getting pulled underwater. Then the [shark] came up, and I was on my board and it was like right there, and I saw the whole thing thrashing around.
Source: Google Finance, Yahoo Finance, Wall Street Journal, Bloomberg, Reuters, Barrons, ETF.com, XTF.com, Bespoke Investment Group, ESPN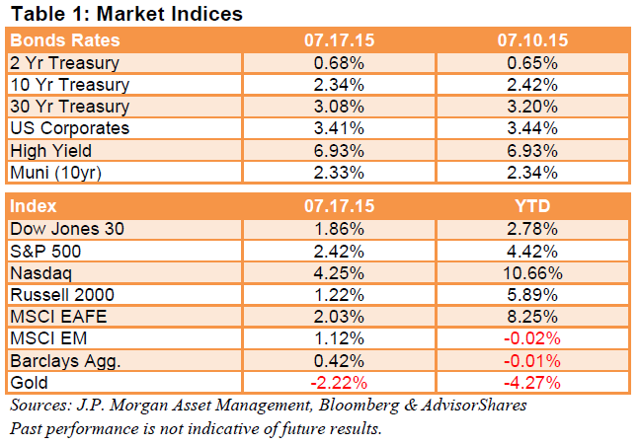 Weekly ETF Flows
For July 13th, 2015 to July 17th, 2015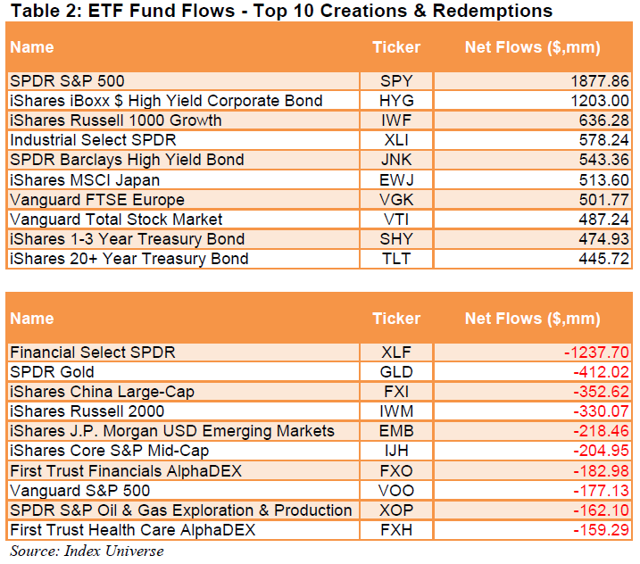 S&P Sector Analysis
As for the sectors of the S&P 500, only two outperformed the broad benchmark - Technology and Financials. The remaining eight - Healthcare, Discretionary, Staples, Industrials, Telecom, Utilities, Materials, and Energy - each underperformed. The dispersion between the top-performing and bottom-performing sectors was roughly 6.44% this week, with Technology outperforming all, and Energy coming in last.
For July 13th, 2015 to July 17th, 2015
As measured by the S&P 500 sector indices, respective performances were: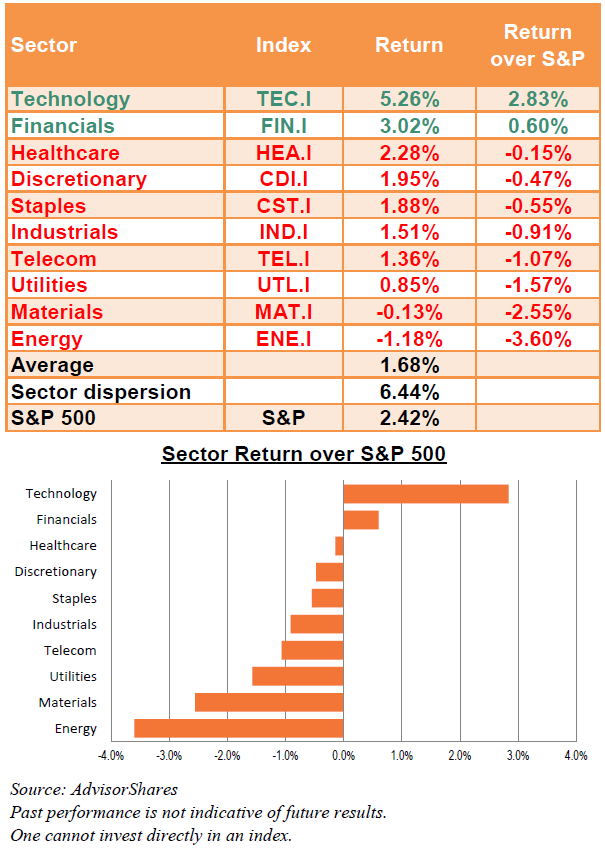 Disclosure: I/we have no positions in any stocks mentioned, and no plans to initiate any positions within the next 72 hours.
Additional disclosure: To the extent that this content includes references to securities, those references do not constitute an offer or solicitation to buy, sell or hold such security. AdvisorShares is a sponsor of actively managed exchange-traded funds (ETFs) and holds positions in all of its ETFs. This document should not be considered investment advice and the information contain within should not be relied upon in assessing whether or not to invest in any products mentioned. Investment in securities carries a high degree of risk which may result in investors losing all of their invested capital. Please keep in mind that a company's past financial performance, including the performance of its share price, does not guarantee future results. To learn more about the risks with actively managed ETFs visit our website http://AdvisorShares.com . AdvisorShares is an SEC registered RIA, which advises to actively managed exchange traded funds (Active ETFs). The article has been written by Roger Nusbaum, AdvisorShares ETF Strategist. We are not receiving compensation for this article, and have no business relationship with any company whose stock is mentioned in this article.