Highlights of the Prior Week
2016 Opens With A Kick To The Throat
Macro
The New Year started with more than a bang with broad declines across the board, across most asset classes and finishing on what should have been a positive note with a strong jobs report but was not.
There were 292,000 new jobs created in December with the headline unemployment rate coming in at 5.0%. The broader U6 unemployment rate was steady at 9.9%, the labor force participation rate inched up to 62.6% while wages could only eek out a 0.1% increase. Jim Bianco appeared on CNBC on Friday with an interesting chart showing that labor force participation held as a constant from October 2009 when the headline unemployment rate was 10.0% would have the rate today at 7.6% meaning about half of the decline in unemployment has come from a shrinking labor force.
The declines in the US markets were shocking after a positive mood (sort of) created in December by the FOMC hiking rates with the idea being that the economy must be healthy enough to tolerate a rate increase which may have been true for about ten minutes. The Dow Jones Industrial Average dropped 6.20%, S&P 500 fell 5.98%, the NASDAQ was down 7.26% and the Russell 2000 gave up 7.67%. The most disappointing day from the rough week may have been Friday when indications were for a positive day after the jobs data and after opening in the green, the markets worked lower all day closing at session lows.
The US may have taken its lead from the turmoil in Chinese markets which during the week had a couple of 7% declines as well as a failed trading halt to close with a 9.96% decline despite a 2% lift on Friday. Other eastern markets were also significantly lower with the Nikkei 225 giving up 6.99%, the Hang Seng lower by 5.98%, the ASX 200 falling 5.76% but the KOSPI in South Korea was relatively strong giving up only 2.26%. Asian markets were also lower in the Monday session, especially Shanghai which fell an additional 5.3%.
The relative outperformance in South Korea is especially interesting given that North Korea conducted a nuclear test with a hydrogen bomb or at least it claimed to have done so. This would appear to up the ante on the geopolitical front but that remains to be seen and many doubt that it was actually a nuclear weapon that was set off.
European markets were not spared either. The DAX fell 8.32%, the CAC 40 dropped 6.43% and the FTSE 100 lost 5.03%.
West Texas Intermediate Crude picked up where it left off dropping more than 10% broaching levels not seen in many years and renewing calls for it to trade down into the $20's. Gold did what it often does when equities decline; it went up, 3.59% for the week.
Yields of course went lower in the face equity market chaos. The US Ten Year Treasury Note closed the week at 2.13%, the German bund dropped to 0.51%, the French OAT fell to 0.88%, the Swiss ten year inched further into negative territory at -0.09%, Spain now yields 1.71% and Italy came in at 1.52%.
ETF News & Data
There were eight new funds launched last week, seven of which offer currency hedged equity exposure; four funds from WisdomTree and three from iShares.
There were far more outflows than inflows last week, not a surprise given the declines, dominated by large cap domestic equities.
Sports
The Wall Street Journal reports Why The Redskin's Players Are So Frugal.
Kerrigan's modest Chevy Tahoe, purchased his rookie year, looks like a Lamborghini compared with some of his teammates' rides. Morris got his Mazda restored two years ago and still drives it to practice when he takes a car. Cousins's conversion van initially belonged to his grandparents. He said he liked it for its sentimental value, but also its practicality. The 2000 Savana sat high enough for his 6-feet-3 frame and was comfortable on the inside. "I figured I'd have more fun driving this than a Toyota Corolla, so I might as well just stick with the van," Cousins said.
Source: Google Finance, Yahoo Finance, Wall Street Journal, SeekingAlpha, Bloomberg, Reuters, Barrons, ETF.com, XTF.com, Bespoke Investment Group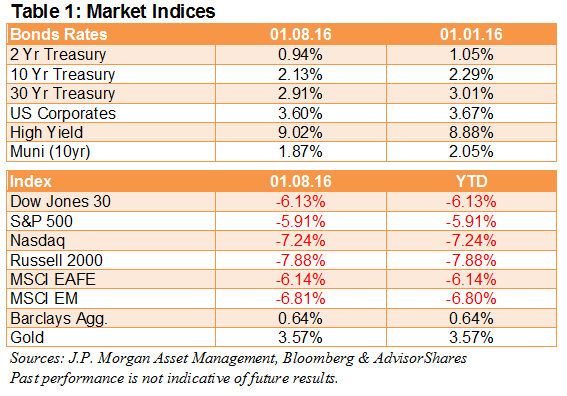 Weekly ETF Flows
For Janary 4th, 2016 to January 8th, 2016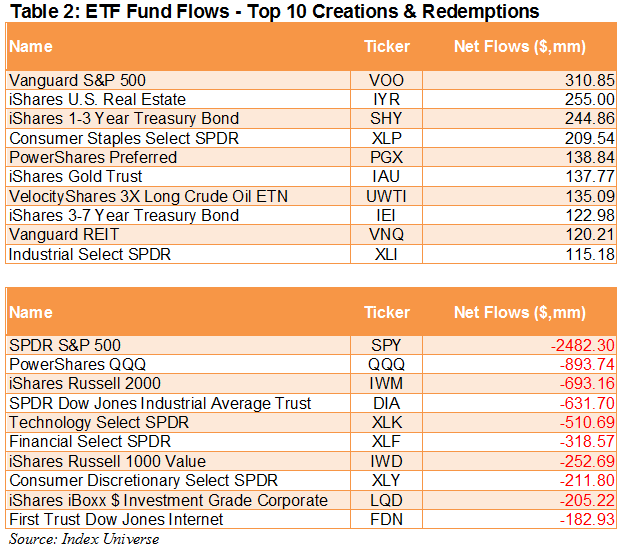 S&P Sector Analysis
As for the sectors of the S&P 500, five outperformed the broad benchmark - Utilities, Telecom, Staples, Healthcare, and Discretionary. The remaining five - Industrials, Energy, Technology, Financials, and Materials - each underperformed. The dispersion between the top-performing and bottom-performing sectors was roughly 7.37% this week, with Utilities outperforming all, and Materials coming in last.
For Janary 4th, 2016 to January 8th, 2016
As measured by the S&P 500 sector indices, respective performances were: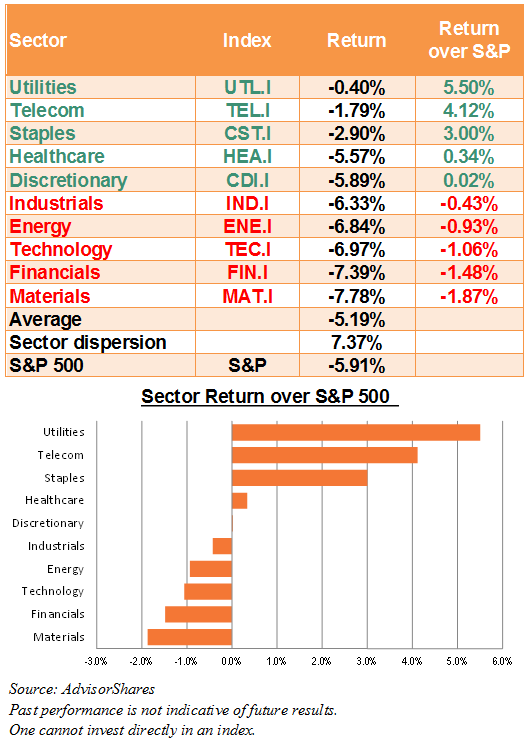 Disclosure: I/we have no positions in any stocks mentioned, and no plans to initiate any positions within the next 72 hours.
Additional disclosure: To the extent that this content includes references to securities, those references do not constitute an offer or solicitation to buy, sell or hold such security. AdvisorShares is a sponsor of actively managed exchange-traded funds (ETFs) and holds positions in all of its ETFs. This document should not be considered investment advice and the information contain within should not be relied upon in assessing whether or not to invest in any products mentioned. Investment in securities carries a high degree of risk which may result in investors losing all of their invested capital. Please keep in mind that a company's past financial performance, including the performance of its share price, does not guarantee future results. To learn more about the risks with actively managed ETFs visit our website http://AdvisorShares.com . AdvisorShares is an SEC registered RIA, which advises to actively managed exchange traded funds (Active ETFs). The article has been written by Roger Nusbaum, AdvisorShares ETF Strategist. We are not receiving compensation for this article, and have no business relationship with any company whose stock is mentioned in this article.