AdvisorShares Weekly Market Review – Week Ending 5/13/2016
Please Note: Blog posts are not selected, edited or screened by Seeking Alpha editors.
Portfolio Strategy, ETF investing, Foreign Companies
Seeking Alpha Analyst Since 2005
Roger Nusbaum is the ETF Strategist for AdvisorShares. This Arizona-based professional has over 25 years of industry experience. He is also a well-known financial commentator covering ETFs, retirement planning and portfolio management for AlphaBaskets.com and at TheStreet.com. We think Roger is particularly insightful on exchange-traded funds, risk management and investing in international markets. Visit Roger's work at TheMaven (https://www.themaven.net/etf/) and AlphaBaskets (http://alphabaskets.com)
Highlights of the Prior Week
Are FOMC Members Losing Hope?
Macro
The monthly jobs report was of course a disappointment with the headline number of just 160,000 jobs created with the previous two months being revised down by a collective 19,000. The unemployment rate held at 5.0% but the broader U6 did down tick to 9.7%. Wages went up 0.3% which is a positive but the labor force participation rate dropped 2/10ths to 62.8%.
Last week in this report we posited that the Fed might have been setting the table for no rate hikes this year and while that remains to be seen, this jobs report supports the thesis. Even further to the point, Bespoke Investment Group reports that four FOMC members all spoke at the Hoover Institute on Thursday night with the takeaway being "4 Fed speakers, 0 Fed optimism."
As earnings season is now winding down Bespoke shows 61% of companies beating on the bottom line and 55% beating on the top line. They also report that the average company stock has dropped 0.21% on the day it announces its earnings. Barron's cited FactSet in noting that earnings are expected to show a decline of 7.1% for the first quarter.
After a promising start to the week with gains on Monday, domestic equities rolled over into modest losses across the board. The Dow Jones Industrial Average fell 19 basis points, the S&P 500 dropped 0.39%, the NASDAQ was off 0.83% while the Russell 2000 gave back 1.48%.
The economic story in Europe continues to struggle. Retail sales declined 0.5% and the PMI Purchasing Managers' Index also fell. Additionally, GDP estimates for 2016 were revised down to 1.6% which would be a slight decline versus 2015.
For the second week in a row, all the foreign equity markets we regularly follow for this report were all lower except for Australia which was up 0.71%. The DAX was down 1.68%, the FTSE 100 dropped 2.93% the CAC 40 fell 2.89%, Shanghai and Hong Kong each had four day weeks giving up 83 basis points and 4.54% respectively and the Nikkei 225 was only open for two days and fell 1.52%.
The yield on the Ten Year US Treasury Note fell four basis points on the week to 1.77% but interestingly rose slightly on Friday in the face of the dovish jobs report. The yield on the German bund essentially cut in half down to 0.14%, the French OAT now yields 0.52%, the gilt yield in the UK fell 18 basis points to 1.41%, the Swiss ten year yield also fell coming in at -0.29% and JGBs now charge lenders 11 basis points.
Rounding up commodities; West Texas Intermediate Crude was down 2% and gold fell slightly after flirting with $1300 early in the week.
ETF News & Data
There were three new funds launched last week including the Global X Millennials Thematic ETF which seeks to benefit from the spending habits of the millennial demographic. Holdings include social media companies, internet retailers and apartment REITs.
Interesting Reads
The aftermath of Prince's death is becoming increasingly complex on two fronts; the circumstance surrounding his death and what will become of his estate. CNN offers a recap up through the end of last week but stay tuned for more;
It's hard to imagine that Prince gave no thought to the fate of his estate, yet no one seems to know what he wanted because they can't find a will. Prince was worth $300 million, according to various estimates, and his estate is expected to grow as sales of his music continue to explode.
Sports
While very few college athletes go on to have lucrative athletic careers in the US, there of course have been many Americans who go to play overseas and in the womens basketball, the foreign leagues can be far more lucrative. ESPNW investigates with Lost And Found In Russia;
For Griner, and for Taurasi when she was younger, playing in Russia is a "life experience" -- a lesson in how to handle change, challenge and cultural differences. And perhaps nothing defines the yearlong existence of WNBA players more than those hurdles. As soon as they leave college, they exist in a perpetual state of motion. For five months, they live in the U.S., playing during the summer (a season few associate with hoops), making an average salary of $76,500. (Low-level rookies make less than $40,000, the very best players about $109,500.) That's a decent, but not overwhelming, amount of money for a professional athlete, and because the rest of the year is wide open, about half the WNBA players go overseas for a second paycheck, from Italy to Turkey to Russia. They are like modern-day nomads: Have jumper, will travel.
Source: Google Finance, Yahoo Finance, Wall Street Journal, SeekingAlpha, Bloomberg, Reuters, Barrons, ETF.com, XTF.com, Bespoke Investment Group, ESPNW, CNN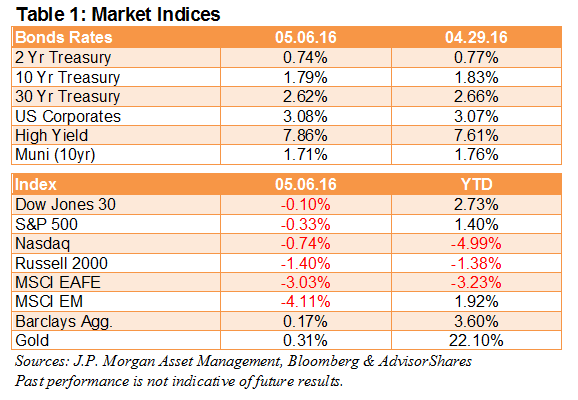 For May 2nd, 2016 to May 6th, 2016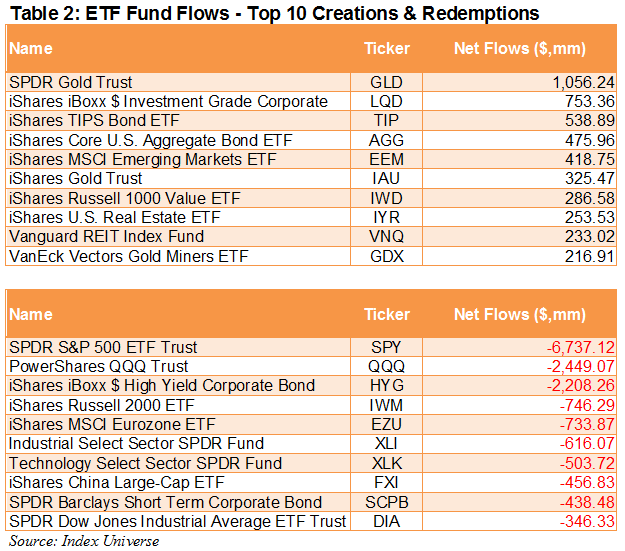 S&P Sector Analysis
As for the sectors of the S&P 500, five outperformed the broad benchmark - Staples, Utilities, Technology, Discretionary, and Telecom. The remaining five - Financials, Healthcare, Industrials, Materials, and Energy - each underperformed. The dispersion between the top-performing and bottom-performing sectors was roughly 4.69% this week, with Staples outperforming all, and Energy coming in last.
For May 2nd, 2016 to May 6th, 2016
As measured by the S&P 500 sector indices, respective performances were: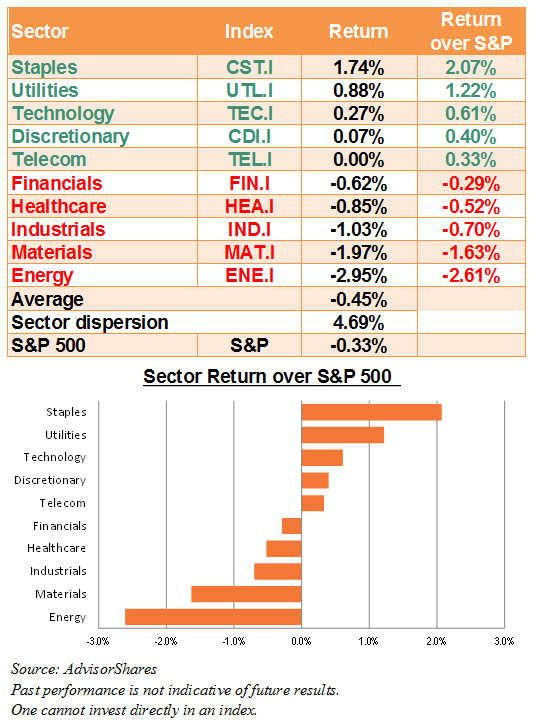 Analyst's Disclosure: I/we have no positions in any stocks mentioned, and no plans to initiate any positions within the next 72 hours.
To the extent that this content includes references to securities, those references do not constitute an offer or solicitation to buy, sell or hold such security. AdvisorShares is a sponsor of actively managed exchange-traded funds (ETFs) and holds positions in all of its ETFs. This document should not be considered investment advice and the information contain within should not be relied upon in assessing whether or not to invest in any products mentioned. Investment in securities carries a high degree of risk which may result in investors losing all of their invested capital. Please keep in mind that a company's past financial performance, including the performance of its share price, does not guarantee future results. To learn more about the risks with actively managed ETFs visit our website http://AdvisorShares.com . AdvisorShares is an SEC registered RIA, which advises to actively managed exchange traded funds (Active ETFs). The article has been written by Roger Nusbaum, AdvisorShares ETF Strategist. We are not receiving compensation for this article, and have no business relationship with any company whose stock is mentioned in this article.
Seeking Alpha's Disclosure: Past performance is no guarantee of future results. No recommendation or advice is being given as to whether any investment is suitable for a particular investor. Any views or opinions expressed above may not reflect those of Seeking Alpha as a whole. Seeking Alpha is not a licensed securities dealer, broker or US investment adviser or investment bank. Our analysts are third party authors that include both professional investors and individual investors who may not be licensed or certified by any institute or regulatory body.