Highlights of the Prior Week
Brexit With A Vengeance
Macro
With the Tour de France less than a week away it is appropriate to invoke long time race commentator Paul Sherwen in noting that UK voters "threw a cat amongst the pigeons" in voting yes on the long awaited referendum to leave the European Union.
There are a lot of moving parts here and maybe even more unknowns.
First is the initial reaction in the capital markets. The FTSE 100 fell a little over 3% while other European markets fell a lot more; France, Germany and Spain saw declines ranging from about 7% to 12%. US equity markets fell between 3-4% after being indicated down a lot more overnight.
There was genuine upheaval in the currency market. The British pound fell 6% against the US dollar (but had been down much more overnight), the euro rallied 4.3% against the pound, the euro fell 1.8% against the dollar. The yen was strong in all of this; the dollar fell 2.5% against the Japanese currency while the euro fell more than 4% against the yen. These moves all extended further in early Monday trading.
Global bond markets didn't react as dramatically as the other markets on Friday. One of biggest movers was the Ten Year US Treasury Note yield which fell to 1.57% in what was arguably haven buying. The German bund carried a -0.04% rate at the end of the week, the French OAT finished Friday down six basis points to 0.38%, the Swiss ten year note was charging 0.49% and JGBs charged 17 basis points. The decline in UK gilt yields was dramatic, falling 29 basis points to 1.08% on Friday. Monday brought further declines in yields. Early Monday the gilt was below 1%, the bund at -0.10% and the US ten year at 1.47%.
Commodities had pronounced moves with West Texas Intermediate Crude falling a little over 5% and gold rallying a little less than 5%. This report has frequently pointed out the extent to which gold continues diverge from equities which is what it is "supposed to do." When gold is the top performer then chances are things in the world aren't going so well and that was the case on Friday.
In trying to put context around Friday, the initial reaction was a fast, semi-panicked decline. The nature of fast declines is that they often snap back quickly. A fast recovery, should it happen, won't be a surprise but would do nothing to solve the fundamentally uncertainties. The referendum is actually non-binding but for now there is no expectation that Parliament would not adhere to the vote. It is likely that separating would take a couple of years but that agreements would be put in place such that it wouldn't be a complete and total separation.
There is plenty of uncertainty about what will happen to growth rates for the UK and Euroland. Part of the justification for the European Union was to promote trade and while this report won't make a qualitative assessment on the Union or the referendum, anything perceived as restricting trade will be difficult to digest and even if markets do bounce back quickly it could be years before the ramifications of the vote are fully understood. In the meantime there will be questions related to who else will want to leave, this makes things complicated for Scotland (the Scots voted to remain) and Northern Ireland.
To make things even more complicated, Yahoo reported that the "do-over" movement (to have a second vote to reconsider Brexiting) already had 1.5 million signatures by Saturday, some are calling it regrexit. For more, and there is a lot more, start with Felix Salmon's With A Single Vote, England Just Screwed Us All.
ETF News
Last week was quiet for new fund listings but Barron's offered a reminder that REITs will soon be their own GICS sector and will be coming out of most financial sector ETFs which among other things will reduce yields for sector funds and could increase their volatility.
Interesting Reads
One byproduct of creative destruction from the music industry is the closing of record stores. Over the weekend Cherished NYC Record Store Other Music Is Closing. From stereogum.com;
After 21 years of incredible curation and maximization of space, beloved Greenwich Village record store Other Music will be closing its doors this summer. It was the David to Tower Records' Goliath on West 4th Street, and is still a competing indie presence clashing with the SoulCycle across the street. OM managed to outlast Tower, which closed in 2006, and the Virgin record store in Union Square that closed in 2009, but it will be shuttering its storefront and mail-order service on 6/25.
Sports
Here's an odd one about a Buffalo Sabres draft pick way back in 1974 named Taro Tsujimoto. It turns out there was no such person and the Sabres knew it. From Hockey News a couple of years ago when Imaginary Buffalo Sabres pick Taro Tsujimoto turns 60;
General manager Punch Imlach and the Sabres' PR team cooked up Tsujimoto as a practical joke for the 11th round of the 1974 amateur draft - an attempt to have some fun with a tedious drafting process done entirely over the phone. Imlach used his 183rd overall choice that year to draft Tsujimoto from the Tokyo Katanas - a team that didn't exist, with a sword-themed name much like the Sabres'. He reportedly lifted the name from a Buffalo-area phone book. But no one called Imlach's bluff on the imaginary player, because there was almost no NHL scouting presence in Asia at the time.
Source: Google Finance, Yahoo Finance, Wall Street Journal, SeekingAlpha, Bloomberg, Reuters, Barrons, ETF.com, XTF.com, Bespoke Investment Group, Stereogum.com, Hockey News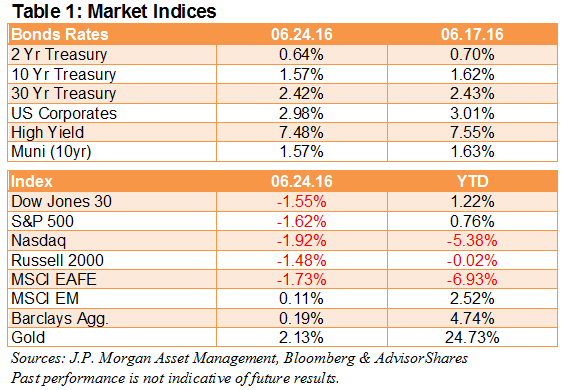 For June 20th, 2016 to June 24th, 2016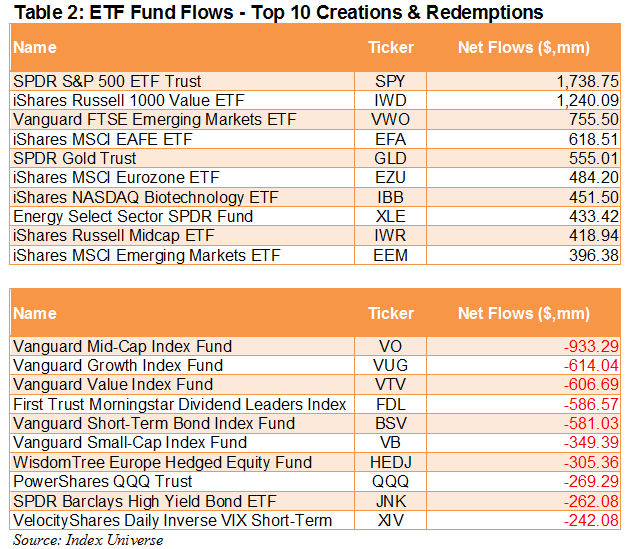 S&P Sector Analysis
As for the sectors of the S&P 500, five outperformed the broad benchmark - Telecom, Utilities, Energy, Staples, and Healthcare. The remaining five - Technology, Discretionary, Industrials, Financials, and Materials - each underperformed. The dispersion between the top-performing and bottom-performing sectors was roughly 3.91% this week, with Telecom outperforming all, and Materials coming in last.
For June 20th, 2016 to June 24th, 2016
As measured by the S&P 500 sector indices, respective performances were: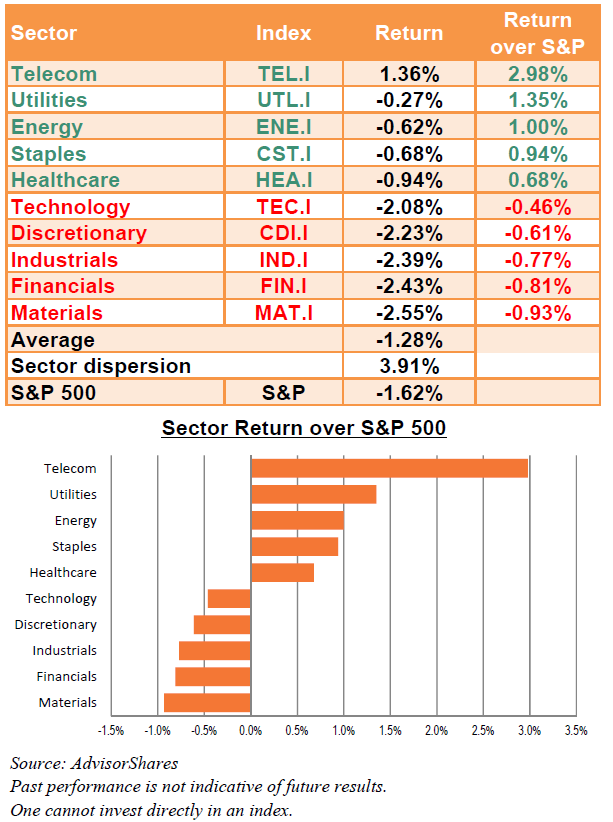 Disclosure: I/we have no positions in any stocks mentioned, and no plans to initiate any positions within the next 72 hours.
Additional disclosure: To the extent that this content includes references to securities, those references do not constitute an offer or solicitation to buy, sell or hold such security. AdvisorShares is a sponsor of actively managed exchange-traded funds (ETFs) and holds positions in all of its ETFs. This document should not be considered investment advice and the information contain within should not be relied upon in assessing whether or not to invest in any products mentioned. Investment in securities carries a high degree of risk which may result in investors losing all of their invested capital. Please keep in mind that a company's past financial performance, including the performance of its share price, does not guarantee future results. To learn more about the risks with actively managed ETFs visit our website http://AdvisorShares.com . AdvisorShares is an SEC registered RIA, which advises to actively managed exchange traded funds (Active ETFs). The article has been written by Roger Nusbaum, AdvisorShares ETF Strategist. We are not receiving compensation for this article, and have no business relationship with any company whose stock is mentioned in this article.