Highlights of the Prior Week
Goldilocks & A Flash Crash!
Macro
First, Goldilocks which is how some have described the September jobs report which came in with 156,000 jobs created versus an expectation of 172,000. The headline unemployment rate ticked up to 5.0% as more people entered the labor force while the participation rate printed at 62.9%. Wages increased by 0.2% and the broader U6 measure of unemployment was steady at 9.7%. The report seemed to reinforce the idea that a hike is coming in December as the CME's Countdown To The FOMC page showed a 64% probability of a hike in December. If you're curious, there is only an 8% probability of a hike in November yet Chair Yellen claims the FOMC is not influenced at all by political considerations.
The Ten Year US Treasury Note had almost no reaction to the jobs data on Friday but moved much higher for the week closing at 1.73%. Before last week, the ten year's yield had only closed above 1.70% twice on a daily basis since the Brexit news. There was strong data last week before the jobs report in the form strong ISM numbers and a drop in weekly jobless claims.
Global yields also mostly moved higher last week. The German bund is back into positive territory by two basis points, the French OAT yields 0.31%, the UK gilt jumped to 0.96% by the end of last week despite the drop in the pound and continued higher, past 1.00% on Monday as Bespoke notes concerns about inflation, the Swiss ten year closed at -0.47% and the JGB now charges five basis points.
The flash crash occurred in the GBPUSD currency pair which fell 5-10% (depending on the quote service) around midnight GMT when the kiwis were the only ones open for business. Much of the crash was recovered within moments but the pound was still very weak in Friday's session trading close to $1.24 (it takes $1.24 to buy a pound whereas before the Brexit it took $1.47 to buy that same pound).
Domestic equities were weak across the board last week but only mildly so, not so much because there was bad news but perhaps just a lack of a catalyst, especially with earnings season about to start. The Dow Jones Industrial Average and NASDAQ each fell 0.38%, the S&P 500 was down 0.67% and the Russell 2000 gave up 1.17%.
As mentioned, the earnings season starts next week and Bespoke Investment Group helps set the table. Recently, estimates have been raised for 392 S&P 1500 companies and cut for 518 companies. They refer to this as a negative spread and note that this spread has been negative for quite some time.
West Texas Intermediate Crude had a strong week, getting a boost from a drop in inventories, rising 3.34% and taking back $50 for the December contract despite selling of some on Friday. Gold was down 4.50% continuing its trend of the last couple of weeks.
ETF News
Barron's published its Mutual Fund Quarterly issue over the weekend. The primary focus was on sustainable funds which it defined as "a broad term that encompasses corporate management that is ethical, efficient, and long-term focused." It ranked the top 200 traditional mutual funds in the space as well talked about the evolution of the space as well as addressing why many sustainable funds have historically lagged the broad market and how that might be changing.
Part of the catalyst here is the Millennial demographic which the magazine notes is interested in doing good as well as all the other reasons why people have historically invested. Advisors interested in multi-generational client relationships need to be out in front of what their millennial clients are looking for.
Interesting Reads
Yahoo had an interesting report on something called the Waffle House Index and how it gets used in monitoring hurricanes because of how infrequently the Waffle House closes;
Every hurricane season, lore about Waffle House's relationship with hurricane preparedness and disaster relief emerges, including the "Waffle House Index," which legend maintains is a proxy used by the Federal Emergency Management Agency (FEMA) for how bad things are. "Green" is full operations, "yellow" is a partial menu with generator power, and "red" is the apocalypse. According to FEMA, a lot of this is actually true.
Sports
Perhaps inspired by George Costanza, ESPN brings us A Day In The Life Of The Miami Marlins Travel Director;
How are my office days like? In the first place, the concept of "my office" depends on if we are the home team or the visiting one. At home, my office is in Marlins Park or in the spring training complex. But when we are a visiting team, my office can be in the plane, the street, the bus that takes us to the stadium, or the visiting dugout.
Source: Google Finance, Yahoo Finance, Wall Street Journal, SeekingAlpha, Bloomberg, Reuters, Barrons, ETF.com, XTF.com, Bespoke Investment Group, ESPN, Yahoo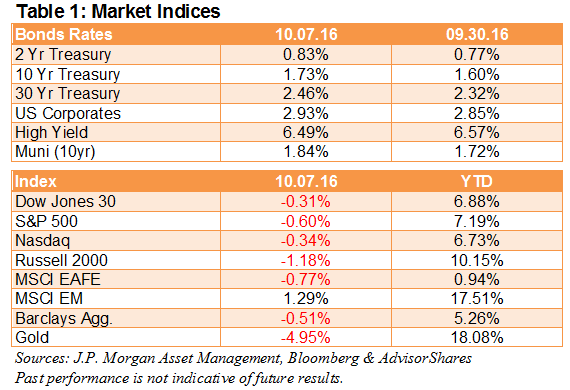 S&P Sector Analysis
As for the sectors of the S&P 500, five outperformed the broad benchmark - Utilities, Staples, Industrials, Materials, and Telecom. The remaining six - Discretionary, Healthcare, Technology, Energy, Financials, and Real Estate - each underperformed. The dispersion between the top-performing and bottom-performing sectors was roughly 6.84% for the week ending 10/7/16, with Utilities outperforming all, and Real Estate coming in last.
For October 3rd, 2016 to October 7th, 2016
As measured by the S&P 500 sector indices, respective performances were: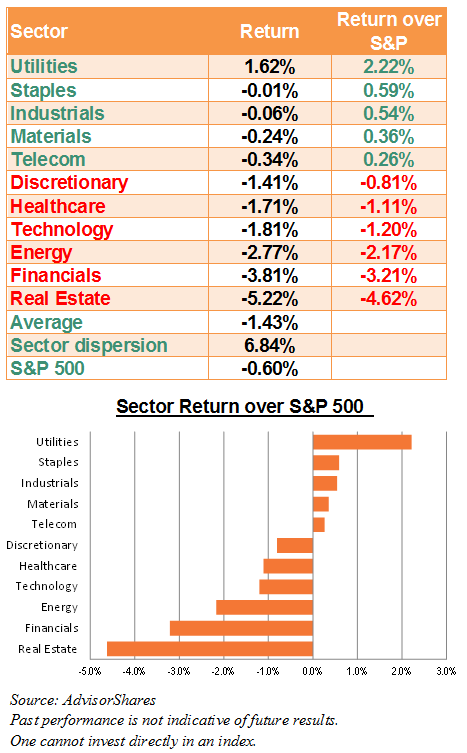 Disclosure: I/we have no positions in any stocks mentioned, and no plans to initiate any positions within the next 72 hours.
Additional disclosure: To the extent that this content includes references to securities, those references do not constitute an offer or solicitation to buy, sell or hold such security. AdvisorShares is a sponsor of actively managed exchange-traded funds (ETFs) and holds positions in all of its ETFs. This document should not be considered investment advice and the information contain within should not be relied upon in assessing whether or not to invest in any products mentioned. Investment in securities carries a high degree of risk which may result in investors losing all of their invested capital. Please keep in mind that a company's past financial performance, including the performance of its share price, does not guarantee future results. To learn more about the risks with actively managed ETFs visit our website http://AdvisorShares.com . AdvisorShares is an SEC registered RIA, which advises to actively managed exchange traded funds (Active ETFs). The article has been written by Roger Nusbaum, AdvisorShares ETF Strategist. We are not receiving compensation for this article, and have no business relationship with any company whose stock is mentioned in this article.