Highlights of the Prior Week
How Much Higher Will Interest Rates Go?
Macro
In our last report, we noted the extent to which 2016 was not going out quietly. Fast forward to this past week and domestic equities could not have been quieter, save for small caps. The Dow Jones Industrial Average gained 0.44%, the S&P 500 fell seven basis points, the NASDAQ declined 0.15% while the Russell 2000 gave back 1.77%. The incredibly strong rally in small caps since the election has been covered in every corner of the financial internet but even if somehow the fundamentals do justify a double digit increase in just over a month, nothing can go in one direction perpetually. Just as a segment of the stock market can go up double digits in a month, that same segment can just as easily go down double digits in a month and neither type of move changes the long-term merits of investing.
The path to normalization continued in the bond market as the yield on the Ten-Year US Treasury Note spent a few hours above 2.60%, closing at 2.59%. Much of the jump in yield last week came after the FOMC announced a rate hike of 25 basis points. It is unlikely that yields jumped because of the increase as this step has been gently spoon fed to the market over the course of several months. More likely the news that FOMC members expect as many as three more rate increases in 2017 versus two previously caused the market's reaction. This most recent leg up in bond yields started right after the election and the declines in the more popular bond ETFs have been swift. This is a drum we have been banging for years; advisors and investors need a plan for when rates move higher. That has been happening and those fund returns show exactly why investors need to seek out strategies that will help them avoid the price declines that go with rising rates.
Speaking of China, it has been reducing its position in US treasuries by $41 billion at last look and now has $1.15 trillion in US paper which puts it behind Japan which now has $1.31 trillion. Every now and then there will be rumblings about selling treasuries as a means to try to punish the US and while $41 billion is not enough to move the needle (some or all of the $41 billion could be from simply letting bonds/notes/bills mature) it is interesting that this has happened in a falling market.
Speaking of one-way trades the US dollar has done just that since the election as the Fed has moved to a relatively tight policy compared to the other large central banks which are still very accommodative. Since the election, the euro has gone from 1.10 to 1.04 and the dollar has gone from 105 to 118 against the yen. If market interest rates continue to move higher then it would be logical to expect further dollar strength which could be problematic for multinational companies' profitability.
Looking at another one-way trade, our friends at Seeking Alpha noted that "gold has gotten smoked." The large ETFs tracking gold in US dollars are down about 11% since the election. To the extent gold is a currency, the US dollar has been strong against other currencies including gold which is a point made regularly be Dennis Gartman. To the extent gold is insurance or a haven, there has been little to no perceived need for this type of protection since the election which along with Barron's latest survey of equity strategists being resoundingly bullish might raise some contrarian hackles.
ETF News
Dave Nadig from ETF.com has declared 2017: Year Of Socially Responsible ETFs;
So far, the drivers in socially responsible investing have remained institutional, but they've been strong. Pensions and Investments Magazine devoted an entire issue in April to the topic. The Global Sustainable Investment Alliance, which tracks the institutional use of ESG strategies, published in its last biennial study in 2014 that ESG assets stood at $21 trillion globally, up 61% from 2012. They estimated at the time that 87% of those assets were institutional.
Interesting Reads
Many were surprised by President-Elect Trump's choice for Secretary of State but maybe they shouldn't have been as he has access to a corporate CIA. As Bloomberg explains Tillerson's Foreign Prowess Said Aided By Exxon Intelligence Arm;
Exxon's need for accurate, nuanced insights into national and local power structures increased in recent decades as oil-rich countries demanded better compensation for harvesting their resources and more control over the projects. The phenomenon, known as producer power, led to the formation of OPEC, oilfield seizures in Venezuela and costly contract revisions from Africa to Central Asia.
Sports
NBA sideline reporter Craig Sager passed away after a battle with cancer. While Sager was well known for the wildly colorful suits he wore to interview coaches and players, possibly more interesting is the story of how he interviewed Hank Aaron after Aaron broke Babe Ruth's Home Run record. Aaron said they had been friends ever since. From Sports Illustrated;
He only had one shot to see Aaron hit the record-breaking homer. With rain in the forecast and the 40-year-old Aaron in the declining stage of his career, that was surely no guarantee. "I just knew he was going to do it that day," Sager told Rich Eisen in July. "My boss told me, 'Well, you can go but you better be back by drive-time tomorrow or you're fired.'"
Source: Google Finance, Yahoo Finance, Wall Street Journal, SeekingAlpha, Bloomberg, Reuters, Barrons, ETF.com, XTF.com, Bespoke Investment Group, Sports Illustrated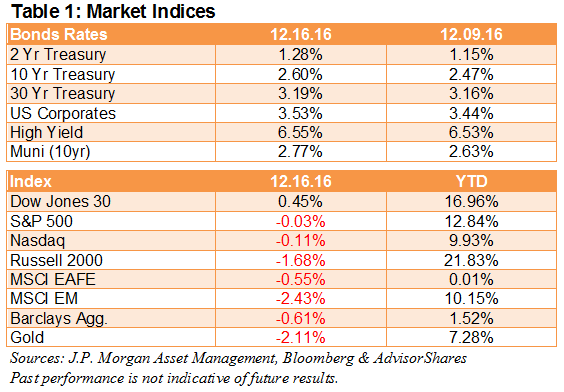 S&P Sector Analysis
As for the sectors of the S&P 500, seven outperformed the broad benchmark - Telecom, Utilities, Healthcare, Staples, Energy, Technology, and Real Estate. The remaining six - Financials, Discretionary, Materials, and Industrials - each underperformed. The dispersion between the top-performing and bottom-performing sectors was roughly 3.87% for the week ending 12/16/16, with Telecom outperforming all, and Industrials coming in last.
For December 12th, 2016 to December 16th, 2016
As measured by the S&P 500 sector indices, respective performances were: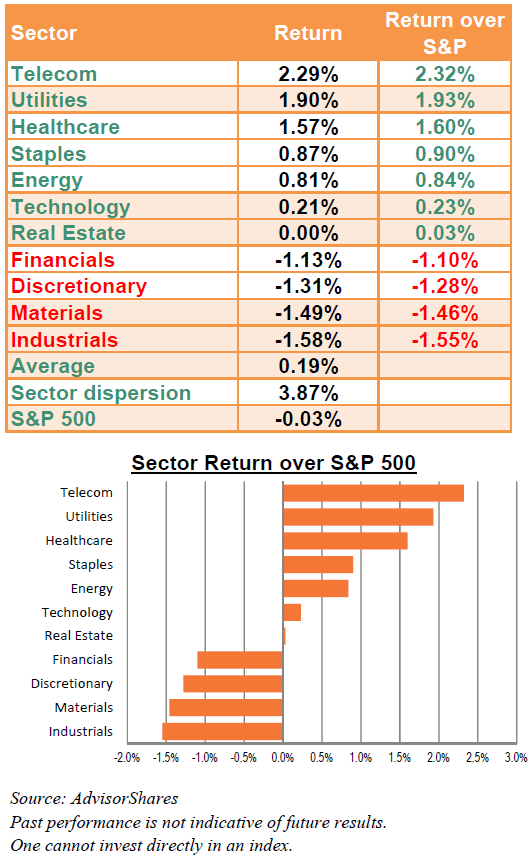 Disclosure: I/we have no positions in any stocks mentioned, and no plans to initiate any positions within the next 72 hours.
Additional disclosure: To the extent that this content includes references to securities, those references do not constitute an offer or solicitation to buy, sell or hold such security. AdvisorShares is a sponsor of actively managed exchange-traded funds (ETFs) and holds positions in all of its ETFs. This document should not be considered investment advice and the information contain within should not be relied upon in assessing whether or not to invest in any products mentioned. Investment in securities carries a high degree of risk which may result in investors losing all of their invested capital. Please keep in mind that a company's past financial performance, including the performance of its share price, does not guarantee future results. To learn more about the risks with actively managed ETFs visit our website http://AdvisorShares.com . AdvisorShares is an SEC registered RIA, which advises to actively managed exchange traded funds (Active ETFs). The article has been written by Roger Nusbaum, AdvisorShares ETF Strategist. We are not receiving compensation for this article, and have no business relationship with any company whose stock is mentioned in this article.