Highlights of the Prior Week
2016 Looks To Finish With Double Digit Gains
Macro
With just four trading days left in 2016, most of the broad based domestic equity indexes are poised for double digit gains for the year. While a lot can happen if four days, the history of this last week is an average gain of better than 1% (from Bespoke Investment Group via Barron's).
For the week, the Dow Jones Industrial Average tacked on 0.46%, the S&P 500 gained 25 basis points, the NASDAQ added 0.47% while the Russell 2000 was up 0.54%. European equity markets were higher last week while Asian markets were mixed. The DAX gained 0.40%, the CAC 40 moved ahead by eight basis points and the FTSE 100 was up 0.80%. In Asia, the Shanghai Composite dropped 0.43%, the Hang Seng fell 1.97% while the Kospi gave back 0.31%. Only the Nikkei 225 managed its way higher with a 0.37% lift.
Not having to talk about the FOMC this week leaves room to spend a little more time on foreign equities. As well as domestic equities have done since the Presidential election, so too have some foreign markets done very well. The DAX is up 9% while the CAC 40 is up 8%. Unfortunately for US based investors, the gains in the corresponding, unhedged country funds have been closer to 2% due to the euro's nearly 5% decline against the US dollar.
Turning to the income markets, the yield on the Ten-Year US Treasury Note moved slightly lower on the week to 2.54%. GDP was revised up to 3.5% from 3.2% despite a better than 4% contraction for durable goods and income was flat versus an expectation for a gain of 0.3%. The German bund closed Friday at 0.22%, the French OAT yields 0.69%, the UK gilt pays 1.34%, the JGB is still positive at 0.05% and the Swiss ten year note is still stubbornly negative, charging holders 12.5 basis points.
West Texas Intermediate Crude Oil was down very modestly for the week, closing out at $53.25. There is a consensus building that crude will spend most of 2017 in the $50's and $60's. While it always makes sense to be at least a little skeptical when too many people agree on something, the plunge that occurred one year ago did wipe out a few marginal producers.
ETF News
Barron's reported that Morningstar is in the process of creating a style box for liquid alternatives (ETFs and traditional mutual funds that offer access to some sort of alternative strategy). The focus here will be correlation and volatility relative to equities. There were actually two different articles focusing on alternatives covering similar ground related to weak performance relative to equities, outflows broadly speaking and then attempted to explain proper expectations for liquid alternatives.
A good example continues to be found in gold. For years, we have contended that one reason to own gold is its tendency to have a low to negative correlation to domestic equities. After a long run of relatively poor returns, many pundits suggested that owning gold no longer made sense. We argued that gold was doing exactly what it was supposed to do which is to not look like equities. As 2016 started, equities sold off and gold denominated in us dollars went up double digits in short order. Fast forward to the Trump rally where equities are up 5-15% depending on the index while gold is down a little over 10%. Great for anyone nimble enough to trade around these moves but small allocations to segments and strategies with a low to negative correlation is how portfolio volatility is managed.
Interesting Reads
In case 2016 wasn't strange enough, the Plaid Zebra gives us Scientists Tell Us What The F*** That New Zealand Sea Monster Was;
Our centuries-long obsession with sea monster tales surely stems out of our mutual respect and fear of the old grey widow-maker. Fantastic, well, fish tales do highlight the public's continuing fascination with the ocean and its inhabitants. Throughout history, humans have populated the inky depths with all sorts of fantastical creatures. It's almost a cliché at this point to say that we know more about the surface of the moon than we do about the bottom of our ocean, even if it's true. The fishy denizens of the inky depths do look monstrous (or at the very least like mangled Muppet characters), even if most of them aren't much bigger than your forearm.
Sports
There was a fun reunion last week on ESPN Monday Night Countdown because Chris Berman Excited To Have Tom Jackson Back For One Night. If this was about baseball, then the headline might have said he was excited to have Jackson back back back;
"It will be like driving a car that you have driven all of your life," Berman said ahead of tonight's game. "For 29 years, we've completed each other's sentences; we've laughed at each other's jokes even if they weren't that funny. I don't know that I'll be able to speak right away because I'll be smiling too much."
Source: Google Finance, Yahoo Finance, Wall Street Journal, SeekingAlpha, Bloomberg, Reuters, Barrons, ETF.com, XTF.com, Bespoke Investment Group, Plaid Zebra, Philly.com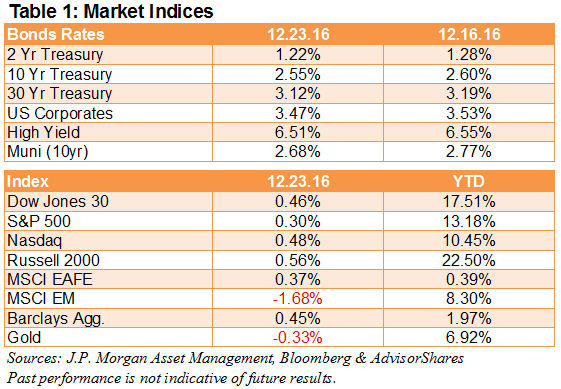 S&P Sector Analysis
As for the sectors of the S&P 500, five outperformed the broad benchmark - Telecom, Financials, Industrials, Technology, and Utilities. The remaining six - Staples, Healthcare, Materials, Real Estate, Energy, and Discretionary - each underperformed. The dispersion between the top-performing and bottom-performing sectors was roughly 2.71% for the week ending 12/23/16, with Telecom outperforming all, and Discretionary coming in last.
For December 19th, 2016 to December 23rd, 2016
As measured by the S&P 500 sector indices, respective performances were: