Highlights of the Prior Week
Hawkishly Dovish?
Macro
Or Dovishly Hawkish? We don't know but in a very effectively telegraphed policy move the FOMC increased the range of the Fed Fund Rate from 0.50%-0.75% up to 0.75%-1.00%. To look at how the domestic equity benchmarks traded you may not guess that the Fed tightened policy. For the week, equities were mildly positive but breaking a trend of the last few weeks, small caps noticeably outperformed, rallying 1.89%. We follow this closely as large/mega cap outperformance is thought to be a sign of narrowing leadership which historically has been a net negative where small cap leadership is thought to indicate a better distribution of outperforming stocks. Adding to the optimism last week was the strong IPO performance for the $900 parka company from Canada which added better than 20% from its listing price.
Recapping the other indexes, the Dow Jones Industrial Average added 5 basis points for the week, the S&P 500 gained 0.22% and the NASDAQ rallied 0.65%.
The 10-year U.S. Treasury note rallied on the hike, the yield dropping eight basis points on the week to 2.50%. There are several ways to interpret a flattening curve; the positive take could be capital flowing into all assets as an expression of optimism and a negative spin could be concern over something beneath the surface like should the Fed be tightening while the GDP continues to print with a one-handle?
On the optimism side of the ledger, the University of Michigan consumer sentiment survey registered the highest numbers since 2000 for Current Conditions. Looking a little closer at the numbers, there is a shocking disparity along political lines. Republicans registered at 122.4,versus an overall number of 97.6, while Democrats came in at 55.3. As an adviser you likely have had clients ask you if they should make changes to their portfolio because Trump won the election. You also probably had different clients ask you the same question after Obama won in 2008. We are unaware of any long term investment strategy (as opposed to short term trading) that avers reactionary portfolio changes based on political outcomes. Staying disciplined is of course key to clients' long term financial success and only being disciplined 90% of the time won't get it done.
With the Brexit vote last summer and the Trump win last November, the world seemed to be headed down the populist trail. Much attention has been paid to Marine Le Pen's moderate success in the French polls, she is a so-called Euroskeptic but is expected to lose a runoff if she gets that far, but until this week very few were talking about Geert Wilders' populist run in the Netherlands which was built on xenophobia and wanting out of the euro. Dennis Gartman set our minds at ease before the election on Wednesday noting that while he had a shot of winning (he lost) he had no shot of forming the coalition needed to advance his would be agenda. The Dutch benchmark AEX index gained 80 basis points in reaction to the Wilders loss perhaps evidencing an expectation that he would lose.
West Texas Intermediate Crude steadied out last week with a gain of 1.25% after dropping 9% the week before. There was a decline in inventories, which maybe didn't help the price so much as it didn't make things worse. Gold priced in U.S. dollars jumped almost 2% on the week to $1229 with most of the gain coming in the face of the Fed rate hike.
Interesting Reads
For a little humor, The Jackalope Rut Is In Full Swing In Wyoming:
If you're lucky enough to have a jackalope tag, the jackalope rut is an ideal time to bag a great trophy trophy buck.
Sports
If you're currently enjoying the NCAA basketball tournament then you are probably aware of how good of a player UCLAs Lonzo Ball appears to be. You might also be aware of the opinions and other unintentionally funny comments Lonzo's father, LaVar Ball has made. USA Today shares Ranking LaVar Ball's 10 Most Outlandish Claims About Himself And His Sons:
"I'll tell you right now, he's better than Steph Curry to me."
Source: Google Finance, Yahoo Finance, Wall Street Journal, SeekingAlpha, Bloomberg, Ycharts.com, Reuters, Barrons, ETF.com, XTF.com, Bespoke Investment Group, CME Group, wideopenspaces.com, USA Today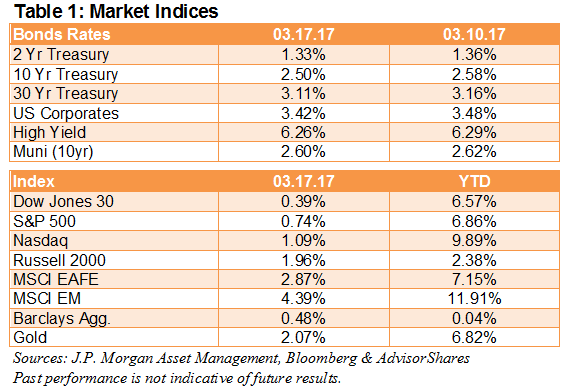 S&P Sector Analysis
As for the sectors of the S&P 500, eight outperformed the broad benchmark - Real Estate, Utilities, Telecom, Materials, Discretionary, Technology, Staples, and Energy. The remaining three - Industrials, Healthcare, and Financials - each underperformed. The dispersion between the top-performing and bottom-performing sectors was roughly 2.82% for the week ending 3/17/17, with Real Estate outperforming all, and Financials coming in last.
For March 13th, 2017 to March 17th, 2017
As measured by the S&P 500 sector indices, respective performances were: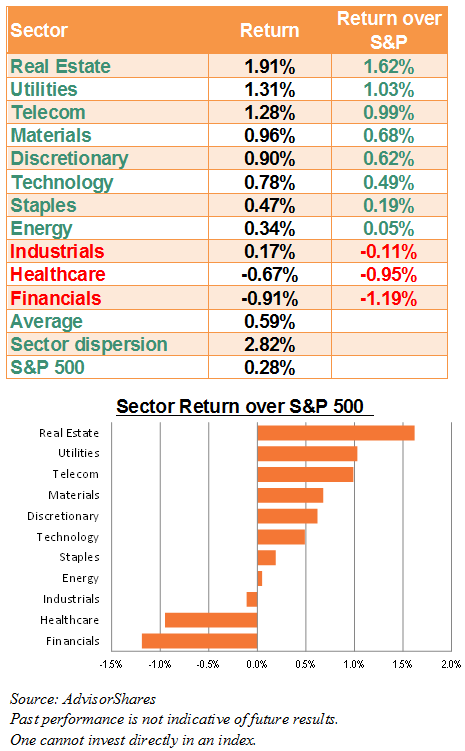 Disclosure: I/we have no positions in any stocks mentioned, and no plans to initiate any positions within the next 72 hours.
Additional disclosure: To the extent that this content includes references to securities, those references do not constitute an offer or solicitation to buy, sell or hold such security. AdvisorShares is a sponsor of actively managed exchange-traded funds (ETFs) and holds positions in all of its ETFs. This document should not be considered investment advice and the information contain within should not be relied upon in assessing whether or not to invest in any products mentioned. Investment in securities carries a high degree of risk which may result in investors losing all of their invested capital. Please keep in mind that a company's past financial performance, including the performance of its share price, does not guarantee future results. To learn more about the risks with actively managed ETFs visit our website http://AdvisorShares.com . AdvisorShares is an SEC registered RIA, which advises to actively managed exchange traded funds (Active ETFs). The article has been written by Roger Nusbaum, AdvisorShares ETF Strategist. We are not receiving compensation for this article, and have no business relationship with any company whose stock is mentioned in this article.