Highlights of the Prior Week
Healthcare Fails, Equities Waiver (sort of)
Macro
The American Health Care Act of course failed on Friday when it was determined there would not be a sufficient vote count to pass the bill so it was never brought to the floor for an actual vote. The bill was complex and the process is complicated and while this would appear create uncertainty around where the administration goes from here, markets were essentially flat on Friday. For the week the Dow Jones Industrial Average fell 1.49%, the S&P 500 was down 1.41%, the NASDAQ gave up 1.19% and the Russell had a drop of 2.62%. Bespoke Investment Group pointed out that last Tuesday's greater than 1% decline for the S&P 500 was the first such decline in 109 trading days. It was only the 11th time since 1928 that such a streak exceeded 100 days
The story in the bond market is probably more interesting, the yield on the Ten Year US Treasury Note fell another ten basis points on the week to 2.40% which continues a flattening trend that has been underway over the last few weeks as perhaps the ten year has put in a double top at around 2.60% back in mid-December and then again earlier this month.
We place a lot of importance on monitoring the slope of the yield curve as it has historically been a useful indicator for the economic and stock market cycles. As a quick refresher, the slope of the yield curve is often viewed as a proxy for the health of bank lending in terms of it being more profitable to lend when the curve is steeper, less so when it is flatter (in effect a tightening) and unprofitable when the yield curve inverts. Curve inversion has a track record for predicting recessions on the idea that lending then becomes a money loser, and so capital is restricted leading to a recession. The curve inverted in 2000 and 2007 and while an outright inversion doesn't seem feasible now it this worth keeping tabs on. See below for the potential impact on equities.
Foreign yields are also rolling over from recent highs. The German bund currently yields 0.40%, the French OAT closed the week at 0.98%, the UK gilt is at 1.19%, the JGB is holding on to positive territory at six basis points and the Swiss ten year is back into negative territory at -0.1% after spending a few days with a positive yield earlier this month.
We have been following the Brexit saga of course since before the vote last year as it is unquestionably historic even if we do not yet know whether any market impact will be meaningful. It will cost the Brits $62 billion to exit the Euro which works out to about $1000 per person. The EU is hoping the fee will dissuade other countries from leaving.
West Texas Intermediate Crude continued to work lower last week but still held the $48 level. In noting that WTI is down 10% this year, Barron's laid out a bullish case for the energy sector that boiled down to exhausted selling as the 52 week low list has stopped growing, it said, as well as most of the sector trading above its 200 DMA. We won't attempt to predict the next 10-15% for WTI but it would be unusual to see another drop to the $20's so soon...if ever.
ETF News
Continuing the yield curve discussion as relates to domestic equities, the significance here has to do with accessing capital. A steeper curve is thought to be a favorable environment for a value company to issue debt because there is likely to be better investor demand as opposed to when the curve is flatter so in a flattening environment like now, growth is likely to outperform value. At the end of 2016 the curve was steepening and sure enough value outperformed, this year the opposite has been the case. While trying to trade around this could be difficult, it could be used as an aid in talking to clients to help set better expectations in discussing portfolio performance and attribution.
We added this to ETF news because of how easy it is to chart ETFs to see this information which can be easier than various indexes to do the same as symbol formatting for indexes tends to be inconsistent across different platforms.
Sports
We enjoy a good desert race now and then and Digital Trends gives us The Mint 400 Is America's Greatest Off Road Race. From the article (but you should click through for the pictures);
The current incarnation of the Mint 400 brings together all manner of off-road vehicles in a series of 22 racing classes covering everything from buggies to elaborate and expensive purpose-built trucks. The trucks are the show that everyone comes to see. In the world of off-road racing, SCORE International calls these unlimited racing rigs "Trophy Trucks" and Best in the Desert calls them "Trick Trucks," but they're the same thing. The basic formula is a tube-frame chassis and roll structure with composite bodywork that sort of looks like a truck.
Source: Google Finance, Yahoo Finance, Wall Street Journal, SeekingAlpha, Bloomberg, Ycharts.com, Reuters, Barrons, ETF.com, XTF.com, Bespoke Investment Group, CME Group, digitaltrends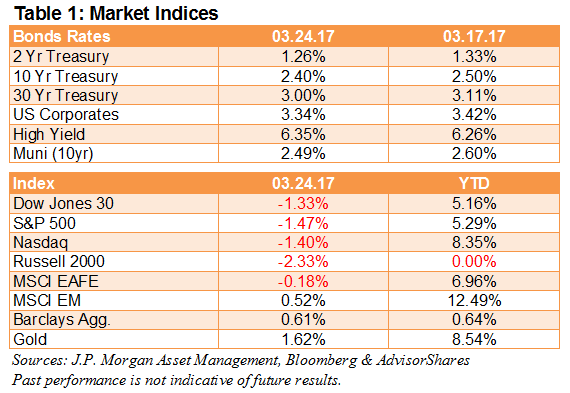 S&P Sector Analysis
As for the sectors of the S&P 500, six outperformed the broad benchmark -Utilities, Real Estate, Staples, Technology, Discretionary, and Healthcare. The remaining five - Materials, Energy, Industrials, Telecom, and Financials - each underperformed. The dispersion between the top-performing and bottom-performing sectors was roughly 5.11% for the week ending 3/24/17, with Real Estate outperforming all, and Financials coming in last.
For March 20th, 2017 to March 24th, 2017
As measured by the S&P 500 sector indices, respective performances were: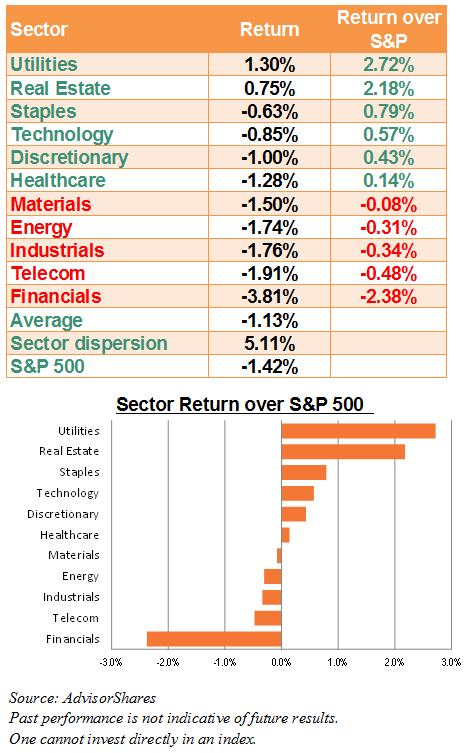 Disclosure: I/we have no positions in any stocks mentioned, and no plans to initiate any positions within the next 72 hours.
Additional disclosure: To the extent that this content includes references to securities, those references do not constitute an offer or solicitation to buy, sell or hold such security. AdvisorShares is a sponsor of actively managed exchange-traded funds (ETFs) and holds positions in all of its ETFs. This document should not be considered investment advice and the information contain within should not be relied upon in assessing whether or not to invest in any products mentioned. Investment in securities carries a high degree of risk which may result in investors losing all of their invested capital. Please keep in mind that a company's past financial performance, including the performance of its share price, does not guarantee future results. To learn more about the risks with actively managed ETFs visit our website http://AdvisorShares.com . AdvisorShares is an SEC registered RIA, which advises to actively managed exchange traded funds (Active ETFs). The article has been written by Roger Nusbaum, AdvisorShares ETF Strategist. We are not receiving compensation for this article, and have no business relationship with any company whose stock is mentioned in this article.