Highlights of the Prior Week
The Denial Trade?
Macro
In recent weekly updates we have commented on the extent to which political headline volatility far exceeded stock market volatility and that continued to play out last week in a flat to slightly, ever so slightly, down week with the Dow Jones Industrial Average falling 0.55%, the S&P 500 dropping 0.36%, the Russell 2000 fell a stick with only the NASDAQ in the green, by 34 basis points. One of the big stock market stories was the lack of volatility as measured by the VIX which spent much of Monday, Tuesday and Wednesday below 10.
We continue to be fascinated by the creative destruction hitting the retail industry as more and more retailers report disappointing sales numbers seeing their stocks punished accordingly while online players continue to thrive. In this past week's AdvisorShares Alpha Call John Delvecchio and Brad Lamensdorf from Ranger Alternative Management talked about the deterioration of the retailers creating a shorting opportunity in mall REITs.
The political volatility of which we speak this week focused on the firing of FBI Director James Comey, the increased calls for an independent prosecutor, the incoherent interview the President gave to The Economist, the humorous one about Sean Spicer hiding in the bushes and we'll ask forgiveness if we are forgetting any others because there is a lot to keep track of. If there is a denial trade it is here as the headlines for now are not moving prices, markets are certainly faced with news from the Oval Office that it has never confronted before and while it used to be that markets did not like uncertainty, the trading would have us believe there is a perception that there isn't much to worry about.
Another word we could have used in the above paragraph is complacency which is supported by the low VIX. Also supporting the complacency thesis is a fun fact from Goldman Sachs, via Barron's, who points out that implied option volatility on one of the larger tech sector ETFs is currently less than implied option volatility on one of the larger utility sector ETFs. On the other side of the complacency trade, we note several retailers have been punished for bad earnings along with the pounding taken by the funny filter app stock in the middle of the week. We can't say we have seen this movie before but we still have an idea of how it ends even if we don't know when it ends.
The financial sector, primarily banks, continues to struggle due to concerns of a flattening yield curve. In the last two months the yield on the Ten Year US Treasury Note has fallen from 2.60% to its current 2.33% and of course the FOMC hiked rates one time while the larger financial sector ETFs have fallen about 5% compared to a 33 basis point gain for the S&P 500. The implication is important. When lending is less profitable there is bound to be less of it and accessing capital is of course crucial for expansion.
ETF News
ETF.com chronicles an ETF's ability to go from about $2 million in AUM to $268 million with one trade as a great primer for how ETF liquidity actually works.
So, how does this happen? Well, obviously, this isn't someone just dropping their $268 million buy order on the market. This is a worked trade. Someone-a large institution obviously-is making the current "Jeff Gundlach Bet" by going all-in on high-growth emerging market companies. They decide they like this particular fund to use, and they call someone-maybe KCG, or Cantor or Susquehanna-and they negotiate the trade. (Note: Bloomberg thinks they know who made the trade, which was the "buy" end of a rotation reallocation.)
Interesting Reads
With Billion's second season having just ended, the Washington Post tells us 'It Is Wall Street Porn': Why Wall Street Can't Stop Talking About Its Favorite Show;
"They are really trying to get it right, whether it's running dialogue by me or other people," said James Chanos, one of the veteran Wall Street insiders on whom the show's creators have come to depend. Chanos has made billions betting on when a company, most famously Enron, would see its stock price plummet, a practice known in the industry as short selling. After decades in the business, he has seen nearly everything.
Sports
With the retiring of his number last night, NJ.com shares the story of Why Yankees Great Derek Jeter Wore No. 2 which before last night was the only single digit number not previously retired;
"I knew by the time Derek proved he wasn't worthy (that) I'd be long gone anyway," said Showalter, who indeed was fired after the '95 season and replaced by Joe Torre.
Source: Google Finance, Yahoo Finance, Wall Street Journal, SeekingAlpha, Bloomberg, Ycharts.com, Reuters, Barrons, ETF.com, XTF.com, Bespoke Investment Group, CME Group, Washington Post, NJ.com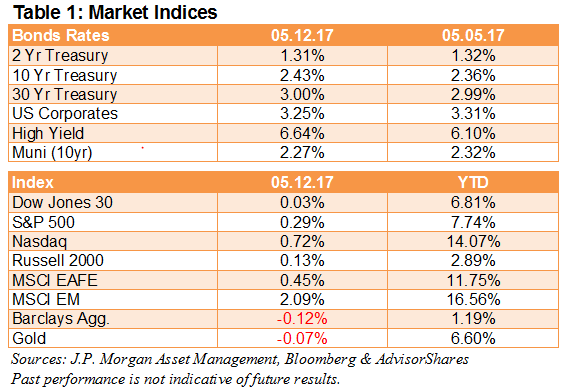 S&P Sector Analysis
As for the sectors of the S&P 500, three outperformed the broad benchmark - Technology, Energy, and Utilities. The remaining eight - Discretionary, Staples, Telecom, Healthcare, Industrials, Financials, Real Estate, and Materials. The dispersion between the top-performing and bottom-performing sectors was roughly 2.83% for the week ending 5/12/17, with Technology outperforming all, and Materials coming in last.
For May 8th, 2017 to May 12th, 2017
As measured by the S&P 500 sector indices, respective performances were: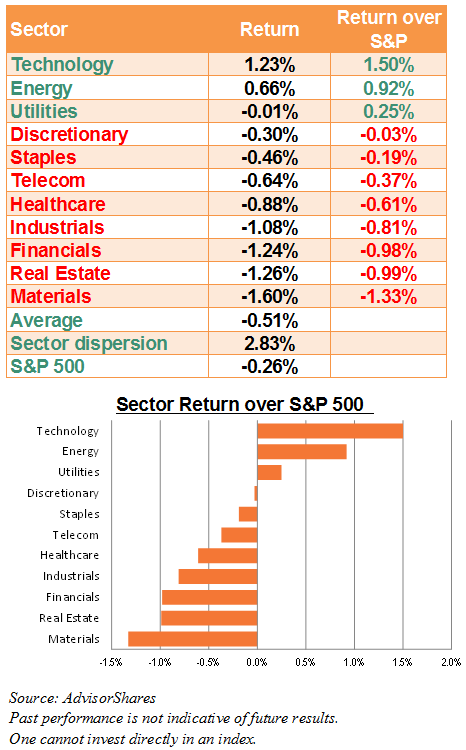 Disclosure: I/we have no positions in any stocks mentioned, and no plans to initiate any positions within the next 72 hours.
Additional disclosure: To the extent that this content includes references to securities, those references do not constitute an offer or solicitation to buy, sell or hold such security. AdvisorShares is a sponsor of actively managed exchange-traded funds (ETFs) and holds positions in all of its ETFs. This document should not be considered investment advice and the information contain within should not be relied upon in assessing whether or not to invest in any products mentioned. Investment in securities carries a high degree of risk which may result in investors losing all of their invested capital. Please keep in mind that a company's past financial performance, including the performance of its share price, does not guarantee future results. To learn more about the risks with actively managed ETFs visit our website http://AdvisorShares.com . AdvisorShares is an SEC registered RIA, which advises to actively managed exchange traded funds (Active ETFs). The article has been written by Roger Nusbaum, AdvisorShares ETF Strategist. We are not receiving compensation for this article, and have no business relationship with any company whose stock is mentioned in this article.