Last week I attended the inaugural Cantech Letter Conference in Toronto, and I have to report that there was a quite a buzz in the room - Canadian technology and biotechnology stocks are back in play. In September 2013, market momentum shifted and since then we've seen the amount of public and private offering in these markets dramatically increase. Lots of Bay Street firms were chatting up CEOs at their booths, and actively recruiting analysts. The retail investment community also appeared starved for growth names in these markets and flocked to every booth at one point or another.
The company that caught our eye in particular was Theralase Technologies Inc. (TSX-V: TLT, US-OTCBB: TLTFF). They design, develop, manufacture and market, patented, super-pulsed laser technology used in biostimulative and biodestructive clinical applications. The Theralase technology platform targets several health-care sectors: First, for non-invasive pain management and clinical therapy, used in neural muscular skeletal conditions, including arthritis and osteoarthritis; Second, wound care and healing (including non-healing fractures and bone fracture regeneration); And third, research and development into combining patented photodynamic compounds (PDCs) with patented, super-pulsed, biofeedback laser technology to attack specifically targeted cancers, bacteria and viruses.
The company is currently focused on the commercialization (production, marketing and distribution) of the TLC-2000 Superpulsed Laser Technology to healthcare practitioners, and commercialization of the patented TLC-3000 Photo Dynamic Compound Cancer Technology through pre-clinical research and clinical trials.

Key Investment Highlights:
Working on breakthrough bladder cancer destruction technology and has achieved tremendous success in pre-clinical trials
Proven clinical technology (TLC-1000) and commercial therapeutic laser business and brand developed over last 17 years, currently generating ~2M of revenue annually
Rollout of new TLC-2000 technology in 2014, along with a new recurring revenue business model
Strategic agreements in place with world renowned institutions to help advance research and mitigate expenses
Competitive technical advantages (Cellular pathways: iNOS, ATP, Na+ / K+)
Future technology (patented biofeedback technology and patented PDC cancer destruction)
IP protection (multiple issued patents)
Large addressable US markets ($ billions)
No debt
Positive cash flow / double digit growth
Lots of opportunity for short-term and long-term growth (revenue & profit)
Experienced management team (20+ years)
Clear vision and execution strategy
TECHNICAL ANALYSIS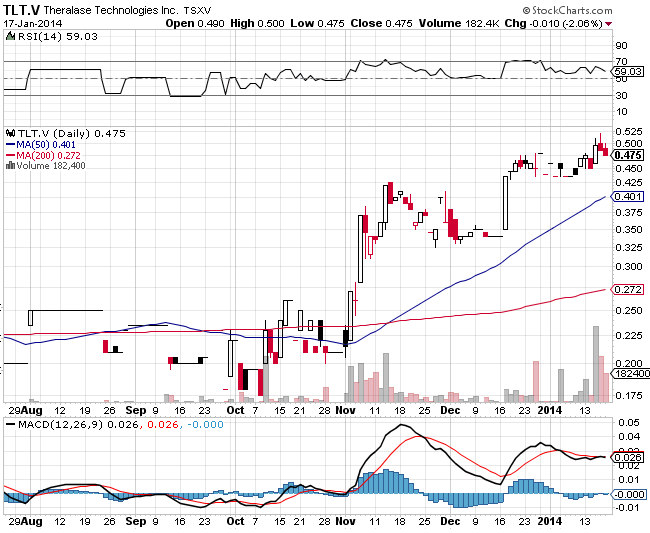 Technically speaking, Theralase is very bullish. Average volume has doubled this past month, and new 200-day highs have been reached. The MACD line is on the zero and signal lines, potentially setting up what I believe to be the next breakout. Short-term indicators appear bullish as well. The share price crossed the 21-day MA last week, and strong momentum moved the share price up to a new 52-week high.
ANTI-CANCER PLATFORM TECHNOLOGY
Theralase has patented anti-cancer drugs known as Photo Dynamic Compounds (PDCs) which localize the DNA of cancer cells and when irradiated, destroy the DNA resulting in apoptosis (natural cell death). While PDCs are used in Photodynamic Therapy (NYSE:PDT) as a potential treatment regime for a number of conditions, Theralase has discovered that they hold particular promise as treatment to particular cancers. Theralase PDCs have proven successful in destroying breast, colon, brain and bladder cancer cells. Recent lab results have shown that Theralase was able to completely destroy subcutaneous bladder cancer tumors in mouse models. "The achievement of this important milestone signifies that Theralase's leading drug candidate is effective in the destruction of cancer in a live animal model and can prevent the cancer from recurring," commented Roger White of Theralase.
Key Market Statistics:
US bladder cancer treatment annual spending was $3.9 billion in 2012
70,000 new cases, > 14,000 deaths in the US each year
386,000 new cases are diagnosed worldwide annually
Standard treatment unchanged with no new drugs approved since 1998
5th most common cancer, 4th in men, 8th in women
Most expensive cancer to treat with a recurrence rate up to 80%
70% of new bladder cancer cases are early stage disease and 90% of bladder cancers are Transitional Cell Carcinoma (NYSE:TCC)
Theralase PDC Characteristics:
Up to 100% cancer cell kill at very low concentrations (< 0.8μM)

More effective at killing cancer cells than FDA approved drugs
(668,000x ALA, 198x PHOTOFRIN)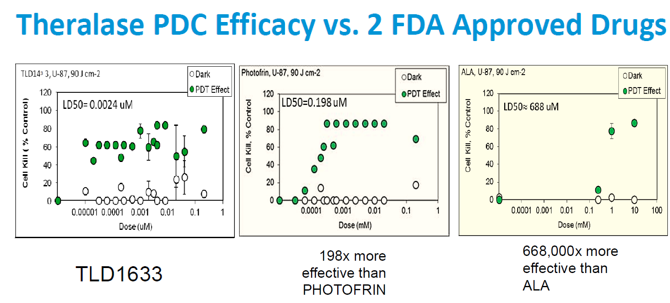 Survival of mice up to 20 months (50 human years) after one Theralase PDT treatment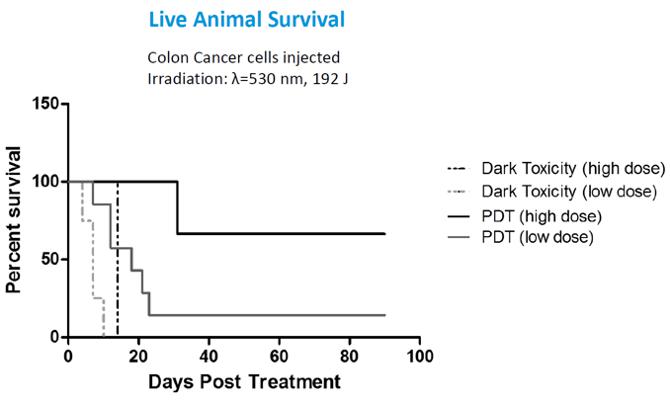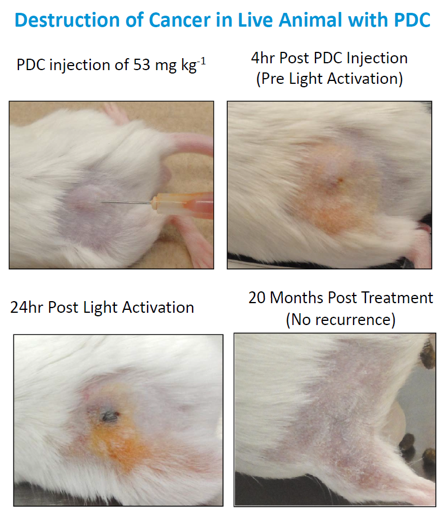 We are VERY IMPRESSED, and VERY EXCITED about these results! In 2012, annual spending for bladder cancer treatment in the US was $3.9 billion, and the current standard of care has been unchanged with no new drugs approved since 1998. Bladder cancer is the most expensive cancer to treat, and has a recurrence rate up to 80%. All of the mice which showed an initial response have remained cancer free, healed without scarring, and have developed normally after only one Theralase PDC treatment. Needless to say, the early results from Theralase look extremely positive. Imagine being able to not only provide treatment for bladder cancer, but to actually cure it, and stop it from coming back! The company is also working on developing further PDCs that can be used to treat a wide variety of other cancers (breast, colon, brain and lung), as well as bacteria and viruses.
The general patent protects 1,000s of molecules - essentially a library of PDCs
Virtually 0% toxicity at high concentrations (> 100μM) leading to ultra-high safety profile
Activated by laser light providing excellent specificity and selectivity
Able to treat solid core hypoxic tumors, such as: breast, prostate and lung
Research outsourced to and performed at world renowned Princess Margaret Cancer Centre
Patented under numerous US and International Patents:
Pending USA Patent Applications: 61/801,674, 13/863,089, 13/36595
To help explain how the procedure works we sketched a diagram: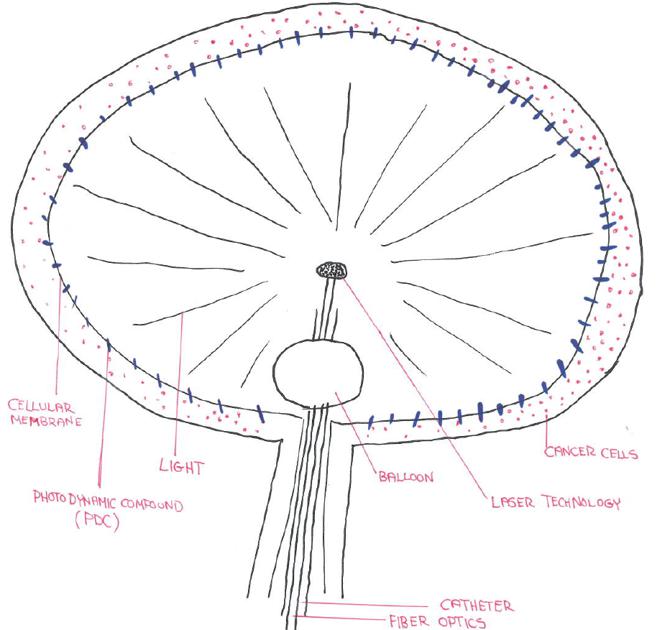 A catheter is inserted into the patient
The PDC is injected and saturates within the patient's bladder, penetrating the cellular membrane (DNA localizing)
Fiber optics cables are inserted up the catheter into the bladder
Using laser technology, light is irradiated 360°
The entire procedure takes about 2 - 3 hours
Theralase is currently completing the validation of the orthotopic rat model, a dose toxicity study, GMP drug manufacture, and FDA Investigational New Drug (NYSE:IND) application. The next phase is to complete an FDA phase 1/2a human clinical study with FDA breakthrough status, and then to execute a strategic partnership agreement with big pharmaceutical (pharma) company (upfront payments, co-development funds, annual recurring revenue streams).
Industry comparables: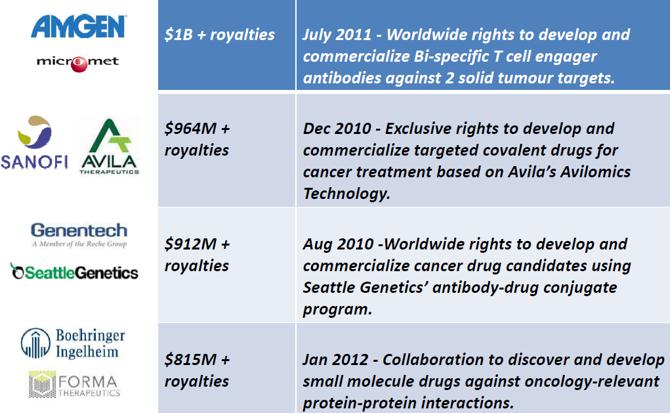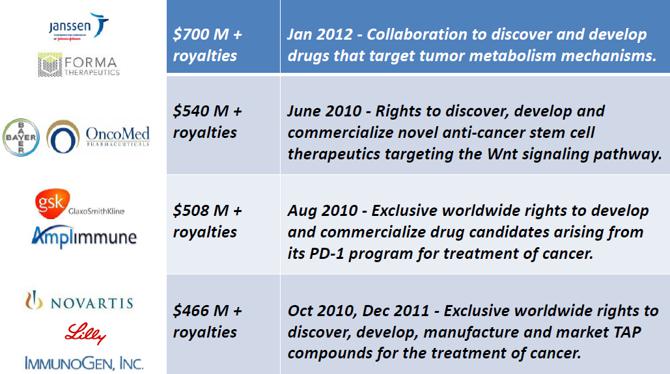 Deals with comparable big pharma companies have yielded anywhere from $466M to $1B plus royalties.
Risk Assessment Chart:
| | |
| --- | --- |
| Scientific Risk | In‐vitro and small animal in‐vivo results show virtually zero toxicity and up to 100% cancer kill across a wide range of cancers. |
| Manufacturing Risk | Drug manufacturing will be outsourced to a GMP facility. Laser design will be completed by Theralase which is ISO‐13485 certified and has designed and manufactured laser systems for over 20 years. Manufacturing of sun components will occur at ISO‐9001 manufacturing facilities. |
| Regulatory Risk | Very low as anti‐cancer technology has demonstrated up to 100% effectiveness in bladder cancer cells with virtually zero toxicity as it never enters the blood stream. FDA is very supportive of approving new cancer drugs. In fact, their applications are accelerated during the clinical trials process. |
| Financing Risk | $3.15 M financing completed in November 2013 to commercialize next generation therapeutic laser and commence Phase 1 / 2a anti‐cancer human clinical trials. |
| Liquidity Risk | Company currently trades on the TSXV under ticker TLT and is a fully reporting issuer. It also trades in the US OTCBB: TLTFF. |
| Execution Risk | Outsourced to Princess Margaret Cancer Centre, one of the top 5 cancer institutes in the world. Canada's top uro‐oncologist and Head of Urology at Princess Margaret Cancer Centre will lead bladder cancer clinical trials. |
Bottom line, Theralase's PDCs have the potential to be game changers, better yet, life changers within the medical community - a literal cure for cancer. We believe that this division of the company has the potential to yield massive returns for investors over time. It will take 2 - 3 years to play out in its entirely, but for a biotech company with revolutionary technology aggressively targeting a multi-billion market, with no competition in the market, it really seems like a smart investment for the future. Lots of room for upside appreciation, with very little downside risk.
THERAPEAUTIC LASER PLATFORM TECHNOLOGY
Theralase is a leading designer and manufacturer of state of the art cold laser technology used to heal a wide range of nerve, muscle and joint conditions (i.e.: lower back pain, knee osteoarthritis, shoulder tendonitis).
Key Market Statistics:
More than 56 million patients suffer from acute and chronic pain in the U.S.
U.S. pain market exceeds $100 Billion annually and is growing rapidly
Aging population and rapidly rising healthcare costs lead to large market opportunity
Therapeutic lasers are used daily by thousands of practitioners worldwide with millions of patients successfully treated
Theralase Laser Technology Highlights:
Superpulsed technology with best‐in‐class tissue penetration up to 4" into tissue
Only technology proven to eliminate pain, reduce inflammation and accelerate tissue healing through 3 independent cellular pathways (iNOS, ATP, & Na+ / K+))
Cleared by FDA, Health Canada and CE for sale in 180 countries
Proven extremely safe and effective (> 90% efficacy) in blinded, randomized, controlled clinical studies
Patented laser technology (patent No. US 6,413, 267)
Large installed base of over 800 systems sold in Canada
Solid business built in Ontario over the last 20 years consistently producing annual revenues of approximately $2M (580 systems or 72% of sales completed in Ontario)
New multidisciplinary therapeutic laser centre and corporate head office is both cost effective and adds a significant revenue stream
Endorsed by professional sports teams including the Toronto Blue Jays, Montreal Canadians, Washington Wizards and Toronto FC.
Research and development of patented next generation therapeutic laser technology, the TLC-2000, completed and moving to commercialization in 2014

Theralase currently generates ~$2M in annual revenue from their laser therapy division, and has a strategy in place to increase that figure by 300 - 400% in 2014. The growth strategy includes expansion across Canada and aggressively into major U.S. markets, as well as introducing a recurring revenue model with the release of the TLC-2000. Theralase will start selling its next generation patented therapeutic laser, the TLC-2000, this year. Theralase has also outsourced clinical studies to the University of Buffalo to demonstrate the efficacy of the new biofeedback technology. Theralase has made it a goal of theirs to have an installed base of 400 units at $16,500 each, which equates to $6.6M in annual revenue.
Industry Comparable Laser Technology: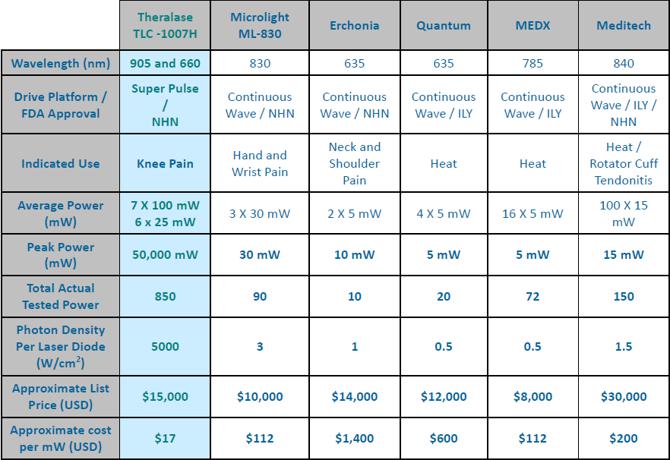 When looking at industry peers, Theralase technology is far superior. It is adaptable for many different purposes, can operate on two different wavelengths, has a significantly higher power output, and has the best price/value ratio - not only in terms of functionality, but also capital and operating cost. In fact, Theralase has structured a payment plan where practitioners sign a 42-month lease (6 payments @ $99/month, followed by 36 months @ $500). At the end of the term, the customer must continue with monthly payments into perpetuity or the system ceases to operate. The average practitioner performs 200 treatments a month at $50 per treatment, which equates to $10,000 monthly revenue. Each practitioner is generating ~20x ROI per month. Each unit costs Theralase ~$3500, which is >75% margin.
Risk Assessment Chart:
| | |
| --- | --- |
| Scientific Risk | Zero. Alpha prototype has already been designed and patented. |
| Manufacturing Risk | Zero. Laser manufacturing will be completed by Theralase which is ISO‐13485 certified and has designed and manufactured laser systems for over 20 years. |
| Regulatory Risk | Zero. Current therapeutic laser technology is already FDA, Health Canada, and CE approved. The next generation will use these approvals for approval. |
| Financing Risk | Zero. $3.15 M financing completed in November 2013 to commercialize next generation therapeutic laser and commence Phase 1 / 2a anti‐cancer clinical trial. |
| Liquidity Risk | Virtually zero. Company currently trades on the TSXV under ticker TLT and is a fully reporting issuer. It also trades in the US OTCBB: TLTFF. |
| Execution Risk | Extremely low. Theralase will displace its own technology in 2014 to achieve sales projections. Theralase will displace a small portion of competitive products to achieve further objectives. Along with its recurring revenue model. |
The therapeutic laser division of Theralase is currently the bread and butter of the company. It is extremely reliable and has good growth potential, with an extremely low risk profile. This division isn't what's going to make shareholders rich - but it is going to add millions of dollars into company coffers. This will reduce the need for further dilution down the road, and will allow management to set the terms of the deal. Many resource companies are starved for financing right now, but with commodities trading at recent lows, no money is available for them to explore. That's the great thing about Theralase, the company can 'explore' PDCs, while generating millions of dollars of high margin revenue from its laser therapy division.
COMPANY LEADERSHIP
Theralase has a very experienced and diverse management team with a strong background in medicine, engineering, technology, and finance.
Roger Dumoulin-White, P.Eng. (Electrical) is the company's founder, President and CEO. Roger previously occupied a senior management position at an international auto manufacturer, before inventing the company's laser technology (patent No. US 6,413, 267). Having personally met Roger, I can attest that he is very passionate about the company and seems focused on delivering value to shareholders. A lot of CEOs talk about what they'd like to achieve, but Roger talks about what he has achieved and what he's going to achieve.
Another critical member is Dr. Arkady Mandel, M.D., Ph.D., DSc., Chief Scientific Officer of Theralase. Dr. Mandel is one of the key founders of the therapeutic use of lasers in dermatology and other areas of clinical medicine, as well as the originator and developer of phototherapy methods. He has over 100 original papers and scientific monographs to his name, and over 200 international patents attributed to his research, Dr. Mandel will lead the research and development of the Theralase's technologies through to commercialization.
Also worth mentioning, is that in addition to its Board of Directors, Theralase has a Scientific and Medical Advisory Board (SMAB), comprised of international key opinion leaders and esteemed scientists with broad expertise in biomedical and clinical research, drug discovery and development, as well as, medical device engineering and manufacturing. The Board's most esteemed member is Dr. James Andrews, world renowned orthopedic surgeon. "[Andrews] is the alpha doc at the center of a sports-medicine network that extends well beyond doctors. Every athletic trainer, physical therapist, strength-and-conditioning coach in the land seems to have Andrews' cell phone number", reads an excerpt from ESPN magazine. Among others, Dr. Andrews has consulted for Tom Brady, Brett Favre, Drew Brees, and Albert Pujols, and currently serves as the team doctor for Alabama, Auburn, and the Washington Redskins.
Roger has also led successful negotiations to execute a number of strategic partnership agreements for Theralase:
University Health Network
(comprised of three teaching hospitals affiliated with the University of Toronto Faculty of Medicine, including Princess Margaret Hospital, home of the Ontario Cancer Institute)
Ontario Centers of Excellence for Photonics
Virginia Tech
The Scripps Research Institute
University of Buffalo
Mayo Clinic
The most notable of the agreements is with the UHN, outsourcing all pre-clinical and clinical development of Theralase's PDCs. This mitigates risk and protects the interests of the shareholders, along with getting the expertise of world renowned doctors. It's comforting knowing that some of the best specialists in their fields are working with Theralase.
FINANCIAL SITUATION
In November 2013, Theralase closed an oversubscribed equity financing raising $3.15M through a private-placement offering. Attached to the shares were 21 million (now in-the-money) warrants, which when executed, will generate another $4M for the company.
As of the most recent Q3 2013 financial report, Theralase increased its profitability by 40% year over year, even as we saw revenue decrease 25% year over year. The net loss of $596,873 through nine months ended Sept. 30, 2013 is a reflection of the continuing commitment of Theralase to reinvest in the next generation of therapeutic laser and cancer destruction technologies from existing therapeutic laser sales.
Theralase will use any cash on hand as working capital to develop the company's strategic initiatives in a number of areas, specifically:
Canadian and United States sales and marketing expansion
Launch of patented next-generation Theralase TLC-2000 therapeutic laser in 2014
Completion of patented PDC bladder cancer technology preclinical investigation and commencement of phase 1/2a human clinical study in 2014
There are currently ~66 million shares issued and trading, and ~91 million shares on a fully diluted basis. That gives Theralase a market capitalization of ~31M today (~$43M fully diluted).
If you consider the laser therapy division alone, Theralase plans to sell about $6.6M of TLC-2000s in 2014, and projects cumulative ROI of 300% in the third year, and 500% in the fifth year (margins are ~75%). So, there should be a steady stream of cash coming into Theralase with the upcoming launch of the TLC-2000, which will see the company through 2014, in addition to the cash already in the bank from the recent financing.
Even though the PDCs don't generate any revenue yet, the payoff is potentially MASSIVE. Theralase projects that if the trials go well and they receive FDA approval, cumulative ROI will be 1100% in the third year, and 1200% the fifth year. Given that just the U.S. bladder cancer treatment market in 2012 was $3.9B, and there have been no new drugs approved by the FDA since 1998, Theralase has the potential to capture a SIGNIFICANT PORTION of the steadily growing marketplace.
VALUATION
In general, the valuation of biotech companies has been a complicated business for investors - especially early development stage companies such as Theralase. Analysis of financial history gives us little indication of future performance, and non-risk adjusted forecast models underestimate the inherent risk in drug development.
Due to the hybrid business model of Theralase, it's necessary to look each division separately and then as a whole.
We've performed a sensitivity analysis on the laser therapy division of Theralase to gauge the value of just that aspect of the business:
Laser Therapy Division Valuation Sensitivity Analysis

2014 Sales Projections

$4,000,000

$6,000,000

$8,000,000

10x Multiple Applied

$40,000,000

$60,000,000

$80,000,000

Price Per Share (fully diluted)

$0.44

$0.66

$0.88
Presuming that all of the in-the-money warrants are executed, using an industry standard metric of 10x revenue, the value of just the laser division of Theralase should be worth between $0.44 and $0.88 per share depending on the execution of management.
That's not factoring in the potential of the PDCs, which will be in the hundreds of millions dollar range if approved by the FDA. When looking at the industry comparables chart above, big pharma deals have ranged anywhere from $466M to $1B plus royalties. That is a significant amount of money, which leaves significant upside potential for an investment made today.
The thing is, by the time clinical trials have been completed (assuming they're successful), Theralase will be trading many multiples higher than today. Look how excited investors got when Theralase first released PDC breast cancer results during January 2010, the intraday high for TLT was $1.39/share: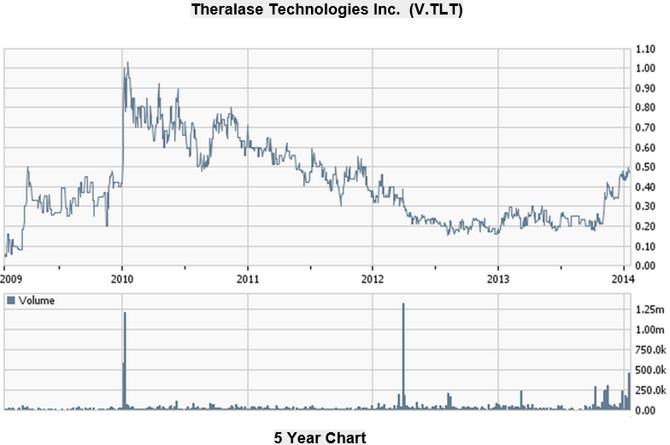 Investors saw the potential back then, but when the market peaked and dried up near the beginning of 2011. Global indices and markets were hit hard, along with the share price of Theralase and the entire TSX Venture.
However, all that has changed.
As mentioned at the beginning of this article, there was a quite the buzz going on at the Cantech convention that many brokers haven't seen in years, and retail investors were flocking booth to booth, eager to hear about the emerging technology and the potential for returns. If anything, I might even say that there is so much money available in the biotech marketplace that the valuation of good projects is going to be driven up because there is so much more competition among venture capitalists.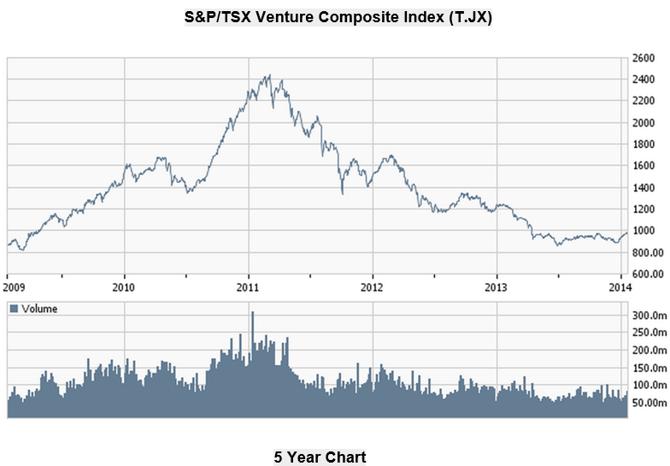 Now that major indices are at nose-bleed highs, many investors want to take some money off the table and are looking for low-risk, growth opportunities with significant upside. Since the TSX Venture is still near multi-year lows, now is a great time to invest, and people are excited to do so.
Theralase has ~$3M cash in the treasury right now, we can expect another $4M from warrant executions, and the company projects ~$6.6M of revenue for 2014 (at about a 75% margin) with the launch of the TLC-2000. Theralase has entered into strategic agreements with a number of institutions to outsource research, studies, and trials, most importantly with the UHN to outsource all pre-clinical and clinical development of Theralase PDCs. In doing so, management has mitigated risk and expense by working with the world renowned staff at the Princess Margaret Hospital.
So now that you have all of this information available, YOU have to figure what the PDC technology is worth to YOU. What you would be willing to pay for it. And what others would be willing to pay for it.
Valuation = Laser Technology + PDC "X FACTOR"
Our personal 2014 price target for Theralase is ~$0.989 per fully diluted share.
We can easily see the market cap tripling from here based on meeting TLC-2000 sales expectations and good updates from the lab and regarding the FDA approval process.
We feel that our target is conservative based on the potential for Theralase's PDC technology, and as mentioned before, speculation in 2010 drove the share price up to $1.39/share.
Examine the risk assessment charts above. Consider your own risk tolerance. And decide what YOU want to pay.
CLOSING THOUGHTS
Biotech companies confront unique problems and circumstances, including high cash-burn rates, lengthy product development cycles, and uncertain and often unreceptive capital markets.
That isn't the case for Theralase. The company has a low cash-burn rate and expects significantly higher revenue in 2014 from its laser therapy division. Theralase has a focused product development plan, and most importantly, a management team with the necessary knowledge and expertise to see the drug through clinical trials and FDA approval. And lastly, the company is well financed having just completed an oversubscribed private placement.
The new laser technology is nearing commercialization and we should expect to see at least a few years of solid Y/Y growth and revenue out of it. With the expected ramp up in sales and marketing, the opening of new offices across North America, and the new business model that focuses on generating recurring revenue, Theralase is well poised to have steady cash flow.
Meanwhile, and this is the really exciting part, Theralase can focus on the research and development of its PDCs - which is where the BIG MONEY is at. Theralase is concentrated on getting to FDA phase 1/2a human clinical trials and expects have initiated them before the year is out.
The money is already in place! Now the management team needs to execute!
So, all things considered, we believe that this is excellent timing to make an investment in Theralase.
Theralase's PDCs have the potential to be game changers, better yet, life changers within the medical community - a literal cure for cancer. It will take 2 - 3 years to play out in it's entirely, but for a biotech company with revolutionary technology aggressively targeting a multi-billion market, and with no competition in the marketplace, it really seems like a smart investment for the future. Lots of room for upside appreciation, with very little downside risk.
Upcoming short-term catalysts include getting an update on operations (particularly regarding the validation of the orthotopic rat model, a dose toxicity study, GMP drug manufacture, and FDA Investigational New Drug (IND) application), anything regarding TLC-2000 commercialization, and 2013 financial results.
So… Do you think that Theralase is the greatest story ever told? It might turn out to be. At the very least it could be the greatest story that comes out of the TSX Venture over the next couple of years. Imagine, actually being able to not just treat bladder cancer, but to actually cure it. Theralase is working to make that a reality.
Disclaimer: This report is prepared for informational purposes only and is not to be construed as an offer to sell or the solicitation of an offer to buy any security in any jurisdiction where such an offer or solicitation would be illegal. This report does not constitute or contain investment advice. We are not soliciting any action based upon this material. It does not take into account the particular investment objective, financial situation or needs of individuals. Before any action, an individual should seek professional advice. All expressions or opinions are subject to change without notice. The author has no position in any of the mentioned or related securities including derivatives in such securities. Any photocopying or retransmission of this report without permission is prohibited and subject to liability. The author does not guarantee any returns nor guarantee the outcome of what has been portrayed in this report.
Disclosure: I have no positions in any stocks mentioned, and no plans to initiate any positions within the next 72 hours.