There are many discussions about AIG ability to run their business and the government's role. This makes sense of course.
Here is my point of view upon a technical approach. Since market movements are depending on supply and demand equation, I try to put it simple.
Looking at weekly chart we can spot a steady up trend supported by increased volume. All above mentioned themes can be resumed on price action, although this is not the case ever, as everybody knows.
So, for medium to long term perspective, one can wait for better entry point and go. Not to mention to monitoring price action of course.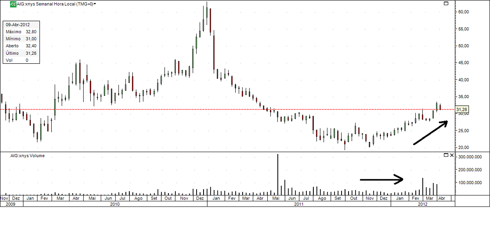 Umbeluzi - March 11, 2012 (14h00 pm GMT)
Disclosure: I have no positions in any stocks mentioned, but may initiate a long position in AIG over the next 72 hours.