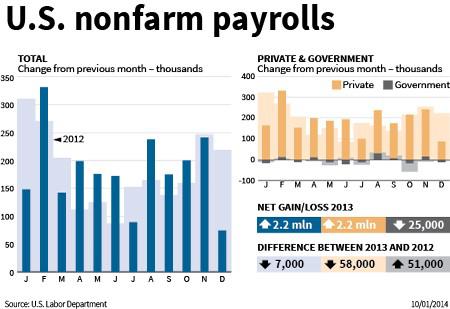 Fridays NFP rose only 74K dissapointing the markets expecting hefty jobs gains (med +200K)
Unemployment rate fell from 7% to 6,7% the lowest level since 2008 .
Severe weather conditions are cited as the main reason of temporary setback. Most of the economists do not see December data as the reversal of positive trend in US jobs market.
Not all the losses can be blamed on bad weather( est.100 K) . Information sector shed 12K of jobs. Medical sector registered decline in employment for the second time in history .
December data should not affect FED expectations of solid growth in US economy in coming months . FED is still expected to taper asset purchases at subsequent meetings .
US economy is on well established recovery path. US labour market is expected to recover and reach pre -recession levels in coming months)
source:Reuters