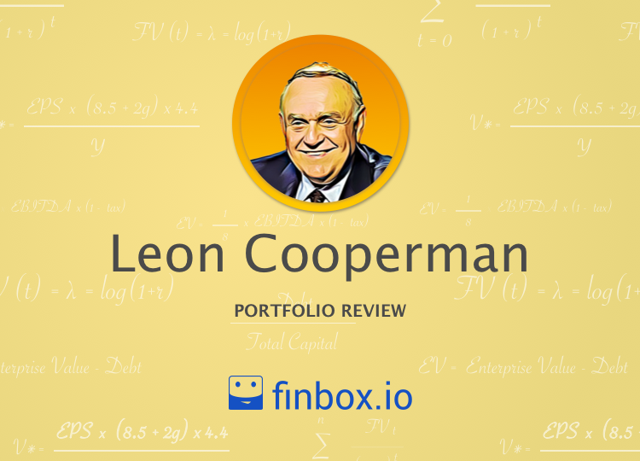 The hedge funder continues to outperform even in the face of erroneous insider trading charges. Below, I take a closer look at his $3.1 billion portfolio and current stock holdings.
---
Leon Cooperman: A Career of Triumphs
Leon Cooperman's career in the investment industry spans over 50 years. After 25 years at Goldman Sachs, he started the hedge fund Omega Advisors, where he remains Chairman and CEO.
Cooperman began his career at Goldman Sachs immediately after graduating with an MBA from Columbia. His focus for most of that time was investment research. He was voted the number one portfolio strategist, in the Institutional Investor "All-America Research Team" survey, for nine consecutive years. When he left the company in 1991 he was chairman and CEO of Goldman Sachs Asset Management. He was also the CIO of the Goldman Sachs Capital Growth Fund.
In 1991 he started Omega Advisors which has gone on to build an enviable track record. Between 1992 and 2014 the fund returned 14.6% a year, and only lost money in four years. It also outperformed the S&P500 during 12 consecutive years from 1999 to 2010.
Cooperman is known for his work ethic, and was described by well-known investor, Doug Kaas, as "the hardest working man in the industry." It's believed that he has only taken one two-week vacation in his entire career. Another former employee said, "He has no hobbies, no anything. This is what he does."
Unlike many successful investors, Cooperman doesn't flaunt his wealth. He works because he enjoys it, and not to make money. He supports several charitable causes and has signed Bill Gates and Warren Buffett's Giving Pledge.
While he has built a $3.1 billion personal fortune, more recently he has run into trouble with the SEC over insider trading allegations. Though he denies any wrongdoing, he settled with the SEC in early 2017. The publicity took its toll on his business, with the result that most of the client funds were withdrawn from Omega Advisors. This leaves the fund with only $3.6 billion, most being Cooperman's own money.
---
Any Stock or Bond at the Right Price
Though Leon Cooperman started out as a value investor in the tradition of Ben Graham, he is really a generalist and market timer. He will buy any asset if he believes the price is right, whether it's a growth stock, a blue chip, a small cap or even a bond. He has said that:
"generally any stock or bond at the right price. I find over the years, if I buy something at the right price, invariably I get lucky."
Cooperman has also said that he looks at a combination of return-on-equity, growth rate, price-to-earnings ratio, dividend yield, and asset value.
Colleagues have said that he knows some companies better than their CEOs and he double checks any numbers he is given. One of his best picks was Teledyne Technologies (NYSE: TDY), which he got to know by meeting with the CEO twice a year for 25 years.
Along with extremely thorough bottom-up company research, he also looks at the macro environment. For instance, he said in 2009 when stock prices stopped falling despite weak earnings, he knew a bottom was forming.
His investment style is aggressive which has generated strong returns over time, but can also lead to periods of significant underperformance. Because he takes decisive bets, when he gets it wrong, he takes substantial losses. Gains elsewhere usually offset these losses, but sometimes everything can go wrong at the same time. Notably, one of his worst years was 1994 when multiple trades in different asset classes didn't work out. In 1998, he was overexposed to emerging markets during the financial crisis in Russia. As a result, he missed out on the stock market rally in the US and underperformed the market. And in 2008 he didn't respond to the crisis quickly enough – although his fund outperformed the S&P 500, it still lost 35%.
---
Omega Advisors's Latest Form 13F Filing
On November 14th, 2017, Leon Cooperman's firm Omega Advisors filed their quarterly Form 13F regulatory filing. I reviewed the 13F filing to review holdings in Omega Advisors' large portfolio.
Omega Advisors' stock portfolio totals nearly $2.6 billion according to the latest filing. The list value of stock holdings is up 7.4% when compared to the last quarter. As a benchmark, the S&P 500 was up 3.9% over the same period.
Quarter-over-Quarter Turnover (QoQ Turnover) measures the level of trading activity in a portfolio. Omega Advisors' QoQ Turnover for the latest quarter was 19.6%, so the firm appears to trade a significant percent of its portfolio each quarter.
Continue reading A Detailed Look Inside Leon Cooperman's Stock Portfolio.