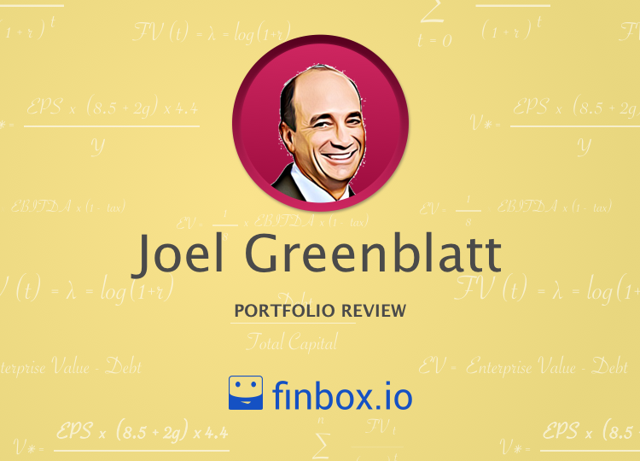 A detailed explanation Joel Greenblatt's Magic Formula Investing strategy and a review of his hedge fund's current stock holdings.
---
The Value Guru
Joel Greenblatt is an investor, writer and academic. He is probably best known for the books he has written, but also manages funds and frequently lectures on investing. He has developed a very specific style of value investing, termed Magic Formula Investing, which has permeated his writing and investing businesses.
He started Gotham Capital in 1985 with $7 million in seed capital from famed junk bond investor Michael Milken. Between 1985 and 1994 the fund generated returns of 34% per annum. He then returned money to investors but continued to manage his own money in the fund. Between 1985 and 2006 the fund generated returns of 40 percent per annum.
In 1997 Greenblatt wrote You Can Be a Stock Market Genius and in 2005 he wrote The Little Book that Beat the Market. Both were bestsellers, and continue to feature on lists of the best investment books to read. Then in 2010, he wrote a follow-up, The Little Book that Still Beats the Market and in 2011 he published his fourth book, The Big Secret for the Small Investor.
In 2009 Greenblatt relaunched his company as Gotham Asset Management, which he runs together with Robert Goldstein. In 2012 the firm launched a series of long/short mutual funds to complement its hedge funds. The firm's most recently launched fund, the Gotham Index Plus fund, combines active and passive investment strategies. In 2016 the fund outperformed 95% of its peers.
However, Gotham's funds have had mixed results since 2012. Value investing has fallen out of favor, and returns for long-short funds have been hurt by the performance of short positions. In 2015, all the funds lost money and underperformed their benchmarks, resulting in withdrawals. The funds have since recovered and as of 2017, the firm has $11.6 billion under management.
In 2009 Greenblatt started Formula Investing, an online money manager. The site is now a free stock screener, which anyone can use to filter stocks according to his formulae. He also runs a website called the Value Investors Club, where 250 members exchange their best value investing ideas.
Greenblatt is an adjunct professor at the Columbia University Graduate School of Business where he teaches "Value and Special Situation Investing." He supports education focussed charities in New York and has a special interest in Charter Schools.
---
The Magic Formula
Joel Greenblatt's basic formula follows a process of first eliminating certain stocks and then ranking the rest according to earnings yield and return on capital.
He excludes stocks with a market cap below a minimum threshold (usually $50 million) as well as foreign stocks - their earnings may be swayed by currency movements. He also filters out stocks in the utility and financial sectors.
For the remaining stocks, he determines the earnings yield, using EBIT/EV and return on capital using EBIT / (net fixed assets + working capital). Then he ranks all stocks according to their earnings yield and return on capital.
He invests in the 20-30 top-ranked stocks, usually allocating capital to 2 to 3 stocks each month. The portfolio is rebalanced annually. Greenblatt stresses that the process must be followed over a 10-15-year period to generate good returns.
Gotham's funds all use some variation of this formula but include short positions for the lowest ranked stocks.
---
Gotham Capital's Latest Form 13F Filing
On November 14th, 2017, Joel Greenblatt's firm Gotham Capital filed their quarterly Form 13F regulatory filing. I reviewed the 13F filing to review holdings in Gotham Capital's large portfolio.
Continue reading Joel Greenblatt's Portfolio Review.