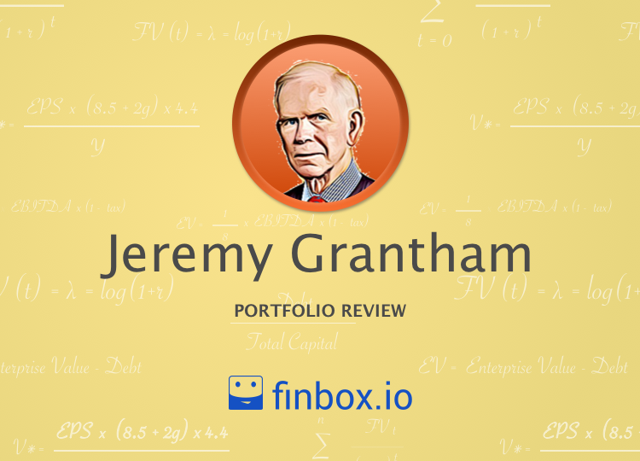 Here's what Jeremy Grantham's buying and selling as stock markets continue to rise and the firm's stock holdings underperform.
---
Jeremy Grantham: Market Oracle
Jeremy Grantham is the co-founder and chief investment strategist of Grantham, Mayo, & van Otterloo, more commonly known as GMO. He is best known for his quarterly newsletters and for popularizing the 'reversion to the mean' concept in investing. He has also predicted key turning points in market indices and was listed by Bloomberg Magazine as one of the 50 most influential people in global finance.
Grantham, who is British, began his career as an economist at Royal Dutch Shell. He later worked at Batterymarch Financial Management where he started one of the world's first passive investment funds in the early 1970s.
In 1977 he founded GMO, which is based in Boston, with Richard Mayo and Eyk Van Otterloo. The firm's funds invest in global equities and bonds, including emerging market assets. GMO does not disclose its assets under management, but the firm was reported to have managed over $124 billion in 2014.
Grantham has gained a wide following as a result of his insightful quarterly newsletters he sends to clients. The newsletters, which invariably find their way into the public domain, are full of investment wisdom, timely calls and have even been written in the voice of Shakespearean characters.
Grantham is an environmental advocate and started the Grantham Foundation for the Protection of the Environment in 1997. He has been a very vocal opponent of the Keystone Pipeline, and believes the world should not be investing in more fossil fuel infrastructure.
---
Reversion to the Mean
Mean reversion, as employed by GMO, is similar to value investing. The difference is that where conventional value investors use company specific fundamental data to assess valuations, GMO uses history as a guide.
Grantham and the GMO team spend a lot of time analysing stock market valuations and bubbles throughout history. They use long term valuation trends to calculate what they believe to be the fair value for an asset. They then invest in assets that have moved a long way below fair value.
Grantham believes strongly that history repeats itself and that every bubble eventually bursts. He used his knowledge of bubbles to predict the dotcom bubble in 2000 and the housing bubble in 2007. He also managed to get his clients out of Japanese equities when they peaked in the late 1980s.
He avoids leverage because as he says, "Leverage reduces the investor's critical asset: patience." If investors use leverage, they cannot afford to ride out periods of weakness. He also uses diversification to reduce risk. He knows that bets can go against one, and diversification spreads the risk. GMO diversifies across global equity and bond markets.
Grantham often points out that retail investors have a critical advantage over professional investors, namely that they can be patient. Professional investors are often compelled to act to justify the fees they charge, and to mitigate career risk. While Grantham himself is a professional investor he often uses his newsletter to try to persuade his clients to be patient. This doesn't always work, and he often loses clients who are not prepared to be as patient as he is.
The nature of Grantham's approach is that GMO tends to underperform during bull markets and then outperform when markets correct. Unsurprisingly, over the past few years the firm's funds have underperformed many of their peers. As a result the firm's clients have reportedly withdrawn $40 billion since 2014.
Grantham also believes that to really capitalize on their patience, investors occasionally need to be brave. In March 2009, the same month the current bull market began, he sent out a newsletter entitled "Reinvesting When Terrified." The newsletter explained why the market was offering one of the best buying opportunities in history and it was time for investors to step up - a call that may have been his best to date.
Contine reading Investing When Terrified... Here's What GMO's Buying & Selling