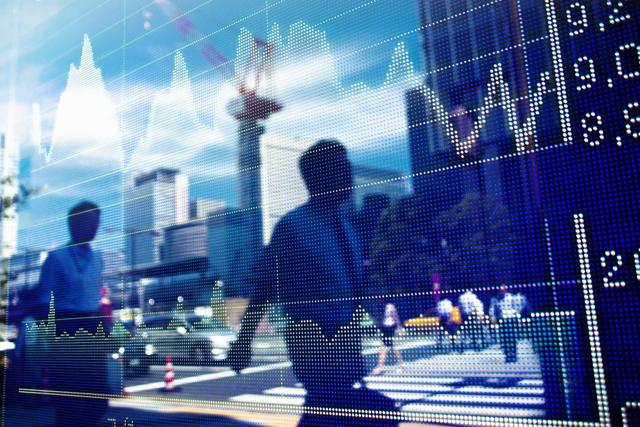 "Value will have its day in the sun"
That's what John Buckingham, a veteran value investor and chief investment officer at AFAM Capital Asset Management, recently told Kiplinger in an interview.
However, many investors are balking at the idea of value stocks making a comeback since growth stocks easily outperformed the latter in 2017. For example, the Russell 1000 Growthindex (IWF) has a 12-month return of 32.2% while the Russell 1000 Value index (IWD) has a 12-month return of only 14.7%. But if you think that's the norm, you'd be mistaken.
John Buckingham has researched the subject in extreme detail and has found that, "while value stocks don't win in every period, a long-term view finds that investing in high-quality, value stocks in a diversified portfolio is a worthwhile endeavor."
For example, take a look at the chart below where he compares nearly 100 years of data: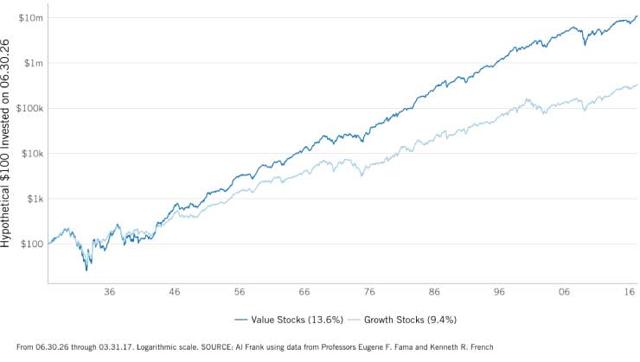 An investment of $100 in value stocks in 1926 would have grown into more than $10 million (13.6% annualized return) while a portfolio of growth stocks would not have reached $1 million (9.4% annual return) as of 2017. But unless you've found the Fountain of Youth, a holding period of nearly 100 years is unrealistic. However, you may not have to wait that long to see value stocks outperform. Kiplinger and Buckingham suggest that 2018 is the year that value stocks make a comeback for the following reasons:
the reversion to the mean rule implies that irregularities seen in the market tend to vanish over time.
since history favors value, being long value stocks means you ultimately have a tailwind.
FANG stocks could fall in 2018 as they're becoming increasingly pricey and begin to resemble the tech bubble in 2000.
As a result, I decided to find the 10 best value stocks in the S&P 500. In order to find these value stocks, I downloaded the list of S&P 500 constituents and then used finbox.io's spreadsheet add-on to find which companies had the following:
a P/E multiple that trades below its comparable public companies,

an EBITDA multiple that also trades below its comparable public companies, and

has upside as calculated from finbox.io's fair value > 12%
Here are the 10 best value stocks in the S&P 500 that I found.
---
Top 10 Value Stocks In The S&P 500: Newell Brands
Newell Brands (NYSE: NWL) designs, sources, and distributes consumer and commercial products worldwide. The company offers markers, highlighters, pens, and pencils; art products; activity-based adhesive and cutting products; fine writing instruments; and labeling solutions under the Sharpie, Paper Mate, Expo, Prismacolor, Mr.Sketch, Elmer's, X-Acto, Parker, Waterman, and Dymo Office brands. The company was formerly known as Newell Rubbermaid Inc. and changed its name to Newell Brands Inc. in April 2016. Newell Brands was founded in 1903 and is headquartered in Hoboken, New Jersey.
Analysts covering the stock often compare the company to a peer group that includes Colgate-Palmolive Company (NYSE: CL), The Estée Lauder Companies (NYSE: EL), Clorox (NYSE: CLX) and Procter & Gamble (NYSE: PG).
The company's LTM EBITDA multiple of 12.4x is below all of its selected comparable public companies: CL (17.7x), EL (20.9x), CLX (15.4x) and PG (14.8x). Newell Brands' LTM P/E multiple of 12.3x is also below all of its selected comparable public companies: CL (29.1x), EL (35.0x), CLX (25.9x) and PG (15.0x).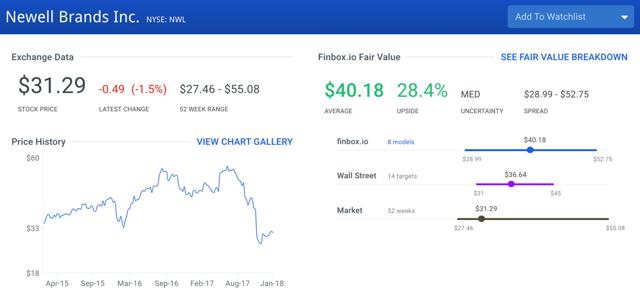 Source: finbox.io
Shares of the company are down -31.8% over the last year. The stock last traded at $31.29 as of Thursday January 18 and eight separate valuation analyses imply that there is 28.4% upside relative to its current trading price.
Continue reading The Top 10 Value Stocks In The S&P 500.