Mining companies Thompson Creek Metals Company Inc. (TSX: TCM) and General Moly Inc. (TSX: GMO) should start seeing the benefits of rising Molybdenum prices in the months to follow considering their direct exposure to Molybdenum mining.
Longer-term plays from junior molybdenum exploration mining companies such as BCM Resources Corporation (TSX:B) could present more lucrative opportunities to the investor looking to make higher returns.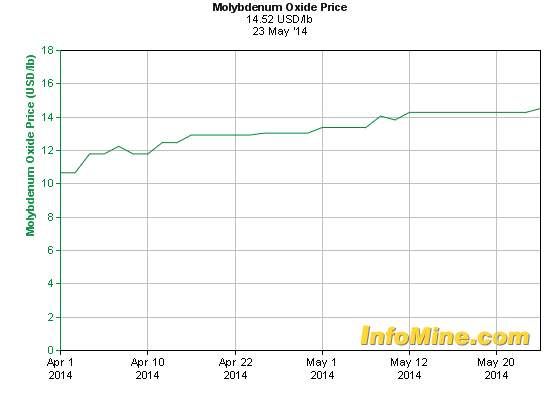 BCM Resources has 12,412 hectares (30,671 acres) of 100% interest mineral claims, strategically located near Terrace, British Columbia and has already undergone an extensive drilling program that identified a conceptual mining resource estimate at its Las Margaritas and Camp Zones which could be valued at more than 50 -65 million pounds[1] of molybdenum. With approximately 20 million shares outstanding, the company should be valued at $3 to $5 per share at current Molybdenum spot prices while assuming a 50% mineral recovery on the estimated resource.
Long-term investors might want to consider investing in the future of the company, since it is basically sitting on a "Gold" mine which offers investors the opportunity to make ten times their money at current stock prices. BCM Resources Corporation[2] stock presently trades on the TSX Venture Exchange with the symbol ("B").
Disclaimer:
The investor(s) of this news release does not verify or guarantee the adequacy, accuracy or completeness of any information, the suitability or profitability of any particular investment. Each individual should seek the advice of a qualified securities professional and/or tax or legal advisor, as necessary, before making any investment, and investigate and fully understand any and all risks before investing. The investor(s) who have written this news release believe in their research methodology and tactics, believe to understand market conditions which could result in potential upside benefit in purchasing certain company stock and as such is providing you this information for entertainment purposes only.
---
[1] For more information on the Shan South Property and conceptual mining estimates see page 25 of the PDF available at: www.bcmresources.com/i/misc/ShanS_Web_AP...
[2] For more information about BCM Resources Corporation visit: bcmresources.com
Disclosure: I have no positions in any stocks mentioned, and no plans to initiate any positions within the next 72 hours. I wrote this article myself, and it expresses my own opinions. I am not receiving compensation for it (other than from Seeking Alpha). I have no business relationship with any company whose stock is mentioned in this article.
Additional disclosure: I am long BCM Resources