1. Introduction
BCM Resources Corp. (TSX-V: B) is a junior mineral exploration company that has the main goal of searching for Molybdenum deposits. In 2006, it has acquired a 100% stake in its Shan South property where it successfully landed two molybdenum discoveries. Extensive exploration work has been conducted on the Shan South property where to-date four diamond drilling programs have already been conducted. The vast land area consists of an 18,791 acres property of which 3,933 acres specifically attributed to the Shan South discoveries. The land package is located to nearby infrastructure and is located 20 km north of Terrace, BC.
According to a study (more information available on page 9 of the PDF) by the BC geological survey, BCM Resources' Shan Property is comparable to the Endako deposit, one of North America's largest Molybdenum deposits. In addition to the flagship Shan Property, BCM Resources also has four other properties in the area, including the Lorne Property, the Molybdenum Creek, the Alder Creek and the McRae Property. Multiple properties spread across the area give BCM Resources many options to play and enhance its attractiveness as an acquisition target.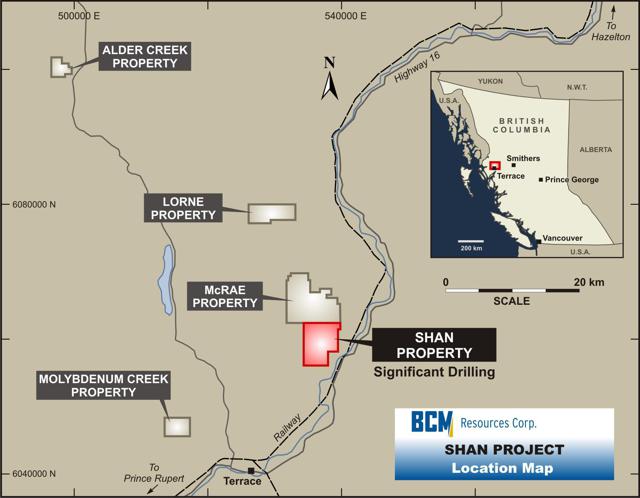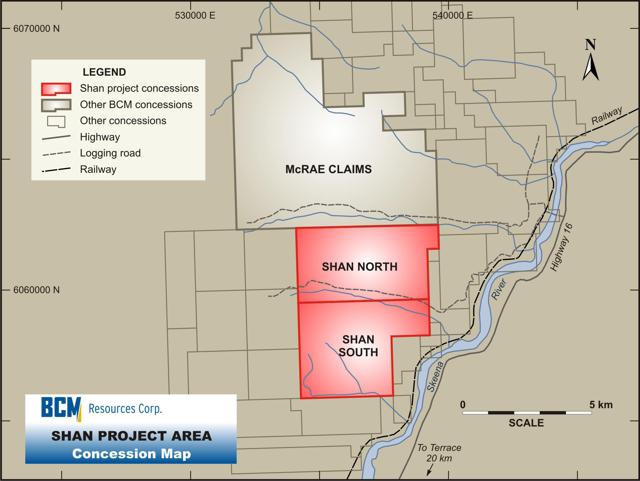 Source: http://www.bcmresources.com/s/SouthShan.asp
2. Molybdenum is used in everyday products
Molybdenum is a metal which is mixed in with various other materials. It is mainly used to reinforce steel. Therefore, it plays an important role in building infrastructure.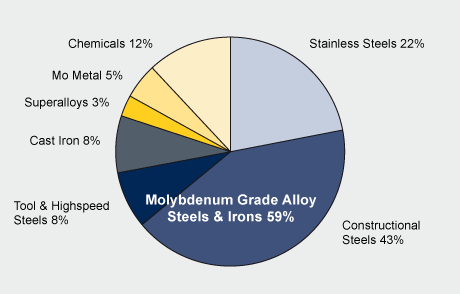 According to the International Molybdenum Association: ''The chart above refers to molybdenum produced from mined ore [where] about 20% of this material is used to make molybdenum grade stainless steel, while constructional steel, tool and high-speed steel, and cast iron taken together use an additional 57%. The remaining 23% is used in upgraded products like lubricant grade MoS2, molybdenum chemical compounds, and molybdenum metal.''
No discussion about molybdenum can be complete without mentioning China and India. The rapid expansion of cities and construction of infrastructure in the two countries over the past several years has created robust demand for steel and in effect molybdenum, whose demand curve has a direct correlation with that of steel. Projections show that if the current rate at which China is building cities holds, the Asian nation will need 40 billion square meters of floor space over the next twenty years, that's equivalent to ten cities the size of New York. This rapid infrastructure expansion in China has been one of the main drivers of molybdenum demand in the past years and will help boost up the price of Molybdenum once demand settles in.
Source: www.imoa.info/molybdenum-uses/molybdenum...
3. BCM Options Thompson Knolls Property from Inland Explorations Ltd.
Since July 2015, BCM has been busy with staking additional noteworthy mining properties. It has optioned the Thompson Knolls copper-gold (Cu-Au) property, from Inland Explorations Ltd., located in Utah, known as the miner-friendly state.
Additionally, Inland Explorations Ltd. has staked 25 new claims on the gold target extension area for the Thompson Knolls Cu-Au property and has also successfully conducted geophysical surveys on the property. Adding the latest member to the management team as their new VP of explorations, the company has strategically nominated Mr. Rick Redfern, as director. Mr. Redfern is a former Sr. Exploration Geologist of Barrick Gold. BCM's price has also seen an uptick since July where we can see it has now nearly tripled in value as of December 30th, 2015.
BCM Resources Advances 277% since July 27th, 2015 on Inland Exploration news: "Thompson Knolls Property"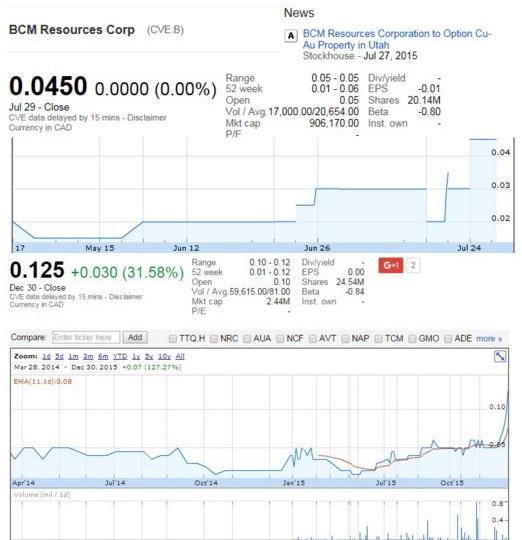 Source: www.googlefinance.com
At the time of writing of this article, the stock price closed at $0.20 on January 18th, 2016.
It is believed that two large copper porphyry deposits could be present at the Thompson Knolls Property. From Wikipedia: "Porphyry copper deposits are copper orebodies that are formed from hydrothermal fluids that originate from a voluminous magma chamber several kilometers below the deposit itself." The deposit shares similar characteristics from that of Bingham Canyon: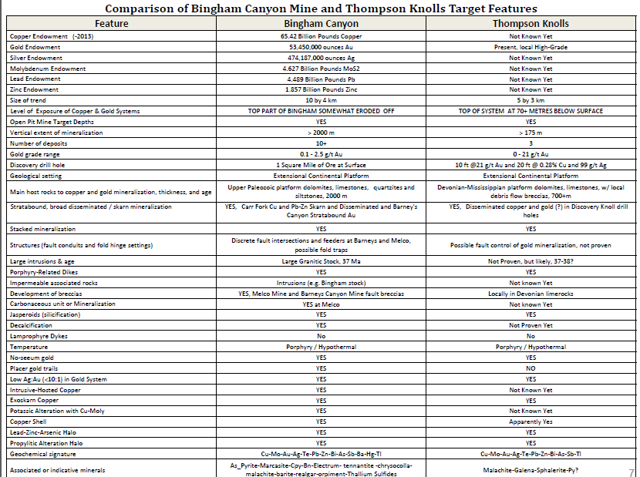 Porphyry deposits play a major role in mining production and contribute to approximately 60% of copper and approximately 95% of molybdenum used globally. The interesting thing about poryphry deposits is that many were not discovered (or properly quantified) in past mining discoveries years ago when conventional drilling and assay methods were used since poryphyry type deposits typically have lower grade findings on average. This would infer that many past findings had the potential of much larger in size then originally thought.
According to Wikipedia: "the majority of large porphyry deposits are associated with calc-alkaline intrusions - although, some of the largest gold-rich deposits are associated with high K calc-alkaline magma compositions. Numerous world-class porphyry copper-gold deposits are hosted by high-K or shoshonitic intrusions." For example, the Bingham copper-gold mine located in Utah.
4. Share Ownership of BCM Insiders
BCM Resources management share mutual directorship with private company Inland Explorations Ltd. Also, the directors hold personal share ownerships in BCM Resources Corp as indicated below:
| | | |
| --- | --- | --- |
| Insider Name | Shares Owned | Position |
| Dale McClanaghan | 881 000 | CEO |
| Deborah Goldbloom | 1 349 000 | CFO |
| Richard Redfern | 0 | VP of Exploration |
| Craig Thomas | 0 | Director |
BCM Resources had 24.54 million shares outstanding on January 4, 2016.
Sources: www.sedi.ca, www.sedar.ca.
5. Junior Miners and TSX Venture Issues
During the last few years, there have been several hundreds of mineral exploration companies that are encountering funding issues and that continue to be at risk of a possible delisting by Canada's TSX Venture Exchange. Metal prices have been in a free fall since 2011, but many analysts believe we have seen the worst throughout 2015 and that 2016 will offer tremendous investment opportunities in the mining sector.

Source: quotemedia.com
In an article published in July 2013 by Reuters, an interview with Joe Groia, a securities lawyer and former head of enforcement at the Ontario Securities Commission stated the following:
"There's a crisis that's looming, if we continue to not address it, what we're going to end up with is literally hundreds of companies where boards are either going to walk away or hundreds of companies that are going to run out of money."
He goes on further to explain the importance of junior mining companies and their role for finding valuable discoveries which could be of interest for larger players in the industry:
"The disappearance of a large number of small companies would affect the global mining sector for years, given that it is juniors that typically find world-class assets that big players later build into producing mines. It can take years to estimate the value of a mineral asset, plan a mine and start the permitting process, and it is neither quick nor simple to resume work on a mothballed early-stage project."
It is clear that junior mining companies play an important role in discovering world class resources which will one day be needed or even required for future production, and that without the role of exploring for new resources, the industry could face challenges in securing additional resources in the future.
Approximately 60% of all public mining companies world-wide trade on the Venture and Toronto Stock Exchange. The Canadian dollar sitting near $0.70 versus the US Dollar certainly looks attractive to the foreign investor.
In 2011, the mining industry started its deep descent into where we now appear to see the bottom of the fall. In an interview with industry leading analysts Rick Rule and Brent Cook by The Norther Miner, Mr. Cook on went on to say that:
"People point out that our market, measured by the TSX Venture Exchange, is down 75%, and they act as though that is a catastrophe. But I would suggest to you that makes the market precisely 75% more attractive than it was before it fell."
For the average investor this would suggest that there are still good investment opportunities within the Toronto Stock Venture and that it might be time to start searching for that "diamond in the rough" sort of speak, as certain investment opportunities are simply to lucrative to pass up with those recessed price levels.
Sources: http://ca.reuters.com/article/domesticNews/idCABRE96O03O20130725
http://www.northernminer.com/news/rick-rule-in-conversation-with-brent-cook/1003258758/#sthash.mB5kNym2.dpuf
6. Price of Gold: Why do we care?
Like the TSX Venture, the price of gold has been on a 5-year downtrend. According to the World Gold Council, gold demand grew 8% in the third quarter of 2015. As indicated in the chart below on the right, it appears that gold has bottomed out in August 2015.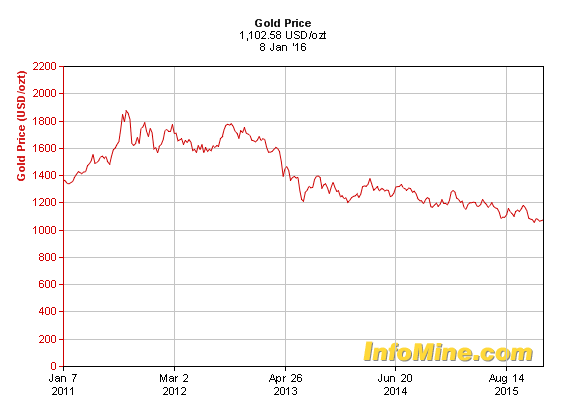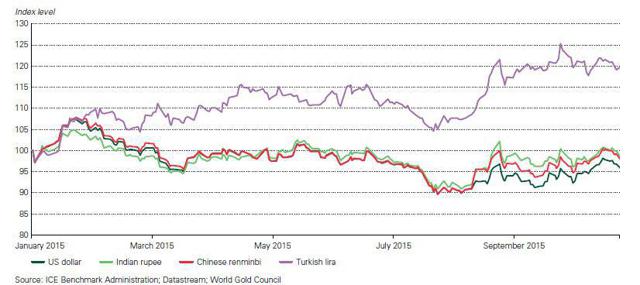 China continues to play a major role in gold purchases where consumers and investors have been loading up on gold. This brings China's central bank with a gold reserve of approximately xxx as of December 2015. In the last year, China has been purchasing between 14 to 19 tonnes per month. If it can continue to purchase only 14 tonnes per month throughout 2016, this would represent approximately 7% of global gold production output for the year. The global average for yearly gold production sits at approximately 2,500 tonnes per year.
The IMF looks set to approve the inclusion of the yuan in its reserve currency basket when it meets on Monday in what is seen as the symbolic coming of age for the world's second-biggest economy.
Top Gold Holdings according to World Gold Council's "December 2015" rankings
Rank

Country/Organization

Gold holdings
(in tonnes)

Gold's share of forex reserves

1

8,133.5

73.4%

2

3,381.0

67.7%

3

2,814.0

N.A.

4

2,451.8

65.6%

5

2,435.5

65.6%

6

China

1722.5

1.80%
Source: en.wikipedia.org/wiki/Gold_reserve
Gold is used a precursor to pricing in the overall metals industry. We can say with certainty that the commodities market is a boom and bust type market and where we have not bottomed out for many metal prices.
7. Definition of Accredited Investors / to participate in Private Placements:
In the junior mining sector, financing heavily relies upon private placements. An issue that private placements pose is that not every individual investor can qualify to make an investment. For example, the investor has to be "accredited" per document NI-45-106 and as such this means that either:
(A) they made at least $200,000 each year for the last two years ($300,000 with spouse); or
(B) have financial assets exceeding $1 million (excluding their primary residence) or have at least $5 million in assets in total.
Clearly, not every retail investor falls under this category of income nor net worth. This makes for a rather specific group of individuals to target to invest in mining venture activities and could severely slow down company activity if they fail to raise additional capital.
8. Technical analysis
BCM Resources Corp. (TSX-V:B) daily chart as of December 31, 2015. It clearly shows a breakout pattern where the 52-week price has been broken: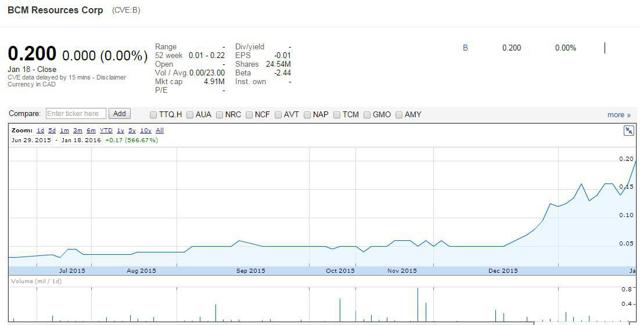 9. "Rock" Bottom Prices: Industry Rebound Anticipated for 2016
"Research in experimental psychology has suggested that, in violation of Bayes' rule, most people "overreact" to unexpected and dramatic news events."
As many have watched the TSX-Venture lose 75% of its value since 2011, many are watching for the opportune time to pick up noteworthy junior mining companies at bargain prices.
It could be argued that investors have been overly skeptical of investing in Junior Mining companies, especially after having seen the Toronto Stock Venture exchange plummeting towards 25% of its earlier value of 2011. It is now believed that the worst is over and that slowly, the TSX Venture will start recuperrating value in the years to follow. However, it goes without saying, that when fear settles in, the value investor will always find a place to park its money. In other words, investors should consider following the smart money.
As an example, BCM Resources has issued two private placements within a period of three months and continues to aggressively explore the Thompson Knolls property. During a time of economic troubles within the mining sector, this is indeed encouraging news. Investors have already started to see the rewards with the sudden stock price movement in the last few months moving up higher.
10. Summary
Key factors to consider about BCM Resources Corp:
Management is careful with expenses; they barely pay themselves a salary.

The company has no debt on the balance sheet.

Very tight float: only 24.54 million shares outstanding (as of January 4th, 2015).

The CEO is also the CFO of Inland Explorations Ltd.

Management has strong share ownership positions in both BCM and Inland Explorations Ltd.

Thompson Knolls' possible porphyry copper deposits: approximately 50-60% of the world's copper is mined from porphyry deposits.

Porphyry copper deposits tend to be massive in size.

Potential acquisition target: 100% owned land claims, two Molybdenum discoveries, two-potential Au-Cu porphyry deposits.

Recent Share price at $0.20/share suggests a larger move upwards is beginning.