Apple devices accounted for 49.1% of devices activated from Dec. 19-25 th
Apple's share of devices activations came in slightly lower than in December 2014, but still indicates growth given the market is still growing
Strong data should help Apple generate a record quarter
Data released by Flurry Analytics confirms that Apple (NASDAQ:AAPL) has dominated the holiday season with the highest device activation share. Apple devices accounted for 49.1% of device activations from December 19 th to 25 th. In the same period last year, Apple accounted for 51.3% of device activations. Although device activation share came in slightly lower this year, it is important to note that the smartphone market is on its way to grow at 9.8% in 2015, which translates to higher iPhone sales.
Device Activations December 2015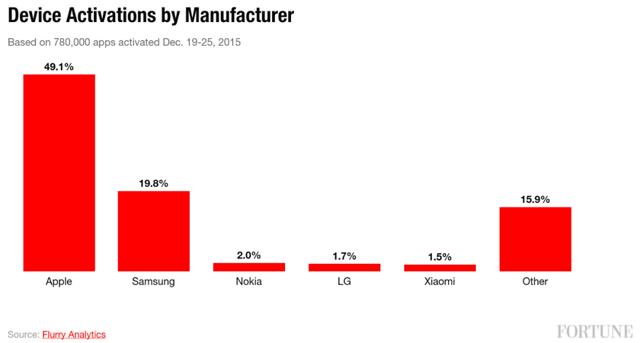 Source: Flurry Analytics
Device Activations December 2014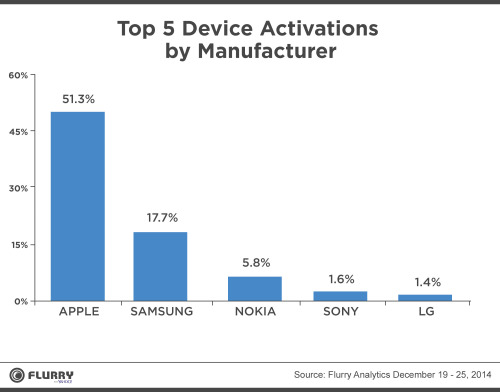 Trend in Form Factors
Flurry Analytics also provided interesting data on the types of devices being activated. Since 2013, the share of medium sized smartphones (screen size less than 5 inches) has decreased from 64% to 54%. The device activation share of phablets has soared from 4% in 2013 to 27% in 2015. Smaller devices have trended lower and now accounts for only 1% of device activations. The trend in smartphones is now highly favoring devices with screen sizes larger than 5 inches.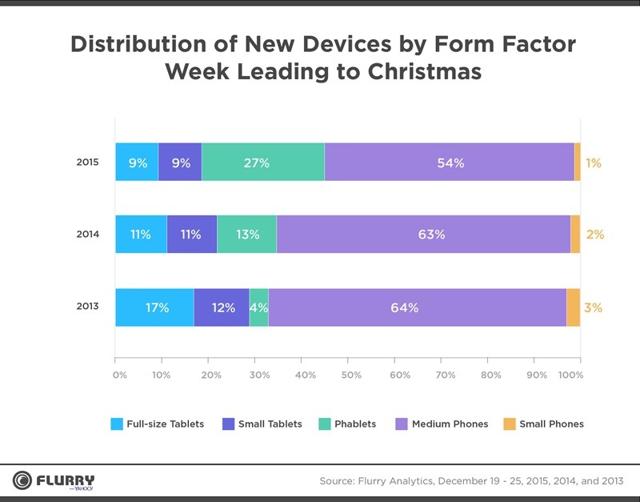 Source: Flurry Analytics
According to Flurry Analytics operating system data, 65% of iOS devices activated came from the iPhone 6 and 6s. The iPhone 6 Plus and 6s Plus accounted for 12% of iOS devices activated. Phablets have grown significantly and should continue to benefit Apple as more consumers upgrade to the iPhone 6s Plus models since a large portion of sales went to the iPhone 6 and 6s. I expected phablet adoption to gradually accelerate in the United States as more vendors continue to increase the form factor of their devices. Overall, the iPhone 6, 6 Plus, 6s and 6s Plus accounted for 77% of devices activations for iOS indicating there continues to be strong demand for both iPhone 6 and 6s series models during the holiday quarter. This should help stabilize iPhone ASPs at $650 or higher for Q1 FY 2015 providing Apple with solid gross margins and a boost in earnings.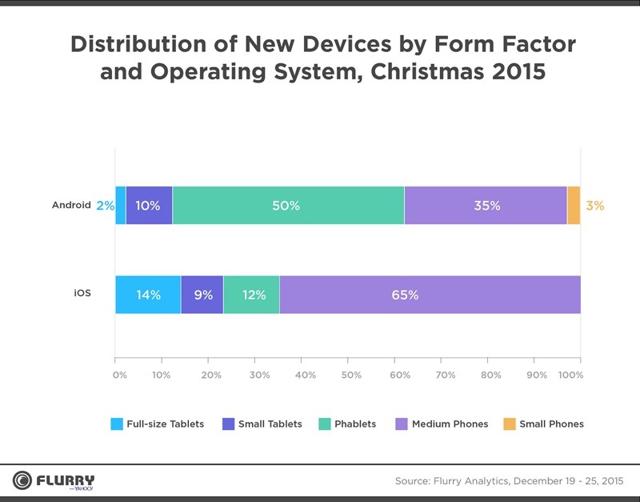 Source: Flurry Analytics
Investor Takeaway
Data regarding device activation appears more accurate than supply chain checks and rumors. Flurry Analytic's device activation data from December 2014 indicated very strong demand for iPhone 6 and 6 Plus and was confirmed after Apple reported record unit sales. This year's data once again points to strong sales of both the iPhone 6 and 6s series. After many years of supply chain checks, and reports pointing to iPhone sales declining, none have materialized. Instead of focusing on negative media coverage, investors should be more focused on reliable data that correlates with Apple's performance. Data such as market share in key markets, data usage, device activation rates, and Apple CEO Tim Cook's remarks on future growth offer far more value as it has been backed up by the record quarters Apple posted year after year.
I believe Flurry Analytic's report offers a more positive and accurate signal for Apple's earnings. With 77% of iOS device activations coming from the iPhone, and the rest coming from iPad, Apple should be on its way to another record quarter. With device activation share at 49.1% in a growing market, record iPhone unit sales are very likely to be reported. Keep in mind, the report only covers iOS devices being activated and did not mention any data on sales of the Mac, Apple Watch, Apple TV, and services. Assuming the Mac continues to gain market share, millions of Apple Watch units are sold, solid Apple TV sales, and growth in services, Apple appears well positioned to report towards the high end of guidance.
Disclosure: I am/we are long AAPL.