IBD says this "For the seventh day in the past eight sessions, the Nasdaq and S&P 500 closed near session highs Monday. Bears just can't catch a break."
It continues "The Nasdaq composite rose 0.2% after wiping away an early loss of 0.6%. The composite has been rising smartly since it made a six-month high on April 1. At that time, the index put away the latest of several hiccups in which indexes have sold-off sharply, only to get back on their feet quickly."
just a word of caution - The century figures! NASDAQ is at 8000 level, and S&P is at 2900 level.
But having said that - nothing beats this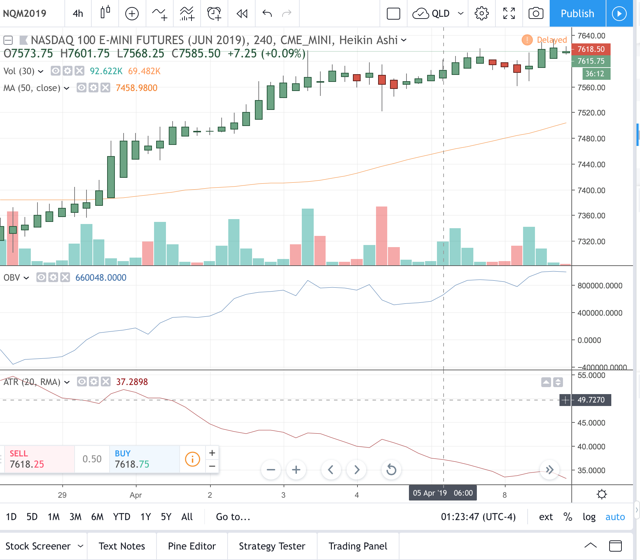 Else where in India - the Nifty 50 which is akin to NASDAQ-100 hit all time high
from Deccan chronicle: Foreign portfolio investors (FPIs) pumped in Rs 33,980 crore in March—the largest monthly inflow in the market's history. And in the first five trading sessions of April, they have pumped in Rs 8,634 crore more into the markets. Indian stock market is at all time high.
1 year ago in April 2018 EUR USD was 1.2280 , Now it is at 1.1267 a drop of 1000 PIPs or 10, 000 dollars!
It has nicely bonded back and made a 10 day high yesterday. But it is in a fantastic down trend. Shorting opportunity.
Disclosure: I am/we are long TQQQ.