i was listening to a wonderful IBD podcast.MarketSmith Senior Product Coach Scott St. Clair was candid, humorous, self-deprecating. The middle part of the talk focussed on human behaviors. (behavioral finance)
there were gems in it. One is the fidelity study. here is the business insider article of September 2017 titled - Fidelity Investments Did A Study On Which Client Accounts Did Best And What They Found Was Hilarious
"They found that the best performing accounts were from investors who were DEAD! In second place were investors who had FORGOTTEN they had accounts at Fidelity."
Scott says this (paraphrasing) : I had a client who died and the company policy was that i cannot touch - i cannot sell or add to his positions.
"He was stuck in all these great stocks, and he didn't have me to get him out of them..wiggle him out because they were going up" (check the same interview of podcast at youtube here at 22:05)
thank you Scott for your honesty and humor.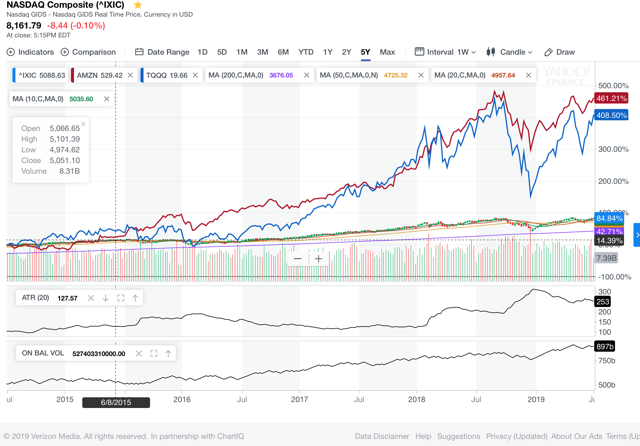 the red line is AMZN last 5 years. the blue line is TQQQ (triple NASDAQ 100), and the bottom is NASDAQ.
David Chung (@IBD_DChung) from IBD says this says this "Judo masters begin not by learning how to throw, but how to fall. They practice this skill until it's as natural as breathing. No matter how many times they're flipped, they can rise to fight again."
He goes on to say : "Highly successful stock pickers go through similar training: They must learn how to cut their losses short. This means selling a stock when it's down 7% or 8% from your purchase price."
Disclosure: I am/we are long TQQQ.