1/21/2020 - I See Whiskey In My Future
Please Note: Blog posts are not selected, edited or screened by Seeking Alpha editors.
Summary
UNP beats on earnings but fails to pass the bar, slinks away down the rung.
Global Economy is still humming along smoothly with strong numbers in Europe and China.
Bitcoin tumbles as market breadth decreases; not a good sign for us little boys and girl.
1/21/2021 – I see London, I see France, I see whiskey in my future
You know its important to be happy. You can be optimistic - you can be pessimistic - but that shouldn't affect your happiness. I'm a very pessimistic person but I'm extremely happy. I'm negative all the time and do not expect returns greater than the major indexes over a long period of time but I'm a happy person. So don't worry, be happy. Every little thing -  is gonna be alright.
DATA SUMMARY:
FRANCE; BUSINESS CLIMATE INDICATOR – Actual 98 vs Expected 93 Sentiment came out stronger than expected. Looks like orders are up relative to expectations and so are shipments. No one is hiring more than expected but what did you expect? The French are becoming more productive….or maybe they were less productive than they should have been?
HONG KONG CPI: NO INFLATION CHANGE! Great for the average man, maybe not so great for investors and businesses. May be a sign of a slowing economy? Or maybe my friends at the Chinese Central Bank will continue to keep rates low.  Who knows the future!  Guess below for fun.
HOUSING STARTS AND PERMITS: back above pre covid levels, exceeded expectations. Tailwinds, tailwinds, tailwinds. Anyone who is working from home making good money has more to spend on a mortgage and this is the time of year you draw up your budget. Need I say more? Yes, but no.
US JOBLESS CLAIMS: Came in exactly at the consensus of 900k. Back in the day claims were around 200k week to week but as long as you have that extra federal unemployment we're going to have jobless claims right around this level. I know I saw over 4 different spots hiring right by me but they all pay less than the 900$ I get from the government.
PHILADELPHIA FED MANUFACTURING INDEX: Numbers came in HOT at 26.5 this month. Factories are producing more which is great but hopefully they can try to be carbon neutral going forward?
TODAY IN THE MARKET:
BITCOIN: Drops on some report that there was a duplicate bitcoin produced. My friend said, "uniformed people causing unnecessary news" and he knew about AMD before it skyrocketed to 90$ so I'm going to trust him on this. If this is the thing to kill bitcoin I'm going to be very surprised.
UNP EARNINGS: WHY!! I've owned this stock for years and I was so sure it was going to pop on this earnings report. Higher interest rates, expanding economy. I'm very disappointed in you UNP. It appears that UNP declined based on an overall sell off in the market coupled with lower revenues and potential congestion on the rail lines. This stock is always great to buy, start a position and forget about it.
OTHER: A lot of bank earnings today, nothing worth noting. There's only so many things you can focus on in a day, its important to pick and choose what you remember and compound in that brain. So don't worry too much about all that noise, focus on your breath. IN – OUT – IN – OUT – I AM A GREAT INVESTOR.
BUYS: Eh, nothing looked on sale today. I guess…..CRM?
SELLS: Do you need to retire tomorrow? Do you not have a savings account? Than why would you even contemplate contemplating selling some shares of a company that's going to grow over time. Be like our hero Jerome Powell and don't even think about thinking about thinking about selling those shares. Unless its to buy CRM of course but even than…….fuck that, don't sell.
STOCK MARKET MAP:
Look at that thing! I'm not too sure about the future if most of the index is going down and mega cap tech is leading us. They've definitely lagged the rest of the market over the past few months but they didn't lag the market right after the pandemic began. You always want breadth and to me this looks like another day where the market is barely eeking out a gain. Be wary my friend, you never know when the pullback is going to arrive and it never comes due to what your expecting. What if bitcoin is a precursor to the pullback in the market!!?? That would be wild since "we" all consider it a store of value. Most volatile store of value I've ever seen since my first relationship. But than again we don't know what's going to happen so just let it ride. All those hodlers have been banking it the last few months after sitting on their coins for years.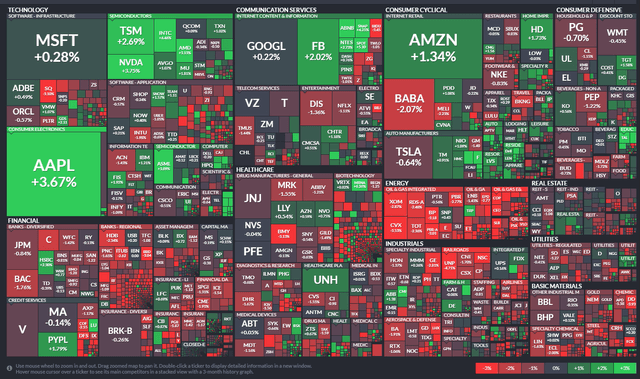 Analyst's Disclosure: I am/we are long CRM.
It's important to produce something. All day I sit at home and consume stock information sometimes day trading and I have come to realize that it is very important to create something with all that information I'm consuming. I'm not looking to make any money, I'm not looking to give you great ideas. If these things occur that's wonderful but I'm looking to produce a product which will impart some information and maybe make you laugh.
Seeking Alpha's Disclosure: Past performance is no guarantee of future results. No recommendation or advice is being given as to whether any investment is suitable for a particular investor. Any views or opinions expressed above may not reflect those of Seeking Alpha as a whole. Seeking Alpha is not a licensed securities dealer, broker or US investment adviser or investment bank. Our analysts are third party authors that include both professional investors and individual investors who may not be licensed or certified by any institute or regulatory body.