The Snowman Report For 1/25/2021
Please Note: Blog posts are not selected, edited or screened by Seeking Alpha editors.
Summary
Game Stop (GME) steals the spotlight.
2 Economic Data points released, both positive (kind of).
Market trends continue to weaken, stay frosty.
THE SNOWMAN REPORT for 1/25/2021
You know, today feels uneventful and crazy all at the same time. Market rallied hard into the morning with everyone focused on the insane moves in Gamestop and pulled back equally hard around 10:30 AM. I tried to find if there was some news story that had caused this pullback but it just seemed to be a general feeling that things were too positive. After that we had sideways trading until the end of the day. No major economic data came out and no major earnings either but the action in Gamestop really changed the way people look at the legion of day traders and what is possible with a concerted effort.
DAILY DATA DUMP:
CHICAGO FED NATIONAL ACTIVITY INDEX: This young buck rose to .52 from .31 which was a revision up for November from .27. What great news - if you are not a bear.
DALLAS FED MANUFACTURING SURVEY: General Activity came in at 7.0 and Production came in at 4.6. Both of these underperformed the previous months statistics of 9.7 and 25.5 which Is not very bullish but not the end of the world as numbers stayed above zero. Looking back this type of pattern has occurred throughout this indicators history and it only works with industries from Texas so I'm not going to let it color my entire world view. It is an important piece of information to unravel the mystery of the future though. Maybe we should be a little fearful, eh? Solo un poco.
WHAT DID WE LEARN IN THE MARKET TODAY, WONDERFUL INDIVIDUALS?
We all learned that when a large group of individuals band together to buy every share of a small cap company on the market that's being shorted beyond belief things can get a little….wonky. Now a lot of people will focus on those who bought GME shares at 2, 10, 15 and 20 dollars and became millionaires but it is just as important to realize there are an equal amount who bought at 60, 100, 120, 140, 150 and 160. Most of those people have lost money (as of today) and there is no guarantee that this stock will recover to those levels ever again. Now as we think about how stupid we all were for not buying call options at 2$ let's also pat ourselves on the back for not buying call options at 120$.
There wasn't very much economic data out today and what did appear on the monitor was expected or not negative enough to destroy the yellow brick road we are on so it begs the question why was Beyond Meat up 10%? I have not seen any news on seeking alpha since Wednesday. Why was Lemonade up 9%, Moderna 12%, Teledoc up 9%, Rocket Mortgage up 15%?
I have a theory. All of these companies are living on a prayer. We all hope that they will become the next leader in their industry, challenge the establishment and take the top spot reaping the rewards as they turn the world into a better place – and we'll make a ton of money. And I own shares in these companies, so I'm all about that. But nothing has happened to indicate this is more likely than it was last week. Teledoc has not released a new product and suddenly leap frogged over the competition. Beyond Meat has not shown renewed revenue growth. Rocket Mortgage has not changed how they do business and no new data came out to support a rise in the valuation. So as a shareholder of these companies I'm very happy that they moved up so quickly and so much. But as a person who owns stock in other companies and think about the market as a big cuddly teddy bear to snuggle every day I wonder if moves like this are a sign that maybe traders and investors are getting a little too… snuggleicious.
Anyway, big week ahead for earnings. Hope all my positions beat and raise, increasing my portfolio by… I'll take 15%. That would be just fine.
MAP SUMMARY: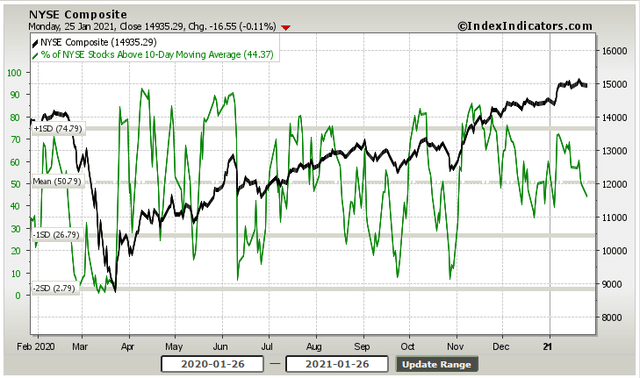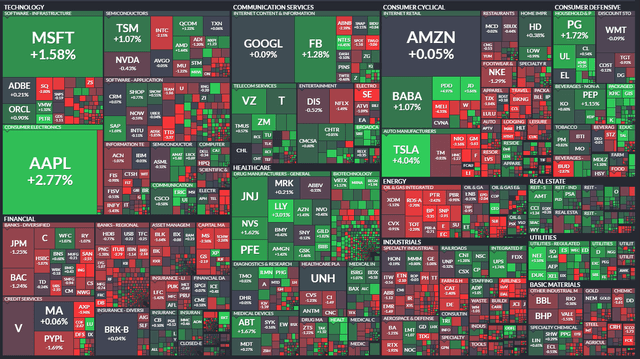 Another day where most of the market is in the red. I don't like that, you don't like that, God knows we don't like that. The funny thing is that most portfolios (or at least mine) continues to go up because I have, ass-uming most others do as well, a lot of exposure to those mega cap blue chips but I am getting more and more worried. Valuations have gone from fair to stretched and they were already stretched for a majority of small and mid-cap companies. If this band snaps it is going to HURT. The number of stocks trading below their 10-day moving average has also pulled back considerably – another sentiment indicator that is very important. Stay frosty out there, what you don't expect is what kills you.
BUY, HODL, SELL TODAY
BUY: SQ, FSLY (Call options maybe?), COUP (50/50)
HODL: If you own it, hodl.
SELL: If you have no conviction, sell that bad boy.
Disclaimer: This was written for the sole purpose of leading a meaningful life while gainfully unemployed so take what you want and leave the rest. I do not claim to be a financial advisor, understand the markets, understand stocks, know how to write, know how to write well or in anyway understand why anyone would listen to me so please keep insults and compliments to a minimum.
Analyst's Disclosure: I am/we are long TDOC, BYND.
Seeking Alpha's Disclosure: Past performance is no guarantee of future results. No recommendation or advice is being given as to whether any investment is suitable for a particular investor. Any views or opinions expressed above may not reflect those of Seeking Alpha as a whole. Seeking Alpha is not a licensed securities dealer, broker or US investment adviser or investment bank. Our analysts are third party authors that include both professional investors and individual investors who may not be licensed or certified by any institute or regulatory body.