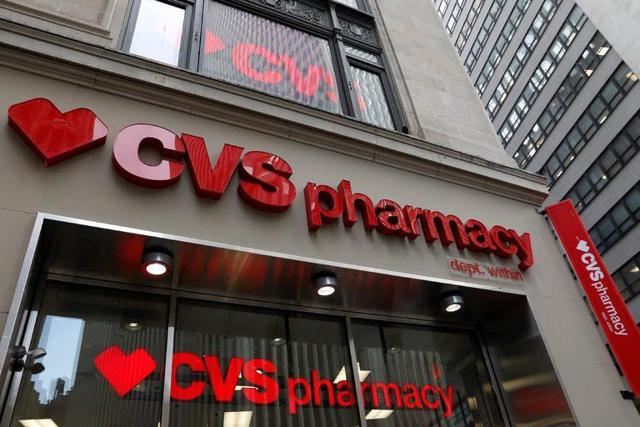 After being rumored for weeks, CVS agreed to purchase Aetna for a cool $69 billion this weekend. Let's look at how this deal looks from a valuation perspective and then reflect what it means for the companies involved and the broader industry.
Pricey Valuation
CVS is valuing Aetna at about $69 billion, or $207 a share. The day before the acquisition news broke back in October, Aetna was priced at $160.12 so we're looking at a ~29% premium from this comparison. The purchase price looks rich from a multiples perspective as well. Aetna's EPS for FY 2017 was $4.92. Using a comparison set of United Health, Anthem, Cigna and Humana gives us a P/EPS multiple of 25.40. This multiples approach values Aetna at $124.97, indicating a 65% premium for the sale! These valuations are by no means exact but they give some context into the significant price paid by CVS, reflecting high expectations (and lofty current stock market valuations versus fundamentals).
Why is CVS doing this?
Changing healthcare landscape
CVS's desire to purchase Aetna reflects the changing healthcare landscape. In prior years, the healthcare insurance industry saw many proposed horizontal acquisitions and mergers, including many that failed due to anti-trust concerns. Aetna's proposal to merge with Humana was ultimately stymied by the government. Meanwhile, the retail pharmacy space where CVS resides has seen a spade of consolidations (for ex. Rite Aid selling stores to Wallgreensand CVS purchasing Target's pharmacies). In 2015, the top 5 pharmacy companies accounted for 53% of overall industry revenue per the the 2015 Economic Report on U.S. Pharmacies and Pharmacy Benefit Managers.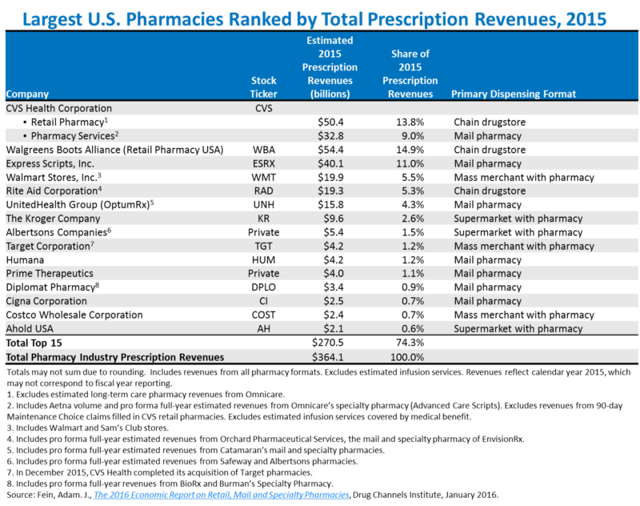 Per the "Pharmacies & Drug Stores in the US" IBISWorld report, in 2016 the top 5 accounted for 61.9%. Even this ~9% concentration increase is understated as Rite Aid is still included in this list because the store sales to Walgreens mentioned above had not yet been completed.
CVS-Aetna: The future?
CVS-Aetna could foreshadow a new wave of vertical mergers and acquisitions and new partnerships across the healthcare space. What does CVS want with Aetna? Aetna sports an ROE of 20% (compared to an industry average of 19%) so it appears to be a relatively well-run company in a growing industry. However well Aetna has done in the past however, it is the future that CVS is paying for and I see three major reasons CVS is interested.
Differentiation
As discussed earlier, retail pharmacies are consolidating and there are only so many more US street corners CVS can plant itself on. CVS needs to continue to differentiate itself from its peers and this is a way of doing that. CVS will be able to push Aetna's 46.7 million members to its stores, whether it be when they are picking up their prescriptions or utilizing the clinic services that CVS will increasingly emphasize in future years.
Improved customer offering through data
The value of accumulating data is increasing across all industries as incumbents are better using it to reinforce and leverage their scale and keep out challengers. Healthcare is no exception. By entering the insurance space, CVS will be able to better understand the 46.7 million people that Aetna covers, not to mention the 1.15 million healthcare professionals in the Aetna network. CVS's mission is to continue "Helping people on their path to better health". Aetna will allow them to do this by providing a much more complete profile of their customers. This will in turn allow CVS to better provide services that their customers want and need. I believe this will likely come in the form of expanded MinuteClinic's, which already offer 125 services to customers.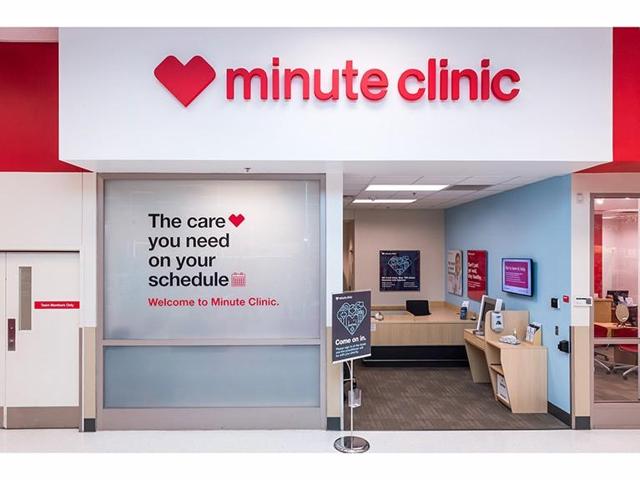 As a patient, why go through the hassle of finding a doctor and worrying about complex billing issues and parking (as doctors are increasingly located in huge health campuses), when you can quickly schedule a physical and flu shot at your neighborhood CVS for that afternoon? You can even pick up milk on the same trip!
Reimbursement Expertise (CVS saying: STAY OUT AMAZON!)
While CVS has expanded its healthcare offerings in recent years and is a veteran of the pharmacy space, they lack expertise in the complicated area of healthcare insurance reimbursement. By purchasing Aetna, they buy this knowledge and this gets them ahead of their competitors. This knowledge may allow them to better work with and attract patients of other insurance companies to CVS stores.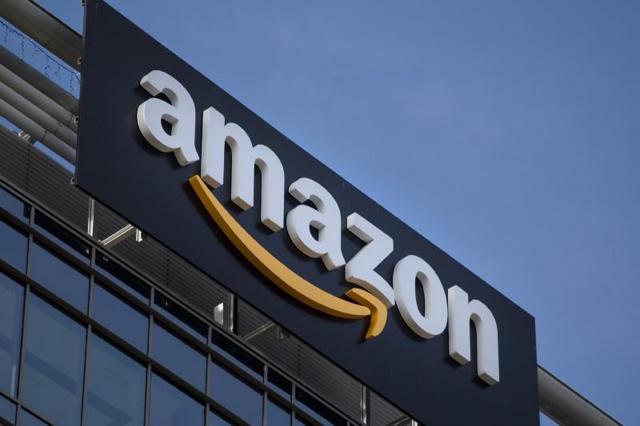 And because no healthcare strategy article can be written without at least mentioning the great white whale out of Seattle, I'm sure CVS hopes this increase in reimbursement expertise will be a signal that will motivate Amazon to look elsewhere in its expansion efforts.
What next?
It will be fascinating to see what moves this sets off in the healthcare space. Will Walgreens feel pressured to follow suit and acquire an insurer? Will traditional providers feel threatened and react? Will the Trump administration even approve this merger (historically DOJ has allowed vertical integrations but their challenge of AT&T-Time Warner puts that into flux)? Let's see if this deal marks a paradigm shift in healthcare.