Biotech Investors Appear Willing To Accept More Risk For Even Higher Potential Rewards
About:STML Includes:CELG, IBB, ICPT, MGNX, OMED, VSTM, XBI
More than three weeks have passed since Intercept Pharmaceuticals, Inc. (ICPT) announced positive results in a phase three study treating nonalcoholic steatohepatitis (NASH) and the company has shed almost a third of the $8.6 billion market cap it was priced at on January 10, 2014. Despite the selloff, shares of the stock are still trading at more than four times the price they were trading at prior to the announcement.
ICPT's news, and more importantly the market's reaction to it, is significant not only for those who were fortunate enough to own the stock before the announcement, but all those invested in the biotech industry. While most U.S. indexes finished in the red for the first month of 2014, biotech's have been red hot. iShares Nasdaq Biotechnology ETF (IBB) finished up over 8% for January 2014, and the S&P Biotech ETF (XBI) is up almost 15% through the first month of the year.
ICPT's announcement seems to have adjusted investor's perception of the potential risks and rewards that come with investing in a biotech firms in the early stages of developing new drug treatments. BofA/Merrill Lynch raised its price target for the company to $872 from $81. Citi raised its target from $60, to $400, to $600; Oppenheimer from $96 to $360; BMO Capital from $31, to $375, to $515. One announcement by one small cap company seems to have created an awful lot of work for the analysts covering it.
For investors who did not own or follow ICPT, it is hard not to wonder what stock is next.
I had never heard of nonalcoholic steatohepatitis prior to reading ICPT's announcement. Estimating the potential market for a treatment for the illness seems rather difficult because NASH does not cause any symptoms, so it is not clear how many people are actually affected by the condition. Fortunately, most people with NASH will not develop serious liver problems because of the condition. Studies have shown that most people with NASH live as long as those without it and that liver function tests remain stable over time in most affected by NASH.
If the potential treatment of this condition is worth what analysts are suggesting may be worth, imagine what treating a cancer or central nervous system disease would be worth? Imagine the dollar opportunity that would be created by a breakthrough treatment for spinal cord or muscle injuries?
In search of what medical technology company may be the next to make a significant advancement in the world of biopharmaceuticals I turn my attention to stem cell research. Stem cell research has become one of the hottest areas in medical research. The technology has become mainstream with a number of publicly traded companies working in the area continuing to grow.
Cancer is one of the leading causes of death worldwide and hundreds of billions of dollars are spent on cancer treatment throughout the world every year. There are a number of publicly traded companies doing research on treating various types of cancer by targeting the cancer stem cells. MacroGenics, Inc. (MGNX) and OncoMed Pharmaceuticals, Inc. (OMED) market caps are both greater than $800 million; while Stemline Therapeutics, Inc. (STML) and Verastem, Inc. (VSTM) have market caps around $300 million each. The companies all have similar technologies and have drugs in similar stages of development.
The research being conducted by these companies have the potential to send their stocks into orbit the way ICPT saw its stock take off after a single positive research study. The biggest risk investing in any of these companies is that no one knows if any of the drugs each company is developing will ultimately succeed or not. None of these companies have been successful yet from the point that none of them have a drug on the market. Many speculative biotech companies fail, and even if a company succeeds in developing a drug, it may discover that the market for the drug is not nearly as big as once anticipated.
Knowing that many startups could fail, investors must hedge their bets. With a market cap of $5.5 billion, investors have placed a pretty large bet on ICPT. OMED's market cap ($801 million) is more than two and a half times that of STML's ($297 million), meaning investors are placing much larger bets on OMED than STML.
STML, OMED, and ICPT are all at relatively the same point in terms of technological developments and success. ICPT's drug has been through its Phase 3 trial and has been determined a drug candidate by meeting its primary efficacy endpoint. OMED recently announced it signed an agreement with Celgene Corporation (CELG) that pushed the market cap of the company over $1 billion. It takes some sort of news or announcement by a biotech company to act as a catalyst that moves its stock price to higher (or lower) levels. After seeing ICPT and OMED's price reactions to positive news, STML has enormous upside potential that could unfold faster than anyone can imagine.
Stemline develops oncology drugs that treat bulk tumors and cancer stem cells within the tumor. The company has two drugs advancing into registration-directed trials in its cancer stem cell targeted pipeline, one for hematological cancers, and the other is a vaccine for advanced brain cancer. Both product candidates achieved significant accomplishments in 2013 and have been advanced into pivotal trials that have enormous potential to greatly expand the company's market potential.
The image below comes from Stemline's presentation and provides a great visual to help understand the science behind Stemline's technology.
The cancer stem cells are not responsive to chemotherapy and radiation. These cancer stem cells make up only 5% of the tumor, however many believe the cancer stem cells are responsible for tumor relapse. Stemline's therapy attacks both the tumor bulk and the cancer stem cells.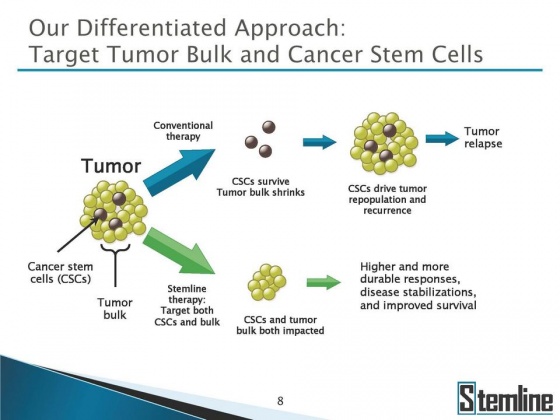 Stemline has a very experienced management team heading up its operations. Stemline founder and CEO Ivan Bergstein is a pioneer in the therapeutic targeting of cancer stem cells having filed early patents in the stem cell industry in the late 1990's and early 2000's. Chief Medical Officer Eric Rowinsky has a very distinguished career is the former Chief Medical Officer of ImClone Systems, Inc. who led the FDA approval of Erbitux which treats colon cancer and generates over $1 billion in sales annually. He currently serves on the board of directors of a number of public and private biopharmaceutical companies, including Biogen Idec, Inc. Vice President of Finance and Chief Accounting Officer David Gionco has more than 30 years of experience in corporate finance, 23 of which he held senior financial functions at both multi-national pharmaceutical companies, such as Merck, and development-stage biotechnology companies.
Stemline has two assets in clinical studies and moving on to registration-directed studies, SL-401 and SL-701 both of which target the tumor bulk in cancer stem cells. The company has seen very exciting data in several hematological cancer indications for these drugs and has studies for both drugs set to initiate in the second half of 2014.
SL-401 will begin Phase 3 randomized trials in 3rd-line Acute Myeloid leukemia (AML), where the company currently has most of its data, as well as Phase 2 single-arm trials in Blastic plasmacytoid dendritic cell neoplasm (BPDCN) and in additional rare interleukin-3 receptor (IL-3R) malignancies. The target for the drug, the IL-3 receptors is expressed on a majority of multiple hematological cancers including leukemia and lymphomas. The company sees the drug entering into multiple hematological cancers.
SL-701 is a brain cancer vaccine that is seeing single agent tumor regressions without having to be combined with chemotherapy or radiation.in adults and children. The drug will be moving on to Phase 2 for adults where the company hopes for accelerated approval, followed by a Phase 3 randomized trial and into Phase 2 for pediatric high-grade non-brainstem and brainstem glioma.
When it comes to fundamental analysis for developmental stage biotech companies, cash is king. Companies with little or no cash run the likelihood of share dilution.
Stemline's 10-Q for the quarter ending September 30, 2013 shows the company with $87.7 million in cash, $6.93 per share. STML's cash burn rate for the first nine months of 2013 was $12.7 million. Assuming STML spends at their current rate, there's a sufficient cash runway for close to five years.
Intercept's 10-Q for the quarter ending September 30, 2013 shows the company with $156.8 million in cash, $8.11 per share. ICPT's cash burn rate for the first nine months of 2013 was $17.6 million. Assuming ICPT spends at their current rate, there's a sufficient cash runway for over six years.
OncoMed's 10-Q for the quarter ending September 30, 2013 shows the company with $128.65 million in cash, $4.61 per share. OMED's burn rate for the first nine months of 2013 was $22.8 million. Assuming OMED spends at their current rate, there's a sufficient cash runway for close to four years.
Stemline Therapeutics, Inc. shares suffered mightily in the fourth quarter of 2013 as the company saw its market cap cut in half by the time the year ended. After the tax loss selling of the stock began to dry up in December 2013, the stock traded between $19 and $21 where it would remain for the first two weeks of the New Year. The day after Stremline's corporate presentation at the JP Morgan Health Conference on January 16, 2013 the stock moved nearly 40% higher.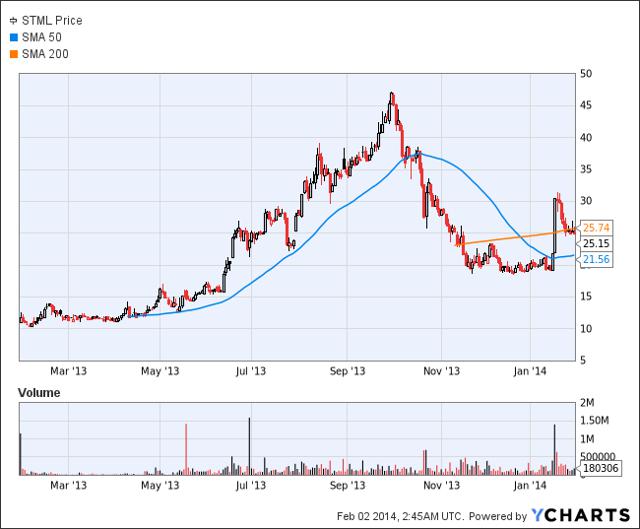 STML has now formed a cup and handle pattern and is ready to move into a new trading range between $30 and $35. From there the stock will look to test its all-time high of $47.25, more double the current price. If the company were to announce a deal similar to the agreement OMED signed with CELG the stock could very easily double its value. The sky will be the limit if any of these companies report positive results similar to ICPT.
Disclosure: I have no positions in any stocks mentioned, and no plans to initiate any positions within the next 72 hours.