BlackBerry (BBRY) is still trading above my usual $10.50 profit-taking level. I speculate that this excitement is due to the coming commercial launch of the QWERTY-style BlackBerry Classic. BBRY was also trending higher last year when the BlackBerry Z3 and the Passport was about to launch.
BlackBerry missed revenue estimates last quarter (partly due to weak smartphone sales), which indicates that the expensive weird-looking Passport did not find enough commercial success. The hybrid keyboard of the Passport may also have been strange to people accustomed to the classic QWERTY keyboard of older BlackBerry phones.The BlackBerry Classic is therefore a return-to-the-roots strategy. John Chen's experimental foray with the unique-but-weird looks of the Passport is proving to be a hard sell. Corporate users, who remain loyal to their BlackBerry Bold/Q10 handsets because they disliked the Passport, may now consider upgrading to the Classic.(click to enlarge)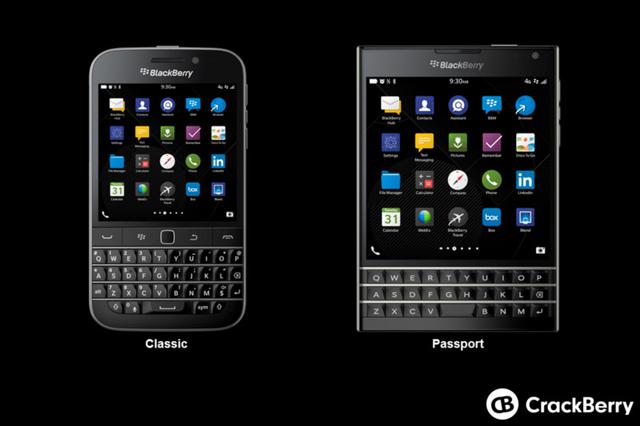 Looking at the picture above, corporate slaves will likely prefer the smaller, more traditional physical design of the Classic. The ergonomics are also in favor of the Classic when it comes to doing daily tasks on the phone. The optical track pad and the four dedicated function buttons are more familiar to long-time BlackBerry phone users.BlackBerry's previous attempts to modernize its phone by creating iPhone-like (touchscreen handsets like the Z30 and Z10) were also unsuccessful. BlackBerry phones' global market share is still less than 2%. John Chen's objective of selling at least 10 million handsets per year will be difficult to achieve if people continues to have little interest in the Z3 and the Passport.The release of the Classic is therefore another gambit by Chen to entice current BlackBerry Bold/Q10 (and owner of older models) to switch to a new smartphone. The Classic has the looks and the old feel of a BlackBerry. It was available for pre-order last December 17 and the price tag was only $449 - a lot cheaper than the Passport's $599 U.S. pricing.The lower price tag of the Classic makes it more attractive for corporations and government institutions to consider company-wide handset replacements. Retail consumers who remain loyal to the QWERTY design may also consider upgrading their units to the new Classic model. This modernized model has a more powerful processor and the ability to run Android apps.BlackBerry still has $3.1 billion in cash & equivalents so there is no excuse for Chen not to aggressively advertise the Classic. It should also be a top priority for Chen to find carrier support for the Classic. New phones can die immediately when there is zero carrier support for them.Chen is learning and adapting from the fact that modernizing BlackBerry phones does not mean the company should create iPhone-like clones with BB branding. On the other hand, winning market share also does not require companies to produce weird-looking phones.Furthemore, unlike the previous 200,000 pre-order touting for the Passport, John Chen has also remained quiet about the Classic's pre-order numbers. However, I opine that investors are still very excited by the Classic judging by the recent bullish trend of BBRY.The Classic Can Help Support The Bullish TrendI opine that the excitement over the Classic is one reason why Trade Triangle Technology analysis emailed me an alert that BBRY posted a positive or green Weekly Triangle last December 30. Some Seeking Alpha users who already use Trade Triangle for trend analysis knows that a green or positive weekly trade triangle is a clue that BlackBerry is worth making a buy-in for long-term or intermediate-term investing.A heavily shorted ticker like BBRY (31.79% Short Float) is perfect for trend analysis so investors get helpful clues of when to enter or exit a position. It will be catastrophic for small retail investors to play contrarian on a heavily shorted, actively traded stock like BlackBerry. It is always safer for small investors to trade with the trend when it comes to BBRY.I would also like to remind you that institutional investors own more than 60% of BBRY shares. Small investors who do not heed where the big boys are going on BlackBerry face the risk of being crushed. More often than not, the stock market trend pattern ignores fundamentals and other metrics of a company.Please study the chart below. I am not a short-term trader of BBRY so I only evaluate the Weekly and Monthly Trade Triangle alerts. However, I included the daily green or bullish trade triangle hints for those Seeking Alpha readers who enjoy short-term profiteering from BlackBerry's seesaw pattern movements.(click to enlarge)

(click to enlarge)

Source:
club.ino.com
The long-term trend of BBRY has been UP (11.17) since November 10. The Intermediate term trend has been UP (11.07) since December 31. The short term trend has been UP (10.27) since December 22.Smart Scan Analysis of Trade Triangle Technology gives BlackBerry a score of +90 that grants BBRYa Strong Uptrend endorsement.I also included the Exponential Moving Average (EMA) lines on the chart above because EMA analysis confirms the bullish evaluation of Trade Triangle trend analysis. Trade Triangle analysis requires a monthly subscription to use but if you do not want to pay, EMA is also a good and free technical trend analysis assistant.BlackBerry's 13-Day EMA is above its 20-Day EMA and 50-Day EMA. The 20-day EMA is also above the 50-day EMA.As per its latest RSI score of
+56.16
, BBRY is not yet on the Overbought zone. Trade Triangle analysis and EMA analysis are singing a Buy for BlackBerry. However, Alpha Omega Mathematica's market comparative evaluation engine only rates BBRY a Hold.BBRY has excellent Momentum scores from Alpha Omega Mathematica but it has awful Growth and Quality scores.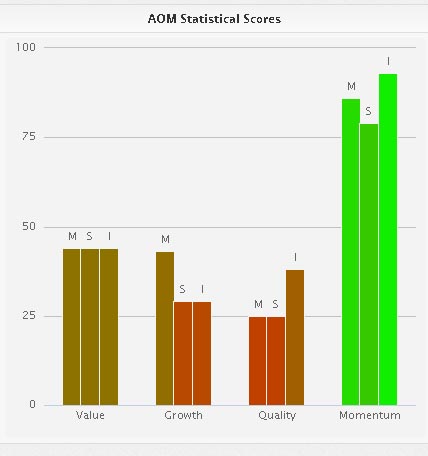 Source:
getaom.com
ConclusionI again insist that the hardware business is still important to BlackBerry's turnaround strategy.BlackBerry's effort to modernize and make its new phones more palatable to consumers might find success through the release of the Classic. I believe that a properly marketed Classic phone can attract enough number of buyers to help continue BBRY's bull run this 2015.Technical indicators and trend analysis hint that BlackBerry is ripe for a longer-term upside run. I only hope that Foxconn will produce enough Classic handsets to avoid a short supply. The Z3 and the Passport incurred scarcity of supplies in 2014. Short supply rumors are bad press for BlackBerry. The stock will again likely drop if the Classic suffers from repeat occurrences of supply constraints.As of January 3, BlackBerry has other excellent technical indicators. Majority of indicators are screaming a Buy for BBRY. The majority always win in most cases.(click to enlarge)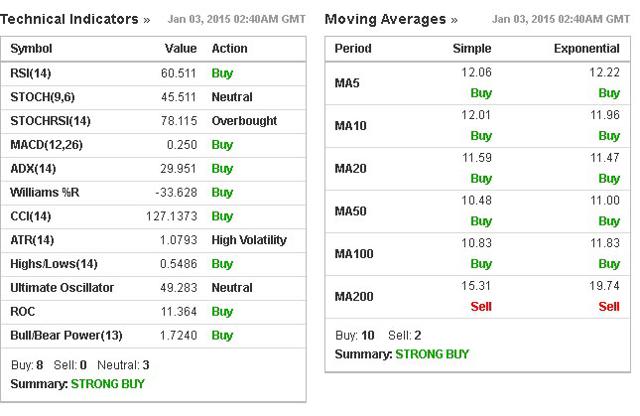 Source:
investing.com
Disclosure: The author is long BBRY.
The author wrote this article themselves, and it expresses their own opinions. The author is not receiving compensation for it. The author has no business relationship with any company whose stock is mentioned in this article.