The Federal Reserve remained the focus of many traders and pundits arguing over whether or not the Federal Reserve should taper or not. Meanwhile, sellers got to work and pushed the market lower for majority of the session. Even a last second effort by buyers was knocked down at the close. Volume soared across the board as institutions rushed into the market. Homebuilders were hit hard despite the existing home sales came in higher than expected. Gold and Silver went back to September 2010 levels as both precious metals were crushed (despite physical demand for gold continues to move higher). With the major markets having put in a lower high and a lower low a downtrend is certainly here.
There wasn't much that was spared from the onslaught of selling. The 10 year Treasury note is yielding above 2.4% and the 30 year at 3.51%. Big moves in just over a month for yields, but are they spiking because the economy is getting better? Or is it simply Ben Bernanke will no longer be buying as many bonds? Headlines came out the fed was going to taper to $65 billion a month at the September meeting and end the bond buying program next June. This announcement only threw fuel onto the fire and accelerated the decline further. It is best to step aside when a freight train is headed your way.
Having a sound strategy in times like this will certainly keep you calm. Many will be driven by emotion and make costly errors while we will take advantage.
Here is a screen shot of the Hindenburg Omen. You'll notice we have gotten 6 signals since the end of May. It almost appears certain we'll get a correction with this many signals showing up.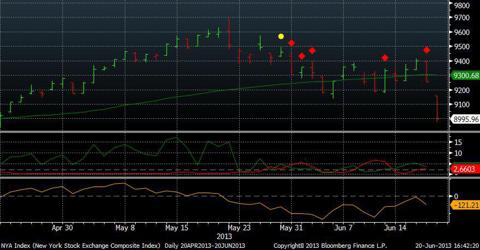 Cut your losses and ride your winners. Have a great weekend.