Vistaprint Limited is a Bermuda company that provides online customized marketing products and services to small businesses and consumers in over 120 countries. Right now, business is very good and if estimates are any indication the good times are still rolling now and will be in the future also.
VPRT has some amazing growth the past eight quarters in EPS and sales. EPS has grown 25%, 38%, 45%, 60%, 60%, 36%, 66%, and 38% the past eight quarters. Sales has grown, during that time, 60%, 59%, 64%, 53%, 52%, 44%, 32%, and 31%. This kind of growth, during a recession, is nothing short of something spectacular. What is even more promising is that 2009 and 2010 YOY EPS estimates are for 38% and 18% increases. This current growth, along with future expectations, makes this one of the strongest stocks out there.
Not only is the EPS and sales growth strong, but the stock carries only 8% debt to shareholder equity, a 26% return-on-equity, $1.91 cash flow to .44 per share the most recent quarter, and a 72% EPS growth rate. All of these numbers are expected to increase by the end of 2009 where they expect FY 2009 non-GAAP earnings of $1.52 to $1.61 per share on revenue of $495 million to $515 million.
When we measure the growth of this stock in IBD it is clearly shown to us exactly how strong this stock is. The EPS rating for VPRT is a best 99, the RS line is 96, with a group RS rating of 63, the SMR rating is an A, the Acc/Dis rating is an A+, the Composite rating is a best 99, the Timeliness rating is an A, and the Earnings Stability is a strong 21 (1 is the best; 99 is the best on the other metrics).
While there is no mutual fund ownership data, management still owns 9% of this stock after the IPO in 2005. While management doesn't own a lot, I assume mutual funds have been increasing their positions in this fun solely based on the recent accumulation in the stock which is obviously the work of some big money. Not only would growth funds be interested in this stock but value funds would be interested too if they look to see that the current 25 P/E ratio is in the low end of the 7-99 5-year range that the stock is in.
This stock not only is a great stock for growth and value investors, but even momentum investors would find this stock interesting as 20% of the float is short (amazing so many are short such a strong stock) this stock. That means it would take 15.2 days to fully buy back all those shorts. Crazy.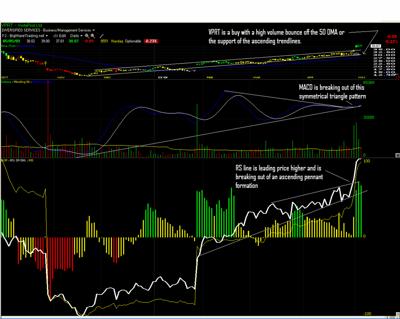 Disclosure: at the time of publication, Joshua did not have a position in VPRT