Neutral Tandem Inc. is a Nasdaq listed company founded 200 in Chicago, IL that through its subsidiaries provides tandem interconnection services mainly to wireless, wireline, cable, and broadband competitive carriers in the United States of America. This service enables carriers to interconnect and exchange local and long distance traffic between their networks without establishing direct switch-to-switch connections. They also manage network capacity between its tandem switches and customer's switches, which result in network quality and reduced call blocks.
TNDM's network automatically switches internet protocol-originated or conventional time division multiplexing traffic to terminating carriers, using either protocol. IP-to-IP, IP-to-TDM, TDM-to-IP, and TDM-to-TDM traffic with protocol conversion and gateway functionality. TNDM also offers its customers invoices, management reports, and call detail records in paper and electronic formats along monthly savings summary reports.
At the end of December 31,2008 its network connected 1,226 competitive carrier switches, creating 1,336 competitive carrier switches, creating approximately 1.9 million switch-to-switch routes serving around 390 million telephone numbers assigned to these carriers. 
All of this company data sounds very exciting and with the world-wide growth in users of cell phones and with those new and exciting products that are coming out from their R&D departments. The ever so important question for me is "how are the fundamentals behind this very strong company." When taking a look at that, as you will see below, things are definitely looking up for TNDM.
EPS for TNDM has been on fire the last six quarters with 300%, 140%, 467%, 217%, 317% and 125% growth rates, During that time, sales have been equally impressive with the past eight quarters showing 70%, 65%, 65%, 49%, 39%, 38%, 41%, and 46% gains. These kinds of numbers are VERY HARD to find right now in top quality stocks. As you wills see soon these kinds of numbers puts it ahead of most of the stocks out there in the entire investing universe. On top of the amazing current EPS and sales growth, there are other fundamental data that confirm how strong this stock is, including YOY EPS growth rate expectations for 2009 and 2010 which come in at 62% and 22% respectively.
The company is operating with 0% debt to shareholder equity, a cash flow of $1.18 a share with current EPS coming in at .27 a share, a Return-on-Equity of 15%, and an EPS growth rate of 161%. These numbers are just fantastic and I am sure that is why we have such strong growth in mutual fund ownership.
As you can see via the numbers above, this stock is on fire with growth. At the same time, value investors have reason to get TNDM in their portfolio. With the stock right at the 50 day moving average—a place where it has constantly found strong support—and it near breaking to a near new 52-week high this stock is actually at a pretty decent high reward/low risk area. This along with the stock sporting a 31 P/E ratio which is in the lower end of its five-year range of 16-104 is the reason so many funds are coming into this stock.
Trust me it is not just growth funds as value funds are on the ownership list also, with that tight base and bounce right off the 50 DMA. Fund growth has moved into this stock fast with funds making up 51% owners of the float!! How do they own so much? Well they the stock only had 53 funds in it in June 2008. By September it was up to 77, then jumped to 79 in December, and then increased to a whopping 101 funds in the most recent March 2009 reporting quarter. There are enough funds in this stock that it should easily find support along the way up on the 50 and 200 day moving averages.
Not only do pension, hedge, and mutual funds own a lot of TNDM stock but the management is still heavily invested owning 47% of the shares outstanding! Clearly the smart money being the management and mutual funds has a HUGE interest in this stock.
To confirm the numbers of TNDM and looking to see how it stacks up against other stocks out there in the market universe, I turn to Investor's Business Daily. The EPS rating for TNDM is a best 99, the RS line is a strong 93, the group RS is a lowly 48, the SMR rating is an A, the Acc/Dis rating is a B, the Composite rating is an 99, the Timeliness rating is an A, the Earnings Stability is around 48 (middle of the road), and the Sponsorship rating is a D (most growth funds were KILLED in 2008 helping keep these ratings depressed).
While the fundamentals are overall really good, I just can not buy stocks based on them alone. The chart must agree with the fundamentals. When we look at TNDM on a daily chart it doesn't get much better. We have a bounce coming right off the 50 day moving average, with volume coming in stronger, the BOP going green, and the RS and moneystream line are close to new highs to help confirm the strength in the stock.
Still my main focus is not on indicators. They simply help confirm my price and volume reading. This stock had a VERY BULLISH intraday reversal off the 50 day moving average where the stock dipped below the average to only come back, on strong volume. That move was the first buy that of where I wanted to take TNDM as the bullish reversals do not get much better than that. However, without the green BOP I can never pull myself to going long a stock unless it is from a high-tight-flag of some other kind of very tight flat base. The move today on TNDM comes with strong volume and with BOP going green for me. With that happening and the stock nearing a breakout closing near the HOD it is almost a crime for me to not attempt a long for some potential huge rewards. The fundamentals and technicals both look real good for TNDM and that is why it is at the top of its group over the likes of DY, DECC, WWVY, TWTC, and EQ.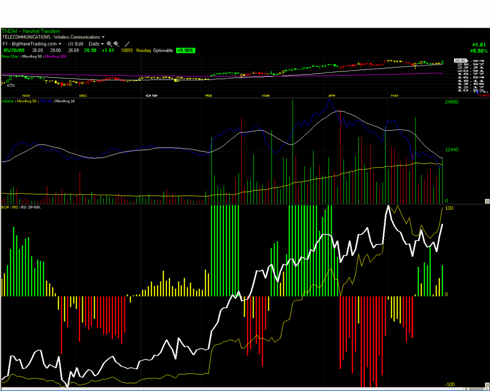 Disclosure: at the time of publication Joshua did have a long position in Neutral Tandem Inc. (NASDAQ:
TNDM
)