Hittite Microwave Corporation designs and develops high performance analog/digital/mixed-signal integrated circuits (ICs), modules, subsystems and instrumentation for technically demanding radio frequency (NYSE:RF), microwave and millimeterwave applications covering the frequency range of DC to 110 GHz. While this may not be the most familiar area for most investors the one thing that is familiar is the growth.

Hittite Microwave is part of an industry group that is full of financial killers in terms of EPS and sales growth. Cirrus Logic (NASDAQ:CRUS), Virage Logic (VIRL), ARM Holdings (NASDAQ:ARMH), Omnivision (NASDAQ:OVTI), and Volterra (NASDAQ:VLTR) are just a few of the powerful growth stocks within this Electronics-Semiconductor Fabless group. While Hittite might not have the kind of recent quarterly growth of Cirrus Logic, it is still putting up some very impressive numbers.

EPS growth, YOY, for the past two quarters came in at 59% and 83%. During that same period, sales growth was 42% and 52%. These are solid numbers coming from a weak 2009. Future EPS estimates are strong with 2010 and 2011 estimates at 55% and 5% respectively.

These strong earnings and sales growth comes with other financial highlights that include 0% debt, an 18% Return-on-Equity, a cash flow of $1.75, and an annual EPS growth rate of 21%.

The strong numbers might be why the number of mutual funds in this stock has moved from 95 to 101 the past quarter. Management only holds a 2% interest in the stock but it doesn't really matter when the stock price is moving up with or without them.

While the fundamentals of Hittite are very strong what I believe to be more impressive is the technical situation.

The stock began forming the left side of its current base in April, along with the market pullback. The impressive situation began when the stock managed to find support right at its 50 day moving average. That was then followed by some very strong accumulation off the lows and during the past three sessions strong accumulation has returned with the stock running higher off the 50 day moving average.

The stock is now forming the right side of a potential cup pattern. The stock will either continue to breakout and run here or it can help me out by doing two things. It can form a handle (to complete the cup-with-handle formation) over at least the next five sessions on low volume and then breakout higher on strong volume, or it can pullback to the 50 day moving average slowly and on low volume and then bounce off the key support line on strong volume. If either scenario happens I will definitely be looking to purchase Hittite.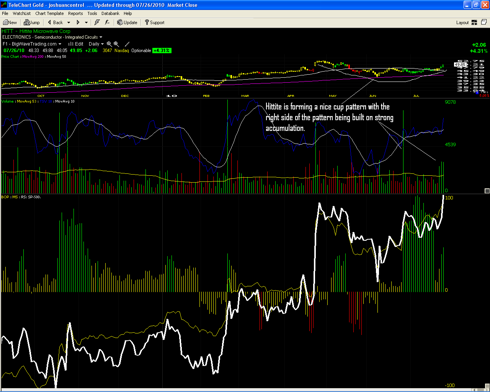 Disclosure: No Positions