In NFTRH 201 we looked at daily, weekly and monthly views of the HUI and interpreted what each had to say about their respective time frames (short term, intermediate and bigger picture).
Here is the REAL big picture view as represented by the Barron's Gold Mining Index. Don't Elliott Wave people go on about a concept known as 5 waves? Isn't the 5th wave supposed to be a powerful one?
I am not an EW, so consider that a disclaimer for this post. We'll stick with the shorter time frames mostly, but this chart helped us keep perspective over the last year when used along with the shorter term stuff.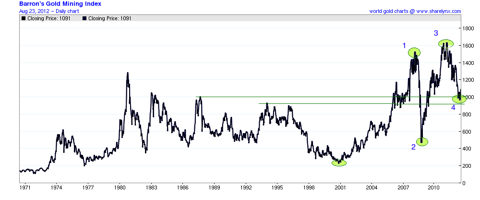 http://www.biiwii.blogspot.com
http://www.biiwii.com/analysis.htm