As USD broke the neck line, it was noted in NFTRH as a bullish market indicator to go along with so many others, and it was noted that prospects for an interim deflation blip were fading fast, if not kaput.  Also, a measured target was loaded down at 71-72, AKA the 2008 lows.

I believe Uncle Buck is going there eventually, but one wonders if we will see an interim bounce - perhaps leading into the next Fed meeting on November 2 & 3?  We have the 3 amigos after all, Huey, Duey and Lewie playing bad cop at the Fed.  Some believe that Bullard, Yellen and Koenig are right minded officials attempting to restore sanity to the policy debate.  I believe they are part of a bureaucratic structure, hell bent on keeping a terminal system alive as long as possible, sent out with marching orders from the Ministry of Expectations Management.

The US Dollar is putting a lie to the magic show going on in the T Bond market and the herds must not be allowed to panic into assets - a slow, steady re-entry is preferable.  But since when does the herd do anything slow and steady?  The wizard meanwhile, believes he can massage the process with the jawbone arm of the Ministry.  We will see.

There's some support for Uncle Buck and there's the ultimate target.  Of particular note: weekly MACD stinks...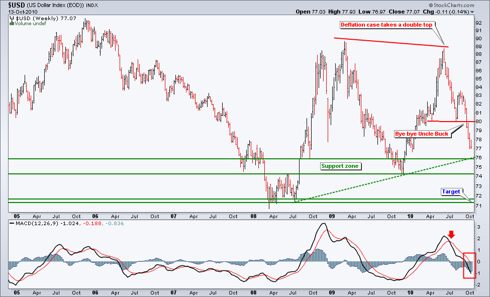 Disclosure: I own US dollars