The pecking order kind of goes like this... Au -> Ag -> Cu -> Sn, etc.
Here is a look at gold vs. the broad GYX index of industrial metals.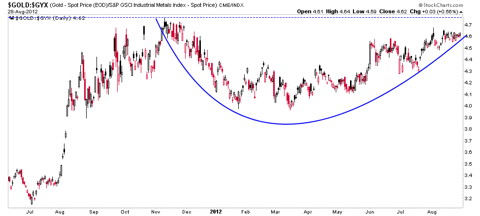 Oh yes, that's a Cup in the making. It should eventually break upward, form a Handle that would break upward if the pattern holds true; and then you can wave bye bye to the fantasy of man-made economic growth because when gold out performs the positively correlated stuff in a big way, we are in full throttled economic contraction.
http://www.biiwii.blogspot.com
http://www.biiwii.com/analysis.htm