Yes, it's another one of those busy charts that thinks it can tell a story. 

The story in this case is one of inflation onDemand, and the disastrous after effects that come from this politically expedient, but economically degrading system of economic management. 

The 20 +/- year bull market in confidence in paper (and paper manipulators) ended in and around 2000.  At that time, the greatest Wizard of the fiat continuum out of the Fed's formation, Alan Greenspan, utters things few people understand and holds down short rates (30 yr/2 yr yield ratio shown) in relation to the 'free' treasury bond market's wishes.  Dat's inflation!  Presto... easy, expedient and hey look, we got economic recovery to boot.

Ah, but what kind of healthy economic recovery sees asset speculation set in motion to the tune of oil and copper - vital materials to any economy - breaking into potential bubbles?  That would be an economy killer.  So it is time to tap on the breaks.

Except that the damned thing that has been set in motion will not stop that easily.  'Screw it!' say policy makers, we simply cannot have $5 copper, $200 oil, $1500 gold and of course treasury bonds must remain within the continuum (100 month EMA) of comfort by which Fed inflates.  Okay, time to raise rates, get out of Dodge and leave the fallout for the next schlep... err, guy.

And fall out it did.  Just as Greenspan had his baptism of fire in 1987, Ben gets his 20 years later and proves a hero in fighting the dreaded deflation that has been trying to happen since 2000, as all kinds of things begin to break.  Only this time the inflationary policies make Greenspan look like child's play.  Bernanke is the right man for the job because Greenspan after all, is a former (and who knows, maybe still current) gold bug and Ayn Rand guy.  Ben has his text books, theories and 'can do' attitude.

The message of the chart is that if something does not break, and if Bernanke keeps the pedal to the metal with QE2 and beyond, you had better be strapped in and geared toward things of value.  First and foremost, money (or monetary anchors) of value, and the things you need for daily life.

As readers know, I held out for a counter trend play with the deflationists potentially being very right for a period of time.  This, until the breakdown in the gold-silver ratio (break UP in the silver-gold ratio shown on the chart) told me that this was not happening.  The Fed knows a lot more than we do and when thinking about Bernanke's full speed ahead view on QE2, despite signs of economic recovery, I have got to think that he understands that 'something' must not be allowed to break.  Because that would end the system.

We are attempting to burn our currency and inflate our way out of something that is beyond normal macro economics.  The most pathetic part of the story is that no matter what, something is going to break, despite the manipulations of these powerful people and entities.  Be prepared.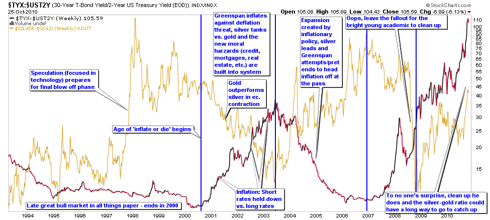 Disclosure: No positions mentioned