http://www.biiwii.blogspot.com
http://www.biiwii.com
As is typically the case, by the time I write one of these letters, let it stew over night, and go back and review/edit/finalize on Sunday morning I am a different financial market player than I was on Friday afternoon when I started thinking about and/or writing the current week's letter.
The blog is a relatively rapid fire forum where an individual trader puts out thoughts - sort of a bulked up Twitter, really.  By the time NFTRH111 was done, I saw the reason why putting in a bearish hedge with silver
may
have been a good idea in the short term, and why I had a nagging feeling the USD was not done on the upside.  Real, hard work can be very comforting because it provides answers - at least to the question 'what are the probabilities?'
There is a
very
short term scenario in play, which is intimately tied to a much different scenario in the four month (+/-) run up to an intermediate term scenario that is different yet again, potentially drastically so. 
Then again, I am just a teeny tiny little player in a really big, really noisy macro circus.  Thus, the risk that things do not unfold as currently anticipated will be managed as well.  These are the markets after all, and try as we may, we can't control 'em.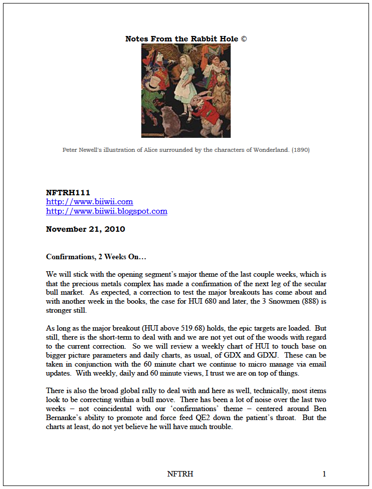 Disclosure:
No position in GDX nor GDXJ (mentioned in letter snapshot), long individual gold stocks, strong cash position