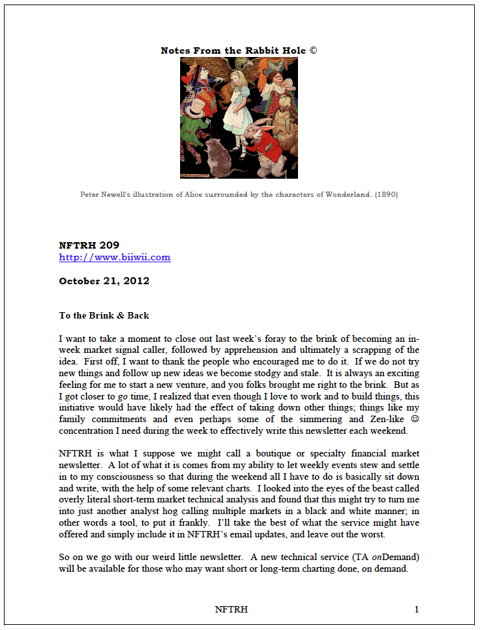 Actually 209 went out earlier this morning to subscribers as I tidied it up a bit early this weekend. It sort of wrote itself. Things almost look too normal in the broad market and especially in my favored niche, the precious metals sector. Here's the note included in this morning's mail to subscribers.
"In reading some subscriber emails and sensing the general tone out there I get the feeling that many people are absolutely terrorized by fiscal cliffs, tax Armageddons (I was too, and this played into my decision to get small in 2012, as in a one-job newsletter writer instead of a 2-job newsletter writer/manufacturing company owner), markets run by algo's and black boxes and basically the end of the world as we know it.
First point: I do not mean to discount the seriousness of many issues facing markets and societies. They are real. Second point: Too much reading, too much thinking and too much emotion can have an immobilizing effect on the lowly market participant.
The markets are on a bull trend [until] they no longer are. Friday tried to put the "they no longer are" dagger right in the heart of the broad rally. Yet they sit at support. I detect a tone out there that people have given up on markets, given up on political leaders (I am in this group) and given up on any sense of normalcy (I gave up on this in 2001). Well that is fine, but it is up to the individual to take a deep breath, decide what is real and what is Memorex and operate accordingly.
My view on the gold miners for instance is that as long as they look bullish in the great stock market casino I will plan to capitalize on their would-be price appreciation. But that will not mean sitting in USD with the proceeds of their sales (and they WILL be sold my friends). It will mean recycling the paper into things of value, whether that be shiny metal or other things of value - and one thing is for sure; there still is a world full of value out there."
NFTRH 209, out now.