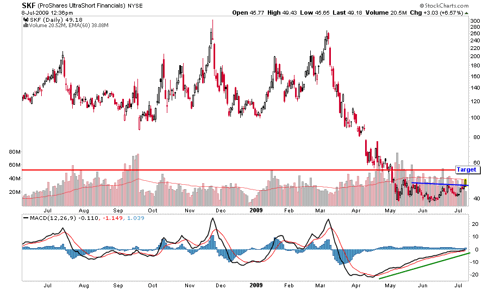 I will be the first to admit that I neither know nor care how these things work, these high octane ultrashort ETF's. A subscriber who is an economist by training sent me a mathematical breakdown of the dynamics in play on vehicles like this but I could not understand it. I am a psychology and sentiment guy after all, not a numbers guy. :-)

So, while it is advised to use these things as no more than day trading vehicles, I find myself watching SKF and the other ultrashorts daily and seeing charts that look to be making nice bottoms. Here is SKF hinting toward a breakout that would target the 55 area at which point I "think" I will sell it, subject to ongoing review of course.

An abbreviated version of NFTRH (#40) just went out to subscribers and I am thinking of making it available for free on the blog after the market closes. If so, it will be linked here with no need to email me.