Let's take a stroll down memory lane via a busy chart of the S&P 500 created by some maniac who is feeling nostalgic.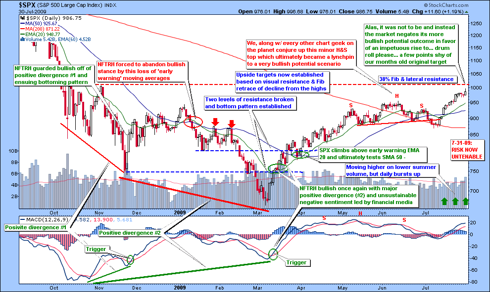 Well, not really. I actually feel like putting out some perspective in service to the idea that patience and an ongoing and revisable game plan work best in trying to make sense of and navigate the markets. That and the idea that the markets ultimately move in beautiful rhythms with the best part being that these rhythms are designed to fool the maximum amount of people to the benefit of the relative few who can keep perspective. It's just the way it is.

NFTRH has been providing a road map every step of the way. The current plan has been in effect since the bottom pattern was established in the spring with an interruption to scope out what could have been a very bullish scenario off of a decline from the recent minor H&S. Not to be. The market has chosen the LESS bullish intermediate scenario and we are back to original targets.

It is a great thing to receive comments that I am wrong from a deflationist on SeekingAlpha after I post something bullish on oil when it is near its lows and forming a beautiful bottom pattern. It is a doubly great thing to be taken to school (using professorial economic language I could barely understand) by a bull who fancies himself a contrarian, at this advanced stage of the rally.

All I know is that NFTRH's original minimum, and favored rally target has still not been reached, although it is very close. The progression illustrated in this messy chart has helped tune out the noise every step of the way and aided in the effort to remain patient.